Located on the right bank of Dora Baltea shows that, apart from some secondary walloon, as the first of the valleys coming from the Po Valley and then by Turin and Milan Cities. Along with that of neighboring Cogne are the only valleys, from this side, not to descend perpendicularly to the Central Valley:
down towards the northeast reaching the valley floor at the two nearby towns of Bard and Hone and then in
; the other towards the Northwest direction to Aymavilles Municipality, or the beginning of the
. The Champorcher Valley, very narrow and compressed at its beginning, gradually fans out with a whole series of walloons that descend from the watershed with the nearby Canavese, belonging to the neighboring Piedmont Region, towards the two Municipalities of Pont Bozet Champorcher and reaching the last Miserin, where begins the border with the Walloon Urtier, at the end of the Eastern side of the Valley of Cogne. One way to open up
because on the other side, or Northern, instead climb steep rock-ribbed woodland, designed to separate her from the Central Valley of Dora; only in the last section, or by Hills de la Croix and Lago Bianco, above above the Capital of the Château, the valley begins to present new vallons. But more than the walloons are small rocky basins in which peep ponds reflecting an ancient glacial activity. Here is the partition with the Valley of the Lakes over Champdepraz and the Vallons of Savoney, secondary to that of Clavalitè, and of Alta Comba Tersiva above the Township of Fénis. The third side, or that more wide and high, coincides with the Cogne valley to valley giving the shape of a long pear with the stalk down. So a valley, gradually you climb out from the steep and winding
initials, opens more and more lavishing its beauty until the appearance of the two twin pyramids of Mont Delà
, which stand on the right of Champorcher and the next Village of Dondena, last town at least for a good part of the year. Towards the South, after the first
, and by the wild aspect of practicability walloons not falling over Torrent Ayasse, open the next that seem to lose sight of the eye and where, if not for the connoisseur, is difficult to distinguish shapes and lines; much more
give the idea to extend until the infinite. Perhaps for this are, if not by the locals, little known and even less frequented. Including that of the Legna (Wood's Vallon) that opens after more than a small village of Outre l'Eve, placed upon a clearing beyond the Ayasse, before reaching Champorcher-Château. The beautiful lakes overlying point the way Fishermen, if not the most talented definitely the most willing, because they expect great walks. Compensation of a fish with beautiful and unspoiled silvery trout in Lakes Dondogna, Sec, Noir, Vassoline, Champas, Comony, Chenessy, Chilet, Vercoche and Larìs and their emissaries from the water fresh and turbulent to signal a still completely intact. A Paradise not only addressed the same, but also to those with capital Hikers who like to challenge themselves even themselves with great walks
in environments where surely not meet the mass. With the Larìs Vallon disappears after this
because resumes its Civilization, the Kingdom of Skiing and by Skiers with tracks dating from the eponymous walloon starting from the Hamlet of Chardonney
, down there in that great plain surrounded by forest of larch (Larìs from here?) and firs. To get to the Cimetta Rossa
and at the end of the long ridge that descends to the Northeast from Rosa dei Banchi
. The other undisputed Queen of this valley, above the Glacier des Bantses ie of rocky slabs.
Then with the Rosa begins the world of Mountain Climbing?
No sir, because this is not a particularly geared towards them. Even the long and easy Crest Northeast is more a trip for Hikers Experts for Mountaineers. From here the mountain range opens in a semicircle reaching Punta dell'Asgelas, the tiny Punta Giuseppe Corona and, after the Col de la Balma, Cima of Peradzà, where finally abandons the border with Piedmont. A large saddle
2846 metres
is the first useful step between Champorcher and Cogne; important topographical node from which part of the long ridge that reaches even the Central Valley, precedes the Bec Costazza and Tour Ponton before getting up, always true North, the impressive Punta Tersiva
(3515m)
, the great pyramid at the vertex of three valleys: Champorcher, Fénis-Clavalité and Cogne. Two hills, as important as the antiquity until frequented, through this watershed, real
"cul de sac"
for all three. At first the Fenêtre de Champorcher
(2826m)
, between the Bec Costazza and Tour Ponton and immediately below the Col Pontonnet
(2897m)
, between the latter and the dual and namesake tower, open the two important lines of communication between these two valleys; moments from the last off Col de Fénis
(2857m)
allows direct connection with the homonymous municipality and then Valley of Baltea. Then the ridge closes its semicircle projecting towards the East and, after the Tour Moutsaillon or Mussaillon and identical Pass
(2846m)
reaches the two pyramids of Delà and Glacier; in addition, the two formats of the Gran Rossa (Great Red) Hills and the same has three other Summit with Boccon Damon, the Tete des Hommes and Torretta reaching Lago Bianco
(2308m)
and de la Croix
(2287m)
Hills, input ports to the Valley of the Lakes and the Refuge Barbustel. We are on the edge of the
Natural Park of Monte Avic
and, if you will, with a single step here we go. Reached the Cima Piana partition after having bent twice at right angles, sloping definitively separate themselves more and more to the Mont Charvatton, again above Pont-Bozet and at the entrance of the Valley. The circle is completed and already can admire again the Fortress of Bard. In this stretch the watershed is reached by steep forests above the Township of Issogne with its splendid castle overlooking the Dora of 1480, which makes a counterpart on the opposite side to Verrès 1361; side Champorcher instead a series of tiny villages (Mont Blanc, Petit Mont Blanc, Mellier, Verana, Petit Rosier, Coudreyt, Grand Rosier, Buissoney, Dogier and Barmacreppa) are
"clinging"
at the foot of the steep slopes forest-rock. Leaving the top Oratoire de Sainte Anne
(1706m)
, between Bec de None and Tête du Mont.
Rosa dei Banchi & Surroundings (3164m) from Punta Tersiva (3515m),

by Antonio
Okay we get it, but for us Mountaineers what remains?
Nothing! Like anything? Well, a little something is always, however, we have to make, scrambling,
"treks"
terrible, vile stuff from ruining your feet, if you want to go exploring what is left. Oh no, we are Climbers of the Modern Era. Understood, then stay down in Pont-Bozet that the walls of the Mont Charvatton
(1787m)
offers to you what you seek; with walls of
500 metres
, already equipped.
Difficulties? 6a+(AO), 6b+(AO)XZYKJWXZZZ
. What do you mean? Do not ask me who do not know, I'm going to take a ride on snowshoes up to Dondena and, if I get the urge, I go to the Hill of Rosa to make the Rosa dei Banchi. I love
Big Clearances
and I have no desire to stay there for hours hung like a sausage. Sometimes, when I get to Champorcher in the morning, I see them already hanging; when returning in the evening are still in the same place. But what they do, they take the sun? There are places more comfortable. I went to pick him up to Glacier and are already back. Really true in this world there is room for everyone and every idea. However, that these types queer & odd!
Ah, you over there!
On the Royal Road to Dondena and surroundings
there is also room for the Skiers-Mountaineers ...


"Bah, it seems to me that here begins to miss the air to breathe!",

by livioz (Roby4061)
This valley, very important for the profile of cultural history, had been
"snubbed"
from the point of view of tourism until about forty years ago, being known and preferred destination almost exclusively by inhabitants of Turin; the new facilities aimed at the ski have completely relaunched and now does not bear comparison with the most famous valleys. Although it does not have big mountains or the catchy name like many of the other. Today in Champorcher, oasis of peace in unspoiled nature and understanding of the foothills of the Southern
Regional Park of Mount Avic
, tourists come not only from all over Italy, but all over Europe. Indeed it is perhaps the proximity to the Barbustel Shelter, not many years now and built in the Valley of Champdepraz but easily accessible and in relatively short time, which greatly increased the
"traffic"
, at least for the summer. Maybe too much because, sometimes,
"streams"
of people climb to Colle del Lago to the limit with the Park. Even too much. In winter or in midseason instead everything changes and only a few true fan reaches the Dondena candid, sometimes windswept or otherwise buried in deep snow, as in a postcard d'Antan. Across the Torrent Ayasse instead you hear voices, sometimes almost the crowds, on the slopes of Larìs. But it is also the place of the great silences, when the arrival of the cold and the first blow of Aeolus almost all disappear; also from Lake Miserin and its Sanctuary that truly becomes a center of spiritual concentration, with the waters of the Lake trespide and just feel the wind in the Fall that now with its lights and shadows lengthened declines towards Winter. Try to get the Rosa dei Banchi to October and you'll understand. You will see the Winds Northeast push the clouds to the Southwest towards the Soana Valley, making them fly like kites high over the Colle della Rosa. Do not delay because the darkness will come soon and when you pass again at the waters of Miserin a sense of dark tremor invade you bringing you back centuries. The Sanctuary will stand in front of you cool and quiet and its doors and wooden benches assume a medieval appearance. Far away in time. Waiting to see appear a Friar from the window sash that, looking at you with his head down and with only the chin and mouth coming out of his white cap, invites you with a wave of the hand open to enter. A moment to heat up the fireplace eating something hot. You will not see anyone, and the darkness will fall even further but the road to Dondena is wide and safe. Taken from the rush and despair want to shorten the route and get you on the right fording the Torrent Miserin to fall directly on the path of retreat, passing below the Monte Dondena. Do not do this because it goes well with the light of day; instead follow the wide dirt road that the last light at the horizon make enough suggestive and quietly, even with narrowed eyes, reach Refuge Dondena,
"hidden"
under a rocky promontory. Here you will open, if it is not already too far from the Autumn and Winter too close to. In any case do not worry, you are very close to Dondena.
The lights of a bright morning
just above Château-Champorcher and welcome you at la Cort. The Royal Route is
"virgin"
and his immaculate snow. Put on snowshoes and go. You will not find anyone until Dondena Village,
there around the corner
.
From Northeast Valley stretches Westward to the Fenêtre de Champorcher bordering the Valley of Cogne,

by Maria Grazia schiapparelli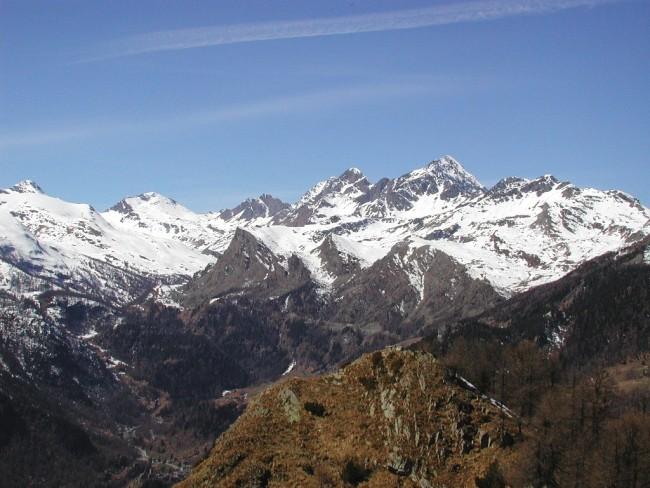 La Valle di Champorcher é una delle tredici valli tra le più importanti della Valle di Aosta. Situata sulla sponda orografica destra della Dora Baltea risulta come, a parte qualche vallone secondario, come la prima delle valli arrivando dalla Pianura Padana e quindi dalle Città di Torino e Milano. Insieme a quella limitrofa di Cogne sono le uniche vallate, da questo lato, a non scendere in modo perpendicolare verso la Valle Centrale: la
"nostra"
scende verso Nordest raggiungendo il fondovalle presso i due vicini Comuni di Bard ed Hone e quindi in
Bassa Valle"
; l'altra verso Nordovest in direzione di quello di Aymavilles, ovvero allo inizio della
"Alta Valle"
. La Valle di Champorcher, molto stretta e compressa al suo inizio, progressivamente si apre a ventaglio con tutta una serie di valloni discendenti dallo spartiacque con il vicino Canavese, appartenente alla limitrofa Regione Piemonte, verso i due Comuni di Pont Bozet e Champorcher raggiungendo l'ultimo del Miserin, ove ha inizio il confine con il Vallone dell'Urtier, al termine del lato Orientale della Val di Cogne. Una maniera di aprirsi
"squilibrata"
poiché sul lato opposto, o Settentrionale, salgono invece ripidi costoloni boschivo-rocciosi, atti a separarla dalla Valle Centrale della Dora; solo nell'ultimo tratto, ovvero dai Colli de la Croix e Lago Bianco, al di sopra di sopra del Capoluogo di Château, la valle inizia a presentare nuovi valloni. Ma più che di questi trattasi di piccoli bacini pietrosi nel quale occhieggiano laghetti a testimonianza d'una antica attività glaciale. Qui il divisorio é con la Valle dei Laghi sopra Champdepraz e coi Valloni di Savoney, secondario a quello della Clavalitè, nonché dell'Alta Comba Tersiva sopra il Comune di Fénis. Il terzo lato, ovvero quello maggiormente largo ed elevato, coincide con la Valle di Cogne dando alla vallata la forma d'una lunga pera con il picciolo in basso. Quindi valle che, a poco a poco che si sale uscendo dai ripidi e tortuosi
"remparts"
iniziali, s'apre sempre di più elargendo le sue bellezze sino alla comparsa delle due piramidi gemelle del Mont Delà
(3139 m)
e del Mont Glacier
(3186 m)
, stagliantesi sulla destra di Champorcher e del successivo Villaggio di Dondena, ultimo centro abitato almeno per buona parte d'anno. Verso Meridione, dopo i primi
"orridi"
, selvaggi e dall'aspetto impercorribile valloni cascanti sopra il Torrent Ayasse, se ne aprono successivi che paion perdersi a vista di occhio e dove, se non pel conoscitore, vien difficile distinguerne forme e linee; molto più
"dolci"
dan l'idea di prolungarsi fino all'infinito. Forse per questo sono, se non dagli abitanti locali, poco conosciuti ed ancor meno frequentati. Compreso quello della Legna che s'apre dopo il più che piccolo Villaggetto di Outre l'Eve, posto su d'uno spiazzo al di là dell'Ayasse, prima di raggiungere Champorcher. Gli splendidi laghi soprastanti indicano il cammino dei Pescatori, se non i più bravi sicuramente i più volenterosi, perché aspettano loro grandi camminate. Di compenso un pesce incontaminato con splendide ed argentee trote nei Laghi Dondogna, Sec, Noir, Vassoline, Champas, Comony, Chenessy, Chilet, Vercoche e Larìs e dai loro emissari dalle acque fresche e turbolenti a segnale d'un ambiente ancora completamente integro. Un Paradiso non solo rivolto ai medesimi, ma anche a quegli Escursionisti con la E maiuscola che amano ancora cimentare loro stessi con grandi camminate
"avventurose"
in ambienti dove sicuramente non incontreranno la massa. Con il Vallone del Larìs scompare questo
"Fareast"
, poiché inizia nuovamente la Civiltà, il Regno dello Sci con le piste che risalgono lo omonimo vallone partendo dal Villaggio di Chardonney
(1455 m)
, laggiù in fondo a quella grande piana contornata dalla foresta di larici (da qui Larìs?) ed abeti. Per arrivare alla Cimetta Rossa
(2466 m)
, sotto il Bec de Pendant
(2825 m)
ed al termine della lunga Cresta Nordest che scende dalla Rosa dei Banchi
(3164 m)
. Altra incontrastata Regina di questa Valle, sopra il Glacier des Bantses cioé delle banconate rocciose.
But Northwest ends here too: towards Moutsaillon, Fénis and Pontonnet Hills,

by emilius
Allora con la Rosa inizia il mondo dell'Alpinismo?
Nossignori, perché questo non é un ambiente particolarmente rivolto a loro. Anche la lunga e facile Cresta Nordest é più una gita per Escursionisti Esperti che per Alpinisti. Da qui la catena montuosa si apre a semicerchio raggiungendo la Punta dell'Asgelas, la minuscola Punta Giuseppe Corona e, dopo il Col de la Balma, la Cima di Peradzà, dove definitivamente abbandona il confine con il Piemonte. Una larga sella
2946 metri
é il primo passaggio utile tra Champorcher e Cogne; importante nodo topografico dal quale parte quella lunga cresta che raggiunge addirittura la Valle Centrale, precede il Bec Costazza e la Tour Ponton prima di alzarsi, sempre vero Settentrione, alla imponente Punta Tersiva
(3515 m)
, grande piramide al vertice di tre vallate: Champorcher, Fénis-Clavalité e Cogne. Due colli, tanto importanti quanto fino dalla antichità frequentati, attraversano questo spartiacque, vero e proprio
"cul de sac"
per tutte e tre. Dapprima la Fenêtre de Champorcher
(2826 m)
, tra il Bec Costazza e la Tour Ponton e subito appresso il Col Pontonnet
(2897 m)
, tra questa ultima e la duplice nonché omonima torre, aprono le due importanti vie di comunicazione tra queste due valli; a poca distanza dallo ultimo il largo Col de Fénis
(2857 m)
concede il collegamento diretto con l'omonimo Comune e quindi la Valle della Dora Baltea. Poi la cresta chiude il suo semicerchio proiettandosi verso Oriente e, dopo la Tour Moutsaillon o Mussaillon e l'identico Colle
(2846 m)
raggiunge le due piramidi del Delà e del Glacier; oltre, formati i due Colli della Gran Rossa e la medesima presenta altre tre Sommità con il Boccon Damon, la Tete des Hommes e la Torretta raggiungendo i Colli del Lago Bianco
(2308 m)
e de la Croix
(2287 m)
, porte d'ingresso verso il Vallone dei Laghi ed il Rifugio Barbustel. Siamo ai margini del
Parco Naturale del Monte Avic
e, se vogliamo, con un sol passo v'entriamo. Raggiunta la Cima Piana il divisorio, dopo aver piegato due volte ad angolo retto, definitivamente si allontana digradando sempre più fino al Mont Charvatton, nuovamente sopra Pont-Bozet ed all'ingresso della Valle. Il cerchio si é concluso e già possiamo ammirare nuovamente la Fortezza di Bard. In questo tratto lo spartiacque vien raggiunto da ripidi foreste sopra il Comune d'Issogne con il suo splendido Castello del 1480 affacciato sulla Dora, al quale fà da contraltare sul lato opposto quello di Verrès del 1361; sul lato Champorcher invece una serie di piccoli villaggi (Mont Blanc, Petit Mont Blanc, Mellier, Verana, Petit Rosier, Coudreyt, Gran Rosier, Buissoney, Dogier e Barmacreppa) sono
"abbarbicati"
ai piedi delle ripide pendici boschivo-rocciose. Lasciando in alto l'Oratoire de Sainte Anne
(1706 m)
, tra Bec de Nona e Tête du Mont.
Fenêtre, Tour Ponton, Pontonnet Hill & Tower, Tersiva, Tour Moussaillon, Delà from Glacier,

by emilius
Va bene abbiam capito, ma per noi Alpinisti cosa rimane? Niente! Come niente? Mah, un qualcosina c'é sempre, però bisogna far delle
"scarpinate"
terribili, roba infame da rovinarsi i piedi. Se volete andare ad esplorare ciò che é rimasto. Ah no, noi siamo Arrampicatori dell'Era Moderna. Capito, allora restate giù a Pont-Bozet che le pareti del Mont Charvatton
(1787 m)
vi offron ciò che cercate; con pareti di
500 metri
, già attrezzate.
Difficoltà? 6a+(AO), 6b+(AO)XZYKJWXZZZ
. Cosa vuol dir? Non chiedete a me che non sò, io vado a farmi un bel giretto in racchette da neve fino a Dondena e, se mi vien la voglia, vado al Col della Rosa a farmi la Rosa dei Banchi. Io amo i
Grandi Spazi liberi
e non ho nessuna voglia di stare lì appeso per ore come un salame. A volte, quando salgo a Champorcher al mattino, vedo lor già appesi; quando ritorno alla sera son ancor nello stesso posto. Ma cosa fan, prendon sole? Ci son posti più comodi. Io son andato a prenderlo al Glacier e son già di ritorno. Proprio vero a questo Mondo c'è posto per tutti e per ogni Idea. Però che balzani e stravaganti sti tipi!
Ah, Voi laggiù!
Sulla Strada Reale per Dondena e dintorni
c'é posto anche per Sci-Alpinisti ...


"Feel that hot! The usual Tom, Dick and Harry who cook in Mountain ...",

by emilius
Questa valle, molto importante per il profilo storico-culturale, era stata
"snobbata"
dal punto di vista turistico fin ad una quarantina d'anni fa, essendo meta conosciuta e preferita quasi esclusivamente da parte di torinesi; le nuove strutture rivolte allo sci l'han rilanciata completamente ed ormai non teme il confronto con valli più famose. Anche se non possiede grandi montagne o dal nome altisonante come molte delle altre. Oggi invece a Champorcher, grande oasi di pace in una natura incontaminata nonché comprensiva delle propaggini Meridionale del
Parco Regionale del Monte Avic
, arrivan turisti non solo da tutta'Italia, bensì da tutta Europa. Anzi é forse la vicinanza col Rifugio Barbustel, da non molti anni costruito ed ormai nella Valle di Champdepraz ma facilmente ed in tempo relativamente breve raggiungibile, che ha notevolmente aumentato il
"traffico"
, almeno per quanto concerne la bella stagione. Forse anche troppo poiché, a volte,
"fiumane"
di persone salgon verso il Colle del Lago al limite col Parco. Anche troppe. In inverno o nella mezza stagione invece tutto cambia e solo qualche vero appassionato raggiunge la candida Dondena, a volte spazzata dai venti o altrimenti sepolta nella neve alta, come in una cartolina d'Antan. Dall'altra parte del Torrent Ayasse invece s'odono le voci, a volte quasi schiamazzi, sulle piste del Larìs. Ma é anche il posto dei grandi silenzi, quando all'arrivo dei primi freddi e delle prime soffiate di Eolo quasi tutti scompaion; anche dal Lago Miserin e dal suo Santuario che diventa realmente un centro di raccoglimento spirituale, con l'acque del suo Lago trespide ed appena accarezzato dal vento dell'Autunno, che ormai con le sue luci e l'ombre allungate declina verso l'Inverno. Provate a salire la Rosa dei Banchi ad Ottobre e capirete. Vedrete i Venti del Nordest spingere le nuvole a Sudovest verso la Valle Soana, facendole volare come degli aquiloni alte sopra il Colle della Rosa. Non tardate perché il buio arriverà presto e quando passerete nuovamente presso l'acque del Miserin un senso di scuro tremore vi invaderà riportandovi indietro nel tempo secolare. Il Santuario s'ergerà di fronte a voi freddo e silenzioso ed i suoi portoni e le panche in legno assumeranno un aspetto medioevale. Molto lontano nel tempo. In attesa di veder apparire un Frate dal battente della finestra che, guardandovi a testa bassa e con solo il mento e la bocca che escon dal suo bianco cappuccio, v'inviterà con gesto aperto della mano ad entrare. Un attimo a scaldarsi al fuoco del camino mangiando qualcosa di caldo. Non vedrete nessuno ed il buio scenderà ancor più, ma la strada per Dondena é larga e sicura. Presi dalla fretta e dallo scoramento volete abbreviare il percorso indirizzandovi a destra guadando il Torrente Miserin per scendere direttamente sul sentiero del rifugio, passando al di sotto del Monte Dondena. Non fatelo, perché và bene con la luce del giorno; seguite invece la larga strada sterrata che gli ultimi chiarori all'orizzonte rendon già abbastanza suggestiva e tranquillamente, anche cogli occhi socchiusi, raggiungete il Rifugio di Dondena,
"nascosto"
sotto un promontorio roccioso. Qui v'apriranno, se non é ormai troppo lontano dall'Autunno e troppo vicino all'Inverno. In ogni caso non temete, siete a due passi da Dondena.
Le luci d'un luminoso mattino
v'accolgono appen sopra Château e presso la Cort. La Strada Reale é
"vergine"
e la sua neve immacolata. Calzate le racchette da neve ed andate. Non troverete nessuno fino a Dondena,
lì dietro l'angolo
.
Château by the Royal Road of King Vittorio Emanuele II° climb to Dondena,

by emilius
Getting There
By car:
From TORINO, MILANO, etc: Motorway A5. Exit at IVREA or Quincinetto (PIEDMONT)

From IVREA Town: Pont Saint Martin, Donnas, Hone, Bard, Municipalities.

Specific Main Road

From Pont Bozet (775m) to Champorcher Valley, Camporcher-Château (1427m), Petit, Grand Mont Blanc, La Cort Villages, towards Dondena Village (2092m), Dondena & Miserin Refuges, through Royal Road & secondary dirt roads; Barbustel Refuge, through Royal Road and path towards Champdepraz Vallon.


From FRANCE: through the Mont Blanc Tunnel to Entrèves-crossroads to Vény/Ferret Valleys - Mountain Guides of Courmayeur - La Saxe Rock Gym - Courmayeur. By Little Saint Bernard Pass, closed since November until half May to La Thuile Valley - Pré Saint Didier - Courmayeur.

It is not necessary to take Motorway A5: you can drive on State Road n° 26, in the direction of AOSTA - IVREA - TURIN.
By plane:
Aeroporto Internazionale "Corrado Gex" Saint Christophe (Aosta)
A small but far History
Mont Mars also Monte Marzo (2756m) small Subgroup,

by emilius
Where and when does life begin a valley is very complicated thing. If the study is complicated topography and geography, where at least tangible traces remain on the torrents, streams, glaciers and rock layers, imagine what it means to search the time of human remains. It passes from the complicated to the complex and the answer is always highly uncertain and imprecise. For the first we would like to say that his orogeny is very old, as the rocks somewhat transformed by exogenous and endogenous agents over time; for a second think we can say that life here is appeared when, in addition to the flow of water from the glaciers of very different sizes, has appeared the first blade of grass. Like everywhere, where nature has allowed the man is
"expanded"
looking habitats also up, maybe the most inaccessible places, but that guaranteed the same. The first were indigenous peoples, not necessarily the
Salassi
source Celtic-Gallic, that from the bottom of the Central Valley of Dora Baltea began to rise gradually to the great Glacier Balteus retreated along its
more than 100 Kilometres
in length and
over 1000 metres
high. From Mont Blanc Mountain Chain to the Plain of Town Ivrea, where it is still clearly visible its lateral moraine of the left called
"La Serra"
. Terracing freed from ice were occupied by men, who were starting to climb up to the edge of the ice above, up to Glacier dei Banchi or Bantses and that of Mont Glacier, which no longer exists. Then the same were overwhelmed by the
Romans "thrown"
into the streets of Gaul and Helvetia through the Hills of Little and Great St. Bernard (the foundation of the Town of Aosta or
"Augusta Praetoria Salassorum"
date of 25 BC), because the outside of this main directive, this valley was not affected by this influence. How has particularly affected by the successive invasions of the
Burgundians
, at least prejudice to the tracks in place. The
Middle Ages
saw the progressive division of the whole territory of the Valley of Aosta between the Bishop of Aosta and various Vassals trying to contend for the Church profit arising from the work and wealth of the Pasture. His story there is handed down from one of the many existing Castles and Sanctuaries, the dating of which begins around the year 1000 AD. So even for Champorcher with its square Tower, the rest of a castle-fortress built by the Lords of Bard around the year 1100; with the consent of the
Count of Savoy
, Count Ugo (Hugh) of Bard, a native from
Lorraine
would have gotten the administration of the Valley of Champorcher. This is the first historical dating and then some noticeable, the rest is
Legend
. Like the one that wants to see from here go in 286 AD the soldier Besso, the
Theban Legion
and then converted to
Christianity and Missionary
, slain by the Romans to the nearby Hill of Arietta. Along with the other soldier Porciero would be saved from the massacre at Martigny accomplished by the
Praetorians, Emperor Maximilian
. Crossing the hills of the valley would arrive in Val di Cogne and, through the Window of Champorcher, would take refuge in this valley. Later, dividing to escape the enemy, Besso, who later became a Saint, was tracked down and plunged Valley Soana, where now is her sanctuary; Porciero would be hiding in the forest of Larìs managing to save himself and continue his preaching among the shepherds. From its name apparently comes to Champorcher. But is Legend, beautiful and fierce, but still Legend. But it is, and here we return in History, the event that was recorded in 1212 when Guglielmo (William) Lord of Pont Saint Martin and the third son of Hugh now dead, to contrast with the brothers, going up in arms makes burn the old Castle located where today the Church exists. It saves only the Tower, from which derives the current name of Chief Town or
Château
and representing the
Emblem of Champorcher
. Indeed, the Church was built in about 1700 due to the remains of the materials of the Castle, as evidenced by its base, and with the same was erected the monument dedicated to the Fallen of the two World Wars, for which Champorcher shed his young blood. In 1728 the same was enlarged, while simultaneously was erected the Bell Tower. The two aisles are instead of 1866, while the four bells were cast in 1863, that took place in the presence of
King Umberto I°, Prince of Piedmont
; the fourth bell has been replaced in 1866 with the generous patronage of
Vittorio Emanuele II°, first Italy's King
. It was gone in a previous route and first official visit when the people, taken from an irrepressible enthusiasm, had caused the rupture. Other times, but at least here the People became protagonist, without having to watch helplessly and with fear to stand in front of the quarrels of the various "Signorotti" (Squires). As they had not been afraid to face the
Napoleonic Grand Army
, commanded by General Duhesmes, in the First Italian Campaign of 1800, when the great Course, coming from Fenetre, wanted to take behind the Fortress of Bard that prevented him from continuing toward the plain. The villagers resisted in defense of the valley to the Fenêtre supporting the
Austrian Imperial Troops
of the General Suvarow, but the French were able to evade the defense going on near Col Pontonnet, both riding their Tour Ponton. But now, with the Unification of Italy in 1861, although they had a Homeland and, after breaking the bells ringing for an irrepressible joy, in 1862 helped the King to build the Royal Road to Dondena Hamlet accompanying him in his famous jokes hunting Chamois and the Steinbock. They, the
"Ciamporciari"
, born and raised in the white Rosa dei Banchi and verdant Mont Glacier and who knew only the white snow and the green fields, had to know
the tricolor of the Italian flag with the contribution of red with their blood ...
Vòrea Tower, Punta and Crest, Punte di Champ Chévry and Vercoche, Becs Larìs, Mulère, Pragelas & Pendant before the Rosa dei Banchi

by emilius
Dove e quando ha inizio la vita d'una vallata é cosa alquanto complicata. Se é complicato lo studio orografico-geografico, dove almeno rimangono tracce tangibili sui fiumi, torrenti, ghiacciai e strati rocciosi, immaginiamo cosa significhi la ricerca nel tempo delle vestigia umane. Si transita dal complicato al complesso e la risposta é sempre altamente incerta nonché imprecisa. Per la prima ci sentiamo di dire che la sua orogenesi é molto antica, come dimostrano le rocce alquanto trasformate dagli agenti esogeni ed endogeni nel tempo; per la seconda pensiamo di potere affermare che qui la vita é apparsa quando, oltre allo scorrere delle acque provenienti da ghiacciai di ben altre dimensioni, é apparso il primo filo d'erba. Come ovunque, laddove la Natura lo ha consentito l'uomo si é
"espanso"
cercando spazi vitali anche verso l'alto, magari nei luoghi più impervi, ma che garantivano la medesima. Le prime furono popolazioni autoctone, non necessariamente i
Salassi
di origine Celtico-Gallica, che dal fondo della Valle Centrale della Dora Baltea incominciarono a salire a poco a poco che il grande Ghiacciaio Balteo si ritirava lungo i suoi
oltre 100 Kilometri
di lunghezza e gli
oltre 1000 metri
di altezza. Dal Monte Bianco alla Piana di Ivrea, dove é ancor oggi chiaramente visibile la sua morena laterale di sinistra detta
"La Serra"
. I terrazzamenti liberati dai ghiacci venivano occupati dagli uomini, che iniziavano a salire fino al margine dei ghiacci superiori, fino al Ghiacciaio dei Banchi ed a quello del Mont Glacier, che oggi non esiste più. Poi gli stessi vennero sopraffatti dai
Romani "lanciati"
verso le vie della Gallia e della Helvetia tramite i Colli del Piccolo e del Gran San Bernardo (la fondazione della Città d'Aosta od
"Augusta Praetoria Salassorum"
data del 25 avanti Cristo); proprio perché al di fuori di questa direttiva principale, questa valle non ha risentito di quest'influsso. Come non ha risentito in modo particolare delle successive invasioni dei
Burgundi
, almeno restando alle tracce in essere. il
Medioevo
vide la progressiva spartizione di tutto il territorio della Valle di Aosta tra il Vescovo di Aosta ed i vari Vassalli che cercavano di contendere alla Chiesa il profitto derivante dai lavori e dalle ricchezze dell'alpe. La sua storia ci é tramandata da quella dei numerosi Castelli esistenti e Santuari, la datazione dei quali inizia intorno allo anno 1000 dopo Cristo. Così anche per Champorcher con la sua torre squadrata, resto di un castello-fortezza costruito dai Signori di Bard intorno all'anno 1100; con l'assenso del
Conte di Savoia
il Conte Ugo di Bard, originario dalla
Lorena
avrebbe ottenuto l'amministrazione dell'intera valle di Champorcher. Questa é la prima datazione storica e quindi certa riscontrabile, il resto rimane
Leggenda
. Come quella che vuole vedere da qui passare nel 286 dopo Cristo il soldato Besso, della
Legione Tebea
e poi covertito al
Cristianesimo e Missionario
, trucidato dai Romani al vicino Colle della Arietta. Insieme all'altro soldato Porciero si sarebbero salvati dalla strage presso Martigny compiuta dai
Pretoriani, Massimiliano Imperatore
. Attraversando sui colli della valle sarebbero arrivati in Val di Cogne e, tramite la Finestra di Champorcher, si sarebbero rifugiati in questa valle. In seguito, dividendosi per sfuggire al nemico, Besso, divenuto poi Santo, veniva rintracciato e fatto precipitare sulla Valle Soana, dove adesso si trova il suo Santuario; Porciero si sarebbe nascosto nella foresta del Larìs riuscendo a salvare se stesso per poi proseguire la sua predicazione tra i pastori. Dal suo nome par che derivi quello di Champorcher. Ma é Leggenda, bella e truce, ma pur sempre Leggenda. Ma non lo é, e qui rientriamo nella Storia, l'avvenimento che si registra nel 1212 quando Guglielmo, Signore di Pont Saint Martin e terzogenito di Ugo ormai morto, per contrasti con i fratelli, salendo in armi fà bruciare l'antico Castello situato dov'oggi esiste la Chiesa. Si salva unicamente la Torre, dalla quale deriva l'attuale nome di
Château
, rappresentante
l'Emblema di Champorcher
. Anzi la Chiesa fù edificata nel 1700 circa grazie ai resti dei materiali del Castello, come testimonia la sua base, e presso la medesima é stato eretto il monumento dedicato ai Caduti delle due Guerre Mondiali, per le quali Champorcher versò suo giovane sangue. Nel 1728 la stessa venne allargata, mentre simultaneamente veniva eretto il Campanile. Le due navate laterali sono invece del 1866, mentre le quattro campane erano state fuse nel 1863, fatto che avvenne alla presenza del
Re Umberto I°, Principe di Piemonte
; la quarta campana fù sostituita nel 1866 col generoso patrocinio di
Vittorio Emanuele II°, primo Re d'Italia
. Era andata rotta in una sua precedente e prima visita ufficiale quando il Popolo, preso da incontenibile entusiasmo, ne aveva provocata la rottura. Altri tempi, ma almeno qui la Gente diventava protagonista, senza dover assistere impotente e con la paura di schierarsi di fronte alle liti dei vari
"Signorotti"
. Come non avevano avuto paura di affrontare la
Grande Armata Napoleonica
, guidata dal Generale Duhesmes, nella Prima Campagna d'Italia del 1800, quando il grande Corso, arrivando dalla Finestra, voleva prender alle spalle il Forte di Bard che gli impediva di proseguire verso la piana. I valligiani s'opposero in difesa della valle alla Fenêtre appoggiando le
Truppe Austriache Imperiali
del Generale Suvarow, ma i francesi riuscirono ad eludere la difesa passando sul vicino Col Pontonnet, entrambi a cavallo della loro Tour Ponton. Ma adesso, con l'Unità d'Italia del 1861, anche loro avevano una Patria e, dopo aver rotto le campane per un irrefrenabile scampanio di gioia, nel 1862 aiutavano il Re a costruire la Strada Reale per Dondena accompagnandolo nelle sue celebri battute di caccia al Camoscio ed allo Stambecco. Loro, i
"Ciamporciari"
, nati e cresciuti tra la candida Rosa dei Banchi ed il verdeggiante Mont Glacier e che conoscevano solo il bianco delle nevi ed il verde dei prati, dovevano conoscere
il tricolore della bandiera italiana con il contributo del rosso del loro sangue ...


Miserin Basin with Cime Beccher, Rosa dei Banchi (3164m) another Symbol Champorcher, to Bec Costazza, Ponton & Moussaillon Towers

by emilius
Three different zones in an unique area
This long valley, starting from the Municipality of Bard and coming to an end with the Western Hills Rosa, Balma, Fenêtre de Champorcher, Pontonnet, Fénis and Moutsaillon or Mussaillon, can be divided into
three distinct areas:
A)- Area that the
"Lower Valley"
reach the Municipality of Pont Bozet, at the entrance into the valley.
B-
Area that the Municipality of Pont Bozet reaches Château, the Chief Town of Champorcher.
C)-
Area that from Chief Town Chateaul comes to various hills place after the ancient village of Dondena the border with Piedmont (South), with the Vallon of Urtier in Cogne Valley (West) and with that Fénis-Clavalité High-Comba Tersiva to the North.
From Bard Fortress towards Dondena and Miserin passing through Champorcher, by maria grazia s, emilius, Corvus & Antonio
Questa lunga valle, partendo dal Comune di Bard ed arrivando al suo termine Occidentale con i Colli della Rosa, Balma, Fenêtre de Champorcher, Pontonnet, Fénis e Moutsaillon o Mussaillon, può essere divisa in
tre ben distinte aree:
A)- Zona che dalla
"Bassa Valle"
raggiunge il Comune di Pont Bozet, all'ingresso della valle.
B)-
Zona che dal Comune di Pont Bozet raggiunge Château, Capoluogo del Comune di Champorcher.
C)-
Zona che da Chateau Capoluogo arriva ai varii colli posto dopo lo antico Villaggio di Dondena ai confini con il Piemonte (Sud), con il Vallone dello Urtier in Valle di Cogne (Ovest) e con quello di Fénis-Clavalité-Alta Comba Tersiva a Settentrione.
Four shelters: two side & three beyond
Throughout the Valley of Champorcher are only two shelters, but they can use the same four.
The two, typical of this area, are those of Dondena, just upstream of the homonym Village and that of Miserin at Lake and Sanctuary of the same name. But the other two, given the proximity, take you to the Walloon of the Lakes over Champdepraz with Refuge Barbustel at Lake Bianco (White) and the Walloon of Urtier with Refuge
"Sogno di Berdze"
(Dream of the Shepherd) at the Alp of Péradza, just below the Finestra (Window) of Champorcher. The first is reached, entering the
Natural Park of Monte Avic
, bypassing the Colle del Lago Bianco and with a small slope, the second allows an easy connection with both the Miserin that with Dondena Village. Both are heavily used by hikers for their trekkings or just to small crossings. It is also possible to reach the new Refuge Borroz Rotary Upper Comba Tersiva, but here the distances increase greatly. All the walloons of the district have a substantial number of pastures whereas pastoralism is widespread both cows with sheep and goats, but it is well to recall that the same are private and mostly closed in winter. No pets emergencies and certainly not the common use, because the same belong to private property. Even the Shrines, like that of Santa Anna in the North or the Re Tempio (King Temple) in Southeast, allow the visit, but not hospitalization. Conversely areas frequented are already somewhat limited in the summer season, given the length of the approach, while in winter the white snow and the great silences mastered the entire valley. Except in the area of Larìs at the Gran Cimetta where they feel the "rings" joy of skiers and the Royal Route that leads to Dondena, where you practice the Ski-Mountaineering and are all the rage Snowshoeing. For the rest here only dominates Him,
"Grandfather Winter"
, which in the bad season here is repaired by placing its white blankets between the Rosa dei Banchi and Mont Glacier, waiting to see arriving from the Plain of the Po of the
Wind Spring
, will return to re-dye the entire valley of a bright green.
Dondena, Miserin, "Sogno di Berdzé", Barbustel Shelters and Borroz-Rotary Bivouac, by Corvus, emilius & Antonio
In tutta la Valle di Champorcher esiston due soli rifugi, ma la stessa ne può utilizzare quattro. I due, propri di questo territorio, son quelli di Dondena, appena a monte dello omonimo Villaggio, e quello del Miserin presso il Lago e Santuario con lo stesso nome. Ma altri due, vista la vicinanza, permettono d'accedere al Vallone dei Laghi sopra Champdepraz con il Rifugio Barbustel presso il Lago Bianco ed al Vallone di Urtier con il Rifugio
"Sogno di Berdzé"
(Sogno del Pastore) presso l'Alpe di Peradzà, appena al di sotto della Finestra di Champorcher. Il primo si raggiunge, entrando nel
Parco Naturale del Monte Avic
, scavalcando il Colle del Lago Bianco e con una breve discesa, il secondo permette un facile collegamento sia con il Miserino che con Dondena. Entrambi sono molto utilizzati dagli Escursionisti per i loro trekkings o semplicemente per piccole traversate. Inoltre é possibile raggiungere il nuovo Rifugio Borroz del Rotary nell'Alta comba Tersiva, ma qui le distanze aumentano notevolmente. Tutti i valloni del circondario possiedono un notevole numero di alpeggi considerando che la pastorizia é molto diffusa sia con mucche che con pecore e capre, ma é bene qui ricordare che i medesimi sono privati e per la maggior parte chiusi anche in inverno. Sono ammesse esclusivamente le emergenze e non certamente l'utilizzo comune, poiché i medesimi appartengono a proprietà private. Anche i Santuari, come quello di Santa Anna a Settentrione o di Re Tempio a Sudest, permettono la visita, ma non il ricovero. Per contro le zone frequentate sono alquanto limitate già con la bella stagione, vista la lunghezza degli avvicinamenti, mentre d'inverno il bianco della neve ed i grandi silenzi padroneggiano l'intera vallata. Tranne che nella zona del Larìs presso la Gran Cimetta dalla quale si senton provenir
"squilli"
di gioia degli sciatori e sulla Strada Reale che porta a Dondena, dove si pratica lo Sci-Alpinismo e van di moda le Racchette da neve. Per il resto qui domina solo Lui,
"Nonno Inverno"
, che nella cattiva stagione qui si ripara adagiando le sue coltri bianche tra la Rosa dei Banchi ed il Mont Glacier, in attesa di vedere arrivare dalla Pianura del Po il
Vento della Primavera
, che tornerà a tingere nuovamente l'intera valle d'un verde smagliante.
All its Vallons
"Ascending on Bantses Walloon below Rosa dei Banchi", by emilius




VALLEYS & VALLONS

In order to deploy clockwise from the Low Valley (Bard & Pont-Bozet Commons) towards Champorcher & Dondena Hamlets.



Champorcher Valley & surroundings

Southern Side
Brenva (e) Vallon (Pont Bozet): from Pont Bozet (775m), Crest Village, Fontana Alp (1291m) to 1)- la Cavanna (1644m), Celleras Alp (1976m) Vallera (2377m) in Southeast, Dondogna (2389m) and Valbella (2550m) in Southwest Passes, with paths-traces. From Fontana to Mialet (1544m) and Grand Lavassey Alps 2) Lavere Pass (2203m), without path; from Creton, Grand Derby (1747m) Pastures to 3)- Eastern Corni (2546m) Pass, with path and traces in final part. From Barmé Alp (1923m) to 4)-Fricolla (2542m) Pass, path and traces, and 5)- Brouillet (2450m) Pass, without.
Manda Vallon (Pont Bozet): 1)- from Pont Bozet, Cotetta/Barmafumo, Verney (1298m), la Frete, Low, Upper Bozet (1573m) Hamlets; from these in Southeast to 2)- Secco, Nero (1940m) and Champas Lochs, with paths. From Nero in Southeast, Lavere Pond to 3)-Lavere Pass, without. From Champas, nearby Alp, in South to 4)- Cornuto (2412m) Lake, near Forest Rangers Cabine and Brouillet Pass, Fricolla Pass and Point (2676m), traces on short crest. From Bataille in South Chanton, La Manda (2003m) Alpages to 5)- Chenessy (2383m) Lake, with traces; 6)- in North-northwest Mount Digny (2145m), small path. From Mont Digny to Southwest 7)- Mont Giavin (2431m), through path-traces on small easy crest.
Legna Vallon: 1)- from Outre l'E(y)ve, Porte Alp (1344m), Montaz Pasture (1497m), Ourty Alp (1507m), alternative to Sant'Antoine (1831m), Chenessy Pastures (2051m), Peroisa Alp (2184m) Alp, Chilett Alp (2351m) and Lake (2324m); in South 2)- Orti Pass (2524m), with path-traces. In Southwest 3)- Santanel Pass (2463m) to Santanel Lake, with path, respectively to Chiusella Valley-Pianprato Walloons in Piedmont.
Vercoche Vallon: 1)- from Ourty, Vercoche Alps (1879m), Lake (2202m), Laris Hill (2581m), paths; to 2)- Pic Molère (2638m), by crest.
Laris Vallon: from Chardonney (1455m) in South Pian di Greus, Prarion Alp (1796m), fork Low Prarion, Low and Upper Laris Alpages (1950m) after in Southeast Larissa Loch (2489m) and Hill (2581m). From this: 1)- Bec or Pic Mol(l)ère by easy Southwest Crest or 2)- to ake Reale (2449m) in Piedmont, with paths. Alternative: from Dondena (2097m), Shelter (2200m), Cimetta Rossa (2466m) to Larissa Loch, by dirt road.
Banchi Vallon: from Dondena in South, Shelter, Pian di Roche Alp (2238m), with path, Rosa Pass (2957m), through morainic traces Rosa Glacier.
Miserin Vallon: from Dondena, Shelter, to Miserin Refuge, Sanctuary, Lake (2578m), through dirt road. From thys 1)- in East Mount Rasciàs (2784m), with traces, 2)- in South Rosa Pass, small path and traces, 3)- in Sout-soutwest Balma Pass (2941m), traces; 4)- in West Cima di Peradzà (3021m) or Saddle 2946 metres, between Peradzà and Bec Costazza (3092m), by traces on morainic slopes and easy debris crests.

Western Side
Fenêtre de Champorcher Vallon: from Dondena, Shelter, fork 2526 metres, between Blanc (2527m) and Noir (2551m) Lochs, with dirt road, fork 2592 metres to Fenetre Pass (2826m) and descent to Sogno di Berdzé Refuge (2531m), near Peradzà Alp, in Urtier Walloon, with paths.
Pontonnet Vallon: from Dondena in West, fork 2526 metres, Pontonnet Lake (2702m), Fénis Hill (2857m), Pontonnet Hill (2897m), with paths.

Northern Side
Glacier Vallon: from Dondena in West-northwest, bridge 2334 metres up Ayasse Torrent to fork 2800 metres and in Northeast small saddle before Lago Gelato (2824m); from this 1)- in Northwest Col Fussì (2912m), with paths and descent to Upper Comba Tersiva-Clavalité-Fénis Vallon. 2)- In Northeast Great Shoulder (3003m) and Mount Glacier (3186m), with path, traces and easy rocks on crest of final part.
Gias(s)et Vallon: from Dondena, in Northeast Giaset Alp (2155m) and Loch (2308m), with path; from this in North Gran Rossa Pass (2766m) to Gran Lago, through traces. In East path to Giaset Hill (about 2400m) and 1)- Western Bec Raty (2417m), by traces or Lake (2283m), with path.
Raty Vallon: from parking about 1800 metres on Dondena's Royal Road, alternative 1920 metres around, Sapy Alp (1979m), Raty Lake (2283m), with path. From thys 1)- in North Gran Rossa (2866m); in Northeast Bocon Damon (2792m), both through traces and easy rocks in terminal crests.
Vernouille-Muffé Vallons: from Champorcher-Château (1427m), Arbussey, Mont Blanc, La Cort Villages, la Grand Cort Alp (1944m): 1)- in Northwest Alp and Lake Vernouille (2145m), with path, to Tête des Hommes (2614m), through moraine and easy rocks; in North Alp and Lake Muffé (2019m), Lake Bianco or Croix Hills to Barbustel Refuge in Champdepraz Walloon, with paths. 3)- from the last hill in East Cima Piana (2512m), by path under West Crest; 4)- in Southeast Cima Piana Hill (around 2300m), with path. From Lake Muffé in East Cima Perche (2396m), with path.
Terra Rossa Vallon: from la Grand Cort in East Terra Rossa Hill (2075m) and from la Cort Arcomy Hill, Point (1952m, 1991m), paths.
Others small more to the Northeast: from Mellier (1293m), Petit Rosier (1444m) Hamlets to Possoneil or Possoueil Hill (1842m), with path; from Petit and Grand Rosier (1452m) Villages or from la Place (1020m) to Santa Anna Oratory (1706m), near Plan Fenêtre Hill (1775m), with paths.