Overview
Location: North-Central Boise Mountains, between the North and Middle Forks of the Boise River
Nearby Peaks: Swanholm Peak, Goat Mountain, West Warrior, Silver Mountain, Steele Mountain, East Warrior
Linkups: Granite Mountain
Difficulty: Easy hike on Jeep Road, single track trail, short off trail
Usage: Hiking, Motorcycles, Horses, Mountain Bikes (No ATVs)
Terrain: Rolling hills, relatively easy and regionally typical
Traffic: Very light most of the year, increased usage in Fall
Summit Register: Yes
History / Etymology: Traditional Mining, Logging and Hunting areas. Named for rocky outcroppings found on ridge tops.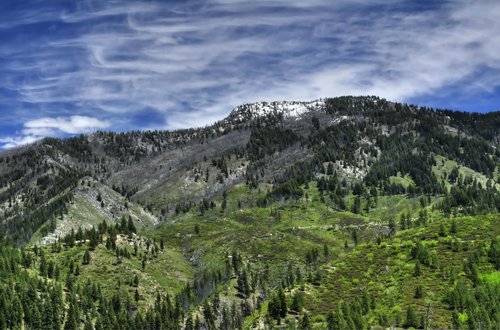 Getting There
Nearest Paved Roads: ID-21

Nearest Dirt Roads / Conditions: Swanholm Creek Road (above average), North Fork Boise Road (seasonally good), Edna Creek (seasonally good)

Approach Trails / Conditions: FST 049 (excellent- recently improved)
Routes
Main Route: FST 049 starts just north of BM 5620. Jeep road soon becomes single track trail veering north and switching back south as it follows the ridgeline.
Main Route Stats: 11.6miles / 4053 (round trip)
Average RT Time: 4-6 hours
Other Routes: Trapper Creek, Wren Creek
Red Tape
Jurisdiction: National Forest Service
Permit: No
Other Users / Issues: Hunters
Maps: USGS Quad- trail shown on this quad is not accurate
Guide Book: Tom Lopez, Idaho: A Climbing Guide
When To Climb
Climbing Season: May through November
Ideal Climbing Time: June
Nearest Weather Station: Graham Guard Station
Weather Relative to Region: Slightly milder and drier than surrounding area because of relatively low elevation
Camping
Car Camping Sites: Flat area at trailhead, North Fork of the Boise- many options
Backpacking Sites: Not a traditional backpacking area, but beautiful flats on the 7084 site and lower in the pines. Water sources are few after June.
Flora & Fauna
Potential Wildlife: Elk, Mule Deer, Mountain Lion, Black Bear, Coyote, Wolf
Confirmed Wildlife: Black Bear, Elk, Common Nighthawk
Vegetation: Ponderosa, Lodgepole, Aspen, Buckbrush