Overview
Overview and Routes
Well after the American frontier moved west, Virginia still had a Wild West of its own in the early 1900s: Nicholson Hollow and Hazel Country, west of the fall line in Virginia's Blue Ridge. Also called Free State Hollow because law enforcement agents feared to enter the area (due to the temperament and outlaw tendencies of many of the residents, most of whom were members of the Nicholson clan), the area now encompasses one of the wider sections of Shenandoah National Park's Central District and offers a pleasant blend of natural and human history. Today, all that remains of the Free State are scattered ruins of homes (mostly just crumbling foundations now, many of which are hard to spot) and some family cemeteries, but one old mountaineers' home, Corbin Cabin, has been preserved and is on the National Register of Historic Places. This cabin, in a pretty setting along the Hughes River in Nicholson Hollow, is administered by the Potomac Appalachian Trail Club
(PATC) and is even available for overnight usage.
Hazel Mountain rises just to the north of Nicholson Hollow proper, between Catlett, Hot, and Short Mountains. It is not one of the park's higher mountains. It is not one of the most dramatic ones. It is not among the park's most-photographed peaks. It has no trail to the top and has no unrestricted summit views (although there
are
nice views during the bare seasons); up top, there are just some small glades showing no signs of the passage of people.
Wait. Back up to that last sentence. "No signs of the passage of people."
That's
why one might want to climb this peak. It's about solitude-- finding a small bastion of real wilderness just a 1.5-hour drive away from a busy metropolitan area that annually ranks in the nation's top 5 for awful traffic congestion. This is a mountain not for casual hikers or for peakbaggers but for wilderness lovers.
Routes Overview
The attached route pages have more details, but here is a glimpse of two routes, both of which can be done as day trips and involve off-trail scrambling and/or bushwhacking (you will make the acquaintance of plenty of deadfall and thorns). It is best to do these routes in winter because views will be better and undergrowth will not be as dense, but late April and early May are good times because of the wildflowers, and mid-October through early November is good for fall colors. Avoid the trip to the summit from late spring through early fall unless you don't mind poison ivy and dense undergrowth.
White Rocks-Hazel Mountain Loop:
around 7.5 total miles; use this route if approaching from Skyline Drive.
Hazel River-Sam's Ridge Loop:
5.5-6 total miles; use this route if approaching from outside the park.
Do not rely on USGS topo maps for this area. Some trails marked on them no longer exist, and other trails have had their locations changed.
Either purchase current maps in a park store (not open in winter) or get the
PATC maps and guide
in advance.
Getting There, Red Tape, Camping, and Links
Getting There
To access the peak from Skyline Drive, enter Shenandoah National Park at one of its four entrance stations and drive to the Meadow Spring Parking Area between MP 33 and MP 34.
To access the peak from outside the park, drive to Sperryville (about 10 miles east of Skyline Drive's Thornton Gap Entrance along U.S. 211) and follow signs to U.S. 522 and SR 231. Drive south on 231 for about three miles and then turn right onto SR 681. Then turn right onto SR 600 and drive to a bridged crossing of Hazel River. There is room here for 2-4 cars to park off the roadway (obey posted signs about private property). Hike west along the private road (Hungry Horse Lane-- open to foot traffic) paralleling Hazel River for 0.2 mi, where the park trails actually begin. The distance from 231 to the parking area is 2 miles. If approaching from the south, make sure you are looking to turn
left
onto 681.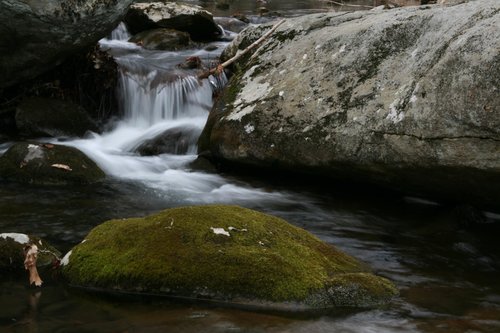 Red Tape
Keep an eye out for copperheads, timber rattlesnakes, and poison ivy. Late spring through summer, carry insect repellent or prepare to swat and/or itch a lot.
It costs $15 to enter the park, and that provides access for a week. Annual passes cost $30. The interagency pass, good for yearlong entry to areas managed by NPS, USDA Forest Service, USFWS, BLM, and the Bureau of Reclamation, costs $80. People hiking in from outsid the park are not subject to the fees.
The park is open all year, but Skyline Drive does sometimes close after snow or ice storms, and local roads may be temporarily impassable. The park site does not give current road conditions for Skyline Drive, so call ahead (540-999-3500).
To reduce poaching, Skyline Drive is subject to nighttime closures during hunting season (mid-November through early January). Specific information about the dates, times, and sections for the current year is available on the park's website.
Camping
The closest campground inside the park is at Mathews Arm (MP 22). The campground is open from late May through October. The campground has water and flush toilets but no showers or a store (there is a seasonally open snack bar at Elkwallow, a short drive south on Skyline Drive). It will usually fill on holiday and October weekends. The fee for a campsite is $15 per night.
Big Meadows Campground is at MP 52 and usually opens in March and stays open through Thanksgiving weekend. You can reserve sites here, and the campground has showers and a store in addition to water and flush toilets.
Backcountry camping is free, but you must get a permit. You can self-register at entrance stations or just head in from the outside access described without a permit (technically, you are still supposed to get one).