Overview
Mary's Rock is one of many spectacular mountains in the
Shenandoah National Park
. Although it is not as popular or crowded as
Old Rag
, you can hike it or rock climb it, and your reward is a tremendous unobstructed 360° view when you reach the top.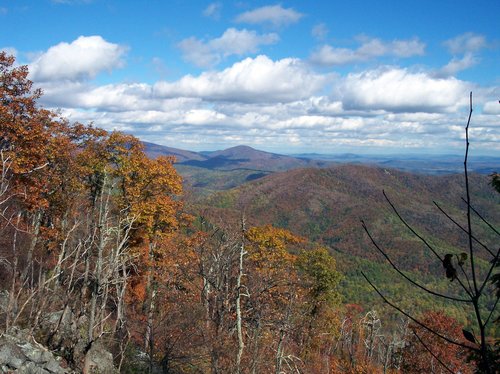 There are several routes, most of them pretty steep, with options to do some boulder hopping, and they are all short enough that you can reach the summit with plenty of time to spare to enjoy other mountains in the park.
Getting There
From Washington DC follow I-66 West and exit onto US 29 at Gainesville. Follow to Warrenton, and take 211 West. Take 211 to Sperryville until you reach Skyline Drive. It takes about 90 minutes to get there from our Nation's capitol.
Directions from Fredricksburg, Virginia: From I-95, find Route 3 West to Route 522 West to Sperryville, VA. At Sperryville, go West on Route 211. Go about 7 miles till you get to Skyline Drive. There used to be a route from the Panorama Restaurant, but it has closed down, so to hike Mary's Rock, it is necessary to do so from inside the park, right near the entrance station.
The elevation gain from here is pretty steep as it climbs 1210 feet to the summit in only 1.7 miles.
Another way to hike is from the
Meadow Spring Trail
, which is 2.7 miles round trip, and is only 674 feet to the top.
You can also climb the mountain over its boulder fields, from the Tunnel Parking Overlook. This
route
is the most rigorous, and should be done in the colder weather months when there is less tree cover. This requires entering the park.
When To Climb
Mary's Rock is most populated when the weather is good and on holidays. Weekday traffic is very sparse, and it can get a little crowded on the weekends, but it is never as crowded as Old Rag. It can get quite hot and humid in the summer in Virginia, so care should be taken if you decide to hike during this season. The winters are not too bad, and actually provide a preferred option for bushwhacking up the boulder field, due to the lack of trees, and less danger in encountering poison ivy.
Generally, the paths are well groomed, and no special equipment is needed, just some good shoes and some water.
With a bad winter, or an ice storm, this trail has been known to close down in the early spring for removal of trees and to clear the trail.
Red Tape
Because of the proximity of Mary's Rock to Route 211, it is possible to climb this mountain from outside the park, but there are no short routes since the Panorama Restaurant closed down. The Pass Mountain Trail, 2.5 miles east of the Skyline Drive entrance is an option, but involves over 5 miles one-way to reach Mary's Rock.
If you climb within the park, Shenandoah National Park cost $30 for an annual pass. If you do not live in the DC area, you can pay the $15 fee to enter the park ($10 from December-February).
Camping
In general, campsites are not always open during the winter and spring. Backcountry Camping Permits are required and are available free from park headquarters, visitor centers, and entrance stations. Appalachian Trail hikers may self-register for permits on the AT near Rockfish Gap (south) and Chester Gap (north).
Campfires are not permitted (except at pre-constructed fireplaces at backcountry huts and day-use shelters). Groups may not exceed 10 people. For more info consult the
park website.
Mountain Conditions
Check with the park at 540-999-3500.
External Links