Overview
Hortsman peak dominates the head of the fishhook creek drainage and is climbed by a few people each year, but you are usually guaranteed solitude anywhere on this peak. Routes range from class 3 ridge scrambles on "less than ideal" rock to 5.5-5.9 alpine routes which require a good knowledge of route finding .
The sickle couloir route is the most commonly climbed technical route, and holds snow nearly all year, with a class 3+ scramble finish to the summit.
Getting There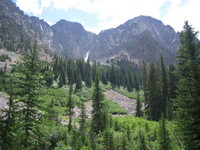 APPROACH TO NORTH SIDE TECHNICAL CLIMBS:
Drive to the Redfish Lake hikers parking lot and cross the street to the Fishhook trailhead. Follow the trail for approximately 2 miles until it starts to fade in the marshy/brushy areas past an unnamed lake. Keep on the West side of the creek, avoiding brush as much as possible and head west until you can see peak . Then travel cross country (about 1 mile to the base of the peak.
Other approaches to this peak (and the less technical routes)require a long crosscountry hike from Baron Lakes, to Stephens Lake, then to the obvious South ridge for a 3rd class scramble to the summit.
Red Tape
Self issued wilderness permit required to be filled out at trailhead.
When To Climb
Climbing season generally from June - October. Expect snow and high creek crossings in June, July and a lot of mosquitos anytime the temp is above freezing.
Winter climbing isn't advised due to high avalanche danger and extremely remote access.
Camping
Camping at Redfish Lake campgrounds at the trailhead area, or wilderness camping is allowed in the backcountry
Mountain Conditions
Contact Stanley Ranger District (208) 774-3681 for current weather and snow levels.
Tom Lopez's book "Idaho-A climbing guide" has brief descriptions of various routes.