Loneman Mountain is located about 5 miles from an area along U.S. Highway 2 named Nyack Flats. It is here at Nyack Flats that the trailhead to climb Mount Stimson as well as
leaves from the north side of the Middle Fork of the Flathead River.
in a basin below the summit with at least 6 cows in his harem. His bugling was heard just as we reached the last half mile of the trail before the mountain's summit. We also saw a small
near the abandoned Nyack Ranger Station.
Loneman Mountain was named in either 1885 or 1902 by J. W. Schultz after he and two companions were on a winter camping trip on Nyack Creek when the temperature reached -33 degrees Fahrenheit. In addition to the above information found in
This climb is a nice diversion from dealing with scree and off trail route finding in Glacier National Park. The 3,900 feet elevation gained on the trail passes easily and quickly and it almost feels like cheating with the rewarding views from the top.
, the view along the Continental Divide from Triple Divide Mountain to Red Eagle Pass to Mount Jackson is truly outstanding.
Another unique element of this peak is the lookout that is located on the summit.
According to the National Historic Lookout Register, Loneman Lookout was built in 1929 and was staffed until 1978. It replaced a lookout cabin that was burned by a forest fire in 1928. It was completely renovated in 1998 and is listed on the National Historic Lookout Register
The lookouts in Glacier National Park were constructed in cooperation with the National Forest to mutually support and monitor potential fire hazards in BOTH Glacier National Park and the Flathead and Lewis and Clark National Forests. They were successful at monitoring and reporting fires for a number of years. Sadly most of these lookouts have been destroyed and now the Park Service and Forest Service do most of the fire monitoring by air.
The above photo was taken in August 1935 from Loneman Mountain Lookout.
There was another fire in 2003 that burned off a lot of the timber and opened up the views towards the Middle Fork drainage. Now there are numerous small trees crowding the trail and in just a few years it will be necessary for the Park Service to clear the trail or it will become unusable.
Getting There:
Loneman Mountain is located in Glacier National Park's remote Nyack region.
This area has few visitors and therefore is wild AND remote. Remember that medical care and rescue is further away.
The Nyack area is accessed along the Highway 2 corridor between East Glacier and West Glacier. The Middle Fork of the Flathead River serves as the geographic boundary along the southwestern border of the park and presents a major obstacle for those who would like to explore this area due to high treacherous water at certain times of the year.
The Burlington Northern Santa Fe Railroad also maintains this portion of the transcontinental railroad corridor in this area and the tracks follow the river from its confluence with Bear Creek flowing from Marias Pass located just east of Essex, Montana to the Middle Fork's confluence with the North Fork of the Flathead River near Blackenship Bridge.
One of the beautiful things about this side of the park is that there are
NO LINES
and
NO ENTRANCE FEES
!
Red Tape:
Vehicle single entry fee for Glacier National Park is $25.00 for 7 Days, $12.00 per person for single hiker, motor biker or bicyclist. See
Plan Your Visit
for other information regarding all of the National Park entrance fee information.
An "America The Beautiful Federal Lands Recreational Pass" for goes for $80.00 which gives entrance to all National Parks, National Forests, BLM, US Fish & Wildlife, and Bureau of Reclamation sites for one year from date of purchase.
If you are planning on visiting Waterton Park make sure you have a passport to simplify crossing the border.
See
Rules and Regulations
governing Glacier National Park.
CLIMB REGISTRATION:
You do not have to register for day climbs in Glacier National Park but it is recommended. Backcountry travel regulations can be found at
Backcountry Travel
. There is also information from the Park Service on
Mountain Climbing
in Glacier.
As with all hiking and climbing in Glacier National Park use caution and practice good manners with the wildlife. You are in bear country. Carry
bear deterrent spray
, don't hike alone and make some noise. For more information please go to the Park's web site for
Bear Information
. The U.S. Forest Service also has helpful information on
Grizzly Bear Management
.
Route Statistics and Information:
Total Round-trip Mileage:
Approximately 13 miles (21 km)
Total Elevation Change:
3,900 feet
Maximum Elevation:
7,181 feet
Topo Map:
Nyack
View Topo Map in Original Size
Stream Crossings:
The Middle Fork of the Flathead River and Nyack Creek
This climb is located in the Walton Ranger District. Here is a link to check
current trail status
as well as creek flows before you start on this climb.
Directions to the Trailhead:
Drive to Mile marker 164 on U.S. Highway 2, which is approximately 10.9 miles east of West Glacier, Montana, and look for a BNSF Railroad Access road half way between mile markers 164 and 165.
It is also .4 miles west of the Skiumah Creek Trailhead. Another noteworthy feature is the Highway 2 bridge that crosses over the railroad tracks near mile marker 165. Another noted feature is the Red Eagle Ranch that is near the correct road.
However you locate this road turn to the northeast and follow the road to the tracks. At the tracks turn right and follow it for another .3 mile to a parking area. Find a place to park that will be out of the way of the maintenance crews. This trailhead diagram from the National Park Service will also be helpful.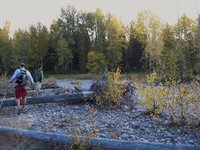 Trail Directions:
At the parking area walk across the tracks and make your way down the bank to the Middle Fork of the Flathead River.
Make sure you watch for trains in
BOTH
directions. Many times the Amtrak passenger train flys through this section and it is difficult to hear compared to a laboring freight train.
There more than likely will be more than one channel to cross. Find a suitable place to cross and wade to the opposite shoreline.
Hopefully you have brought some wading shoes and perhaps waders or a dry change of clothes for the rest of the trip.
In September 2009 the Middle Fork of the Flathead River was about 18 inches deep.
Once on the opposite shore continue through the wide river bed and look for a bright orange marker on a tree on the far bank. There was a decent trail leading through the sandbars but it will not always be there depending upon the river's flow and location. The Lower Nyack trailhead sign will also be visible. Hopefully you are at the correct location and it will be easily located.
Hike to the north (down river) passing by the abandoned Nyack Ranger Station just a short distance from the first trailhead sign indicating a trail to Coal Creek. There is a
residence (photo link)
as well as a stable (see above photo in Red Tape) standing there. Continue on this easy trail until the second creek crossing at Nyack Creek.
Hopefully you still have your wading boots. If not barefooting it isn't too bad.
In September 2009 Nyack Creek was flowing about 2 ½ feet deep.
---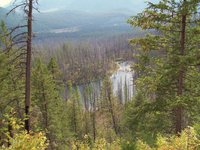 Just beyond the Nyack Creek crossing the Nyack Trail splits off at the junction and heads up Nyack Creek.
DO NOT
follow that trail, instead stay left (down river) and follow the Boundary Trail to where the Loneman Mountain Trail leaves the Boundary Trail. This is an obvious junction but if there is any doubt here stay on the high trail. The Boundary Trail, heading downhill, is noticeably more used.
From this junction the trail climbs steeply for about a mile and then the last 4 miles are a series of switchbacks along the ridge leading to Loneman's summit. The above photos are from the trail. The
final ridge (photo link)
has great views to the Continental Divide.
Please NOTE:
As of Fall 2009 this trail is in decent shape and appears to be used occassionally by horses. There were a few (6) trees over the trail but only 2 required climbing over them. The 2003 fire resulted in NUMEROUS dead trees along the trail and as they fall over and the new growth forest grows the trail will become more difficult.
---
Although there is no scrambling required on this climb here is some information on climbing in Glacier National Park.
Special Considerations
: The rock in Glacier Park is widely varied and it is not unusual to find several different types of rock on any given route. Know your rocks and be certain of your safety. J. Gordon Edwards has an excellent section in his guidebook on rock and climbing safety. Be safe and know your limitations as well as those who are climbing with you. Also refer to the following links for further details:
GNP Rock and Grading System
and the
GMS Climbing Guidelines
.
When to Climb and Weather:
This climb would be most easily accomplished after the Middle Fork of the Flathead River and Nyack Creek after they are no longer running at high volumes.
Crossing early season would increase the danger of drowning due to the high flows of the river.
It is possible to walk along the Boundary Trail from West Glacier but this would certainly increase the trip mileage as well as time need to climb.
---
It is best to make this climb later in the season such as after late August to early October when the river can safely be waded across.
---
Essential Gear and Camping:
Equipment:
Bear Spray
Hiking Poles
Water
Camera
Map
GPS (for those who are navigation impaired)
Hiking boots, but could be done in trail shoes
Sun screen
---
Camping:
The nearest USFS Campground is located at
Devil Creek
. it is located about 19 miles west of East Glacier, Montana and 35 miles east from West Glacier, Montana on U.S. Highway 2. Devil Creek Campground has 13 sites that can be used either for RV or tent camping. It is open from May 16 through September 30. The costs to camp there are $10/night. Each campsite has a table and a grill.
The closest
National Park Service campground
is located at Apgar in Glacier National Park.
Links:
Glacier National Park in Pictures
Glacier Mountaineering Society
Visit Montana