Overview
"The views from this great mountain are probably the most beautiful and spectacular of any in the entire national park." - J. Gordon Edwards
There are only six mountains the 1 million + square acres of Glacier National Park that rise to 10,000 feet above sea level. The shortest of those six is Mount Merritt, coming in at 10,004 feet. With Old Sun Glacier blanketing its east face and a lofty summit that rises a vertical mile above the Mokowanis River and Belly River valleys, many of Glacier's most spectacular sights are visible from the top. Turquoise lakes, snowy summits, crevassed glaciers, and deep u-shaped valleys dot the landscape in all directions. Those who are fortunate enough to take in this view will likely agree with J. Gordon Edwards, patron saint of climbing in Glacier National Park, who once wrote, "The views from this great mountain are probably the most beautiful and spectacular of any in the entire national park."
According to Edwards, the first known ascent was by famed mountaineer Norman Clyde on July 28, 1924 (1). Clyde utilized an approach from Mokowanis Lake to gain the northeast ridge, which has since become the standard route for ascents of this mighty hulk of sedimentary rock and ice. Due to Merritt's location deep in Glacier's backcountry, most parties will require multiple days to attain the summit.
Getting There
The approach from the Belly River Trailhead is lengthy; the standard route from Mokowanis Lake can only be reached after ~14 miles of hiking on a well maintained park service trail. There are several fantastic backcountry sites in the shadow of Mount Merritt, which will be discussed in greater detail in the Where to Stay section.
Routes
Mokowanis Lake
This route begin from the Mokowanis Lake backcountry campground and ascends up the loose rocky west slope of Mount Merritt. This class III route deposits climbers on the northeast ridge, which runs directly above Old Sun Glacier. From there, a series of class III ledges leads to a steep screen slope that often holds snow well into July. It is recommended to carry an ice axe if attempting this route. From the top of the scree/snow, the three prominent summit of Merritt come into view. The easternmost is the highest, and easy slopes lead to the top. Please visit my
route page
for a more detailed overview.


Old Sun Glacier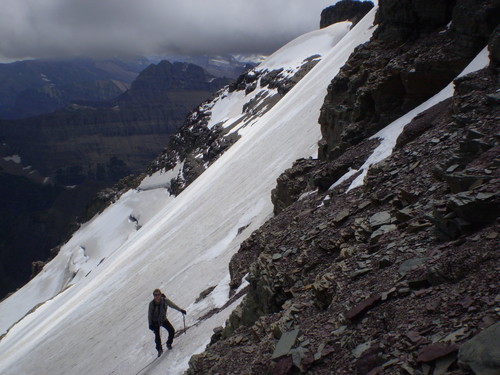 A complicated route involving exposed scrambling and 50 degree climbing on a crevassed glacier is also possible for the experienced mountaineer. 6 miles from the Belly River Trailhead, the trail forks at a backcountry ranger station. The left fork continues along the Belly River another 7 miles to its terminus at Helen Lake. From here, it is possible to approach Mount Merritt from the east, but the only way to the summit involves climbing Old Sun Glacier. Please visit the great
route page
by
sushiman
, or refer to Gordon Edwards' route description for a detailed overview.
Summit Views
The views are remarkable from this centrally located summit. To the best of my memory, nearly every major summit in the park is visible. My favorite aspect is the view towards the wild glaciated country to the west. Visible are several dwindling glaciers tucked beneath the Continental Divide, with their sediment feeding into three lakes with different hues and opacities: Ipasha, Margaret and Sue. Mount Cleveland's impressive east face rises directly across Glenns Lake to the northwest. And behind it all, the summits of the snowy Livingston Range reach to the skies. Directly north, an endless sea of peaks stretches into Alberta, Canada, and to the south the Lewis Range rambles all the way to Glacier's southern boundary. By looking generally to the east, you can pick out all the peaks of Many Glacier and a wild array of colored ridges and summits in the Chief Mountain area.
When to Climb
Due to extreme winters along the Continental Divide, problematic snow can linger on trails and mountain slopes well into July and August. Hence, the prime climbing season in Glacier is rather short, often beginning in June and lasting into late September/early October. However, some lower peaks and south facing slopes can be safely attempted much earlier in the season. Your best best is to inquire locally about snowpack and weather conditions. Personally, I have found the NOAA website to be the most reliable resource for detailed weather forecasts and snowpack information for the greater Glacier area.

It is advisable to carry an ice axe on any attempt of Mount Merritt to help manage any potentially dangerous snow crossings. Snow may be encountered on the west slope on any approach from Mokowanis Lake that occurs before July. Additionally, there is a large snow field high upon the northeast ridge that can persist even later into summer. Remember, you are a long way from help back here, so any slip on the snow could prove fatal. The Belly River region is known to house some pretty ferocious mosquitos in June and July, so plan appropriately (insect repellant, mosquito nets, etc. if that's what you're into).
Where to Stay
Due to a 14+ mile approach on trail, most parties chose to climb Mount Merritt as a multi-day outing. Fortunately, Glacier is a backpacker's paradise, and there are several established campgrounds that make for logical and convenient basecamps in the immediate vicinity. Note that a permit is required for all backcountry stays in Glacier National Park. As of November 2016, permits are $7 per person per night and can be obtained at various visitor's centers (St. Mary and Many Glacier are nearest). There is an advance reservation system (and associated fee), or sites can be obtained on a walk-up basis. Please visit the NPS backcountry camping webpage for more detailed information.
Below is a brief summary of backcountry sites near Mount Merritt. Note that distances are one way from the Belly River Trailhead, which is located off MT-17 near the international border crossing at Chief Mountain Customs.
Mokowanis Lake Route
Glenns Lake (Head) - 12.8 miles, 3 sites, campfires permitted. Very scenic, with fantastic views of Mount Merritt and Pyramid Peak.
Mokowanis Junction - 13.3 miles, 5 sites, campfires NOT permitted. From what I've heard, this site is lacking on scenery.
Mokowanis Lake - 14.4 miles, 2 sites, campfires NOT permitted. The lake itself is quite stunning, but the highlight of this site is staring up at the sheer east face of Pyramid Peak.
Old Sun Glacier Route
Elizabeth Lake (Head) - 11.1 miles, 4 sites, campfires permitted. This site is close to the shallow inlet of the Belly River and sits in thick forest. Elizabeth Lake is known for good fishing.
Helen Lake - 13.8 miles, 2 sites, campfires NOT permitted. Another incredibly scenic site. The ascent to Old Sun Glacier starts directly from camp, which is set at the foot of the lake.
Red Tape, Safety, Wildlife, etc.
Entrance Fees
A fee is required for all persons entering Glacier National Park. As of November 2016, single vehicle rates are $30 for a seven day pass, or $45 for an annual park pass (increasing to $50 in January 2017). A lower fee is charged for hikers and bikers; please visit the
NPS fees webpage
for a full explanation of the entrance fees.
Seasonal Closures
Glacier is subject to extreme winter weather conditions, and as such, much of the park is virtually inaccessible for the majority of the year. The Going-to-the-Sun Road is typically open in its entirety from mid-June to mid-September, and many of the developed areas of the park (including the historic lodges and most of the campgrounds) operate for a short window as well. Information on the operational status of
front country campgrounds
and
park roads
can be found by clicking on the hyperlinks.
Glacier Rock Grading
Due to the sedimentary nature of the rock in Glacier National Park, unique rock grading systems have been established by both Gordon Edwards and the Glacier Mountaineering Society. Please refer to the
Glacier National Park Rock & Grading Systems
Summitpost page
(authored by
Fred Spicker
and
Saintgrizzly
) or the website of the
Glacier Mountaineering Society
for detailed information. If you are new to climbing in Glacier, I highly recommend checking out this info before attempting any climbs in the park. Oh, and don't forget to wear your climbing helmet!
A Climber's Guide to Glacier National Park
Pick up a copy of Gordon Edwards' classic A Climber's Guide to Glacier National Park. It's an absolute must for anyone who wants to safely venture to one of the park's many accessible mountain summits. Edwards spent many years as a seasonal ranger in Glacier, where he developed a deep passion for exploring the park's mountains and sharing its splendors with others. The book provides a fantastic history of climbing in Glacier, and his detailed and colorful route descriptions are a fantastic introduction to off-trail hiking and climbing in the park.
Wildlife
The park is home to lots of potentially dangerous wildlife, including moose, black bear, grizzly bear, and mountain lion. Hike loud, carry bear deterrent spray (and know how to use it!), check local trail postings (for area warnings/closures) and let someone know your intinerary before heading out into the park. Also, note that special precautions are in place in all front and back country campgrounds to limit human-bear encounters. Regulations are posted everywhere (picnic tables, ranger stations, bathrooms) and it is every visitor's responsibility to take them seriously. Remember, a FED BEAR IS A DEAD BEAR! Please visit the NPS camping webpage for more detailed information.
External Links
References
1. Edwards, J. (1995). A Climber's Guide to Glacier National Park (1st edition published in 1961). Helena, MT: Falcon Press Publishing Co., Inc.
Special Thanks
A big thanks to Summitpost member
whiteroom17
, the original creator of the Mount Merritt page. I requested ownership of the page from him, and he graciously passed it along to me. Many thanks! Also, I have included a great photo of Merritt from nearby Natoas Peak by late Summitpost member
Saintgrizzly
as the primary image for the page.