Monte Saron, a modest summit in the shape of a squat pyramid, is almost at the center of the Valle d'Aosta Region. Easily seen from the City of Aosta
(583m),
this peak is simply the southernmost ramification of Mont Vélan. This summit is very popular in both summer and winter for the easy ascents of its South face and South-Southwest ridge. These routes provide excellent training for more demanding itineraries. From the Summit of Monte Saron one enjoys grand vistas encompassing Monte Rosa and Mont Blanc.
First Ascent
First on the summit: Unknown.

In Winter: Unknown.
Getting There
BY CAR:
From Torino, Milano, etc: Motorway A5. Exit Aosta Est.

From Switzerland: through the Grand St. Bernard Tunnel or the homonym Pass).
From France: through Mont Blanc Tunnel or Petit St. Bernard Pass. It isn't necessary to enter in Motorway A5, you can drive through SS.26 Aosta direction.
BY PLANE:
Aeroporto Internazionale "Corrado Gex" Saint Christophe (Aosta).
Route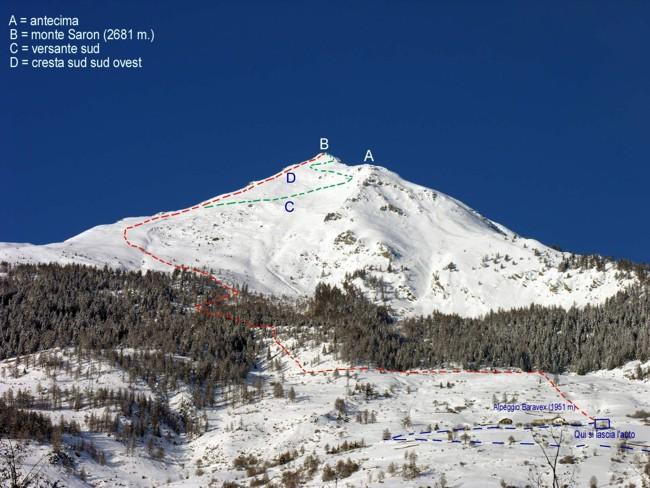 From the City of Aosta
(583m)
follow the road for Gran San Bernardo (State Route 27) for about 10 Km. At the fork for the Village of Allain
(1.251m)
turn left and go past the village itself and the nearby Hamlet of Villa to reach the Pasture of Baravex
(1.914m),
where a sign prohibits access to unauthorized vehicles. Park there and begin the ascent of the easy slopes. In about 2 hours you'll reach a false summit, marked by a cross. Skirt this false summit and in another half hour reach the true one
(2.681m),
marked by another, large wooden cross. (Total time from the Baravex Pasture 2h'30).
Difficulties
The route is classified E/F.
Equipment
Normal hiking gear.
Panoramic views from the summit
Campings
Remember that free camping is forbidden (except for emergency reasons, over
2.500m
, from darkness until dawn).
Mountain conditions
Meteo: you can find all the needed informations at the official site of the Valle d'Aosta Region:
Valle d'Aosta Meteo
Webcam
WEBCAM on Aosta Valley:
Webcam
Books and Maps
BOOKS:
"Guida dei Monti d'Italia-Alpi Pennine" (Vol. I°) di Gino Buscaini-Club Alpino Italiano/Turing Club Italiano, Luglio 1971.
"Guida della Valpelline" de l'Abbè Joseph-Marie Henry - Societè Editrice Valdotaine 1925 II Edition e Collana Reprint Musumeci (1986).
MAPS:
Kompass "Monte Bianco Valle d'Aosta Sentieri e Rifugi" Carta turistica 1:50.000.

L'Escursionista "Gran San Bernardo Ollomont" Ed. Rimini (carta n°3) 1: 25.000.

I.G.C. Istituto Geografico Centrale "Carta dei sentieri e dei rifugi" 1:25.000.

Hapax "Les Sentiers" Luglio 2000 1:25.000.

I.G.C. Istituto Geografico Centrale "La Valpelline Ollomont, Saint Barthélemy", (carta n°115) Map1:30.000.

I.G.M. Istituto Geografico Militare 1:25.000.
Important Information
Useful numbers
Protezione Civile Valdostana località Aeroporto 7/A Saint Christophe (Ao) Tel. 0165-238222.

Bollettino Valanghe Tel. 0165-776300.

Bollettino Meteo Tel. 0165-44113.

Unità Operativa di Soccorso Sanitario Tel. 118.
External Links
Acknoledgements
Many thanks are due also to the friends that helped me translating my text and added some improvements to the page.