Overview
Breithorn Orientale (Eastern Breithorn) 4141 m

Together with Western Breithorn (Breithorn Occidentale) and Central Breithorn (Breithorn Centrale), more frequently attended in reason of their closeness to the Testa Grigia and Little Matterhorn upper cable-car stations, Eastern Breithorn (Breithorn Orientale) is a 4000 meters summit belonging to the Breithorn Subgroup. These mountains are situated on the Breithorn-Roccia Nera crossing, a long route developing itself along the Italy-Switzerland boundary for about 3 km. in length.
Eastern Breithorn lies in the middle of this long ridge; to the right it's separated from Punta 4106 - or Gemello del Breithorn Orientale (Eastern Breithorn Twin) - by an unnamed ice saddle at 4055 m. and to the left from Central Breithorn by a deep notch named Finestra del Breithorn (Breithorn Window) 4014 m.
strong>Check here the complete list of the 82 alpine Fourthousanders and the 46 minor summits: Club4000.
As Western and Central Breithorn, this third summit shows a brief South side, connected with the great Verra Glacier, and on the contrary it drops on the North side with a majestic and severe wall 650 meters high overlooking the Breithorngletscher. On the North side the sharp North ridge separates the North Face from the NE Face. Along this ridge runs one of the most advisable and classic "course" in the Monte Rosa massif: the Young Ridge.


Eastern Breithorn Normal route can be climbed directly from Testa Grigia or alternatively, for a best acclimatisation, spending one night at Rossi-Volante Bivouac m. 3750, situated nearby Schwarztor (Porta Nera or Black Door) m. 3734, a snow saddle connecting the great Verra Glacier on the South side with the Schwarzegletscher on the North side. A sharp and very long ridge starts from the summit towards North; on this mighty ridge runs the magnificent and challenging Young ridge, one of the best classic routes of Monte Rosa massif.
Getting There
The best starting point are Breuil-Cervinia (Valtournenche Valley, Italian side) or Zermatt (Swiss side).
GETTING TO BREUIL-CERVINIA. Breuil-Cervinia is situated at the end of Valtournenche Valley.
- From Turin and Milan: follow the A5 Motorway and exit at Chatillon (Aosta East). Follow the road 406 rising along the Valtournenche Valley, reaching Antey Saint André, Valtournenche and finally Breuil-Cervinia m. 2006 (27 km. from Chatillon). A cable-car station is situated downtown and reaches Plan Maison m. 2548 and Testa Grigia m. 3480 on Plateau Rosà.
- From France: you can reach Aosta through Mont Blanc Tunnel or Little St. Bernard Pass.
- From Switzerland: you can reach Aosta through the Great St.Bernard Tunnel or the Great St.Bernard Col.
GETTING TO ZERMATT
Zermatt is situated at the end of Mattertal in Swiss side. Cars are not allowed in the town. Motorists can drive as far as Täsch, from where trains (shuttle trains run every 20 minutes) and minibus taxi operate a shuttle service to Zermatt. Little Matterhorn Cable-car transports climbers to the upper station at 3820 m. (no overnight stay possibility).
Normal Route
South side and West Ridge
Difficulty: Alpine F+, 40°
Vertical gain: 660 m from Testa Grigia
First on the summit: J. Stafford-Anderson with Ulrich Almer and Aloys Pollinger (August 16th 1884)
From the Ref. Guide del Cervino m. 3480, near the upper station of Testa Grigia cable-car, walk along the Plateau Rosà, at first crossing and following some ski-slopes, then crossing the vaste Breithorn plateau up to the Breithorn Col 3831 m.
Leave on the left the track leading to the W Breithorn and continue across the Verra Glacier upper slopes (crevasses), then leave also the track that continues to Rossi-Volante Bivouac and Roccia Nera, and reach to the left the base of Eastern Breithorn South slopes.


Pass the bergschrund and climb a steep snow slope (40°), getting to the Finestra del Breithorn 4014 m, a saddle between Eastern and Central Breithorn. From here turn to right and follow the snowy West ridge (some corniches to the North), climbing an easy rocky section. Traverse on snow or debris to the right of the summit pyramid and following a last snow slope reach the summit.
Routes overview
- South side and West Ridge (Normal Route) F+ - J. Stafford-Anderson with Ulrich Almer and Aloys Pollinger (Aug.16th 1884)
- South-East Ridge PD A valid alternative to the Normal route
- South side PD+ - Alfredo Corti with Giuseppe Pirovano (Apr.24th 1949)


- N Wall C.S. Ascherson and H.J. Motherstill with Ulrich Almer, Chr. Jossi and Christian Kaufmann (July 17th, 1897) Alpine D, 700 m
- N Ridge or Klein Triftjigrat or Young Ridge R.Y. Mayor, C.D. Robertson, Geoffrey Wintrop Young with Josef Knubel and Moritz Ruppen (Aug.18th, 1906) Alpine D, 1000 m.. from 9 to 10 hours from Gandegghutte
One of the most advisable and classic "course" in the Alps

- NE Couloir Leo Graf, Klaus Kubiena and Erich Vanis (July 21th 1954) D+, UIAA IV, from 40° to 60°, a step at 70°
- NE Couloir Low var. Enrico Cavalieri C.A.A.I. (Italian Academic Alpin Club), Andrea Mellano C.A.A.I., Romano Perego C.A.A.I. (July 29th 1960) D+



- NE Spur Enrico Cavalieri C.A.A.I. and Piero Villaggio C.A.A.I. (July 31th 1961) TD-, 650 m.
- ENE face Goulotte "La Ragnatela di Spaldera" Gian Carlo Grassi C.A.A.I. and A.G.A.I. and Jean-Noel Roche - March 6th 1981
Red Tape
No particulary restrictions.
Huts and Bivouacs
- Rifugio Guide del Cervino m. 3480 – (Testa Grigia) Breuil-Cervinia upper Cable car station
- Rifugio Guide della Val d'Ayas m. 3420


- Gandegg Hutte m. 3029 - ore 0,20 from Zermatt (Cable Car)
- Bivacco Cesare e Giorgio or Rossi-Volante m. 3750, CAI UGET Torino - This eagles' nest is dedicated to Giorgio Rossi and Cesare Volante, members of CAI TORINO 1963 expedition to Langtang Lirung (Nepal) - 2,30 hours from Testa Grigia through Breithorn Col and Verra Glacier - Always open
Campings
- Camping Glair, Valtournenche AO, Italy
CAMPING GLAIR
- Camping Monte Cervino, Antey St. Andrè
Guidebooks and Maps
Guidebooks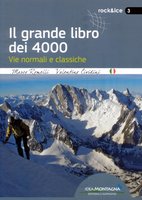 "Il grande libro dei 4000" by Marco Romelli, Valentino Cividini - Idea Montagna Editore, 2015
-"Monte Rosa" by Gino Buscaini (Club Alpino Accademico Italiano) – Collana Guide dei Monti d'Italia CAI-TCI (Club Alpino Italiano-Touring Club Italiano)
-"Tutti i 4000" – L'aria sottile dell'alta quota" – CLUB 4000 CAI TORINO – Vivalda Editori
-"The 4000 of the Alps" by Richard Goedeke (CAAI) – All the normal routes to the 4000m. summits of the Alps – Libris Edition
-"Le Alpi Pennine, le 100 più belle ascensioni fra il Gran San Bernardo e il Sempione" by Michel Vaucher - Zanichelli Editore"
-"I Quattromila delle Alpi" by Karl Blodig and Helmut Dumler – Zanichelli Editore
-"100 scalate su ghiaccio e misto" by Walter Pause – Gorlich Editore
Maps
-"Breuil/Cervinia-Zermatt" Kompass map 1:50.000.
"Cervino-Matterhorn e Monte Rosa" n. 5 - Istituto Geografico Centrale map 1:50.000
Meteo