Overview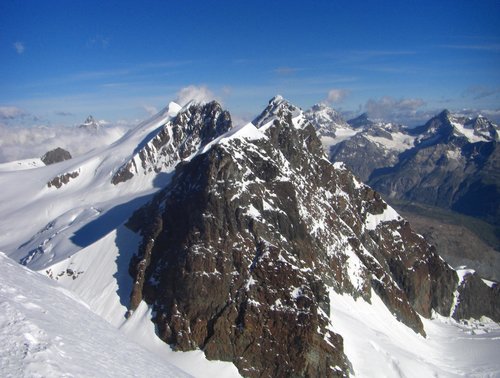 Roccia Nera is one of the 4000m of the Breithorn's massif. The massif has five summits but the main is the Breithorn West (4,165m). The eastern summit called Roccia Nera (4,072m) has some interest because it's a good option if you're climbed Breithorn in another time and you want another 4,000m. The Rossi e Volante Bivouac is placed near of this summit and it's the point of beginning of the traverse of full ridge. The traverse is possible as well from the main summit but it's a climb less popular. It's not a main summit but it's a good option to climb another 4,000m in a wonderful place and for this reason I wrote the page.
The name is translated as Black Rock, because the North face is an impressive dark rock, but the normal route goes across the white glacier of Breithorn.
It exists another routes to the summit
: 3 routes with classic difficulties on the E wall, the SE wall and S wall (side), 1 difficult and serious route on the NE spur:
-NE spur - 1952 - Frachey-Serbelloni - Very difficult - the longest
-E wall - 1941 - Frachey-Crespi - Difficult
-SE wall - 1954 - Carrel-Muzio - Difficult
(thanks to
gabriele
for this information)
The five summits of Breithorn (with its grade of normal route)
:
-Breithorn Hautgipfel or West (4165m), F+
-Breithorn Mitelgipfel or Central (4159m) F+
-Östlicher Breithornzwillingen or East (4106m) P.D.+
-Westlicher Breithornzwillingen or West (4139m) P.D.-
-Roccia Nera or Schwarzfluh (4075m) F+
It's very advisable to visit as well the great page of marco of the main summit of
Breithorn
.
Getting There
Italian side: Cervinia
Breuil-Cervinia Valtournenche is placet in the valley of Aosta, in the north-west of Italy.
Swiss side: Zermatt
In South of Swizerland, you can drive to Tasch. The access is forbiden and you must take the train to the village of Zermatt.
Red Tape
It's an "easy" 4000m but all the glaciers have crevasses and this peak is a little bit harder than Breithorn West. The rope is always advisable on the glaciers. The last part has sections of 45º according with the snowfalls of the season and for this reason the use of two ice-axe can be advisable. It's also a good climb with ski until the bottom of last ramp.
It's very important if you want to climb it in only one day from Zermatt to know the schedules of cable-way of Klein Matterhorn:
Schwarzsee paradise
.
The bivouac under the summit is small (10 places)
Bivacco Rosi i Volante
. It's very important to consult the real conditions of each year.
Camping
www.riguivaldostani.it: Refugi Teodulo
(3317m).
www.riguivaldostani.it: Guide val d'Ayas
(3420m)
External Links
web cam Klein Matterhorn
monterosa4000.it
(Italian)
Regione Autonoma Valle d'Aosta
(route from Italy in English)
4000er.de
(German).