Overview
Monte Tantanè
is located in
Valtournenche
(
Aosta
Valley), it is the highest elevation of a lateral ridge of the main watershed between
Ayas
Valley and
Valtournenche
; it overtops the village of
La Magdeleine
1666m.
The usual ascent of this mountain follows the easy normal route from
La Magdeleine
, but it can be climbed with low difficulties from other sides. It is also a very exciting ski mountaineering course, paying a lot of attention to the snow conditions.
From its summit it is possible to enjoy a 360° view, thanks to its position quite isolated; looking towards North,
Monte Rosa Massif
catches the eye, while the silhouette of
Monte Zerbion
is well recognizable looking towards South.
Getting There
Nearest Airports: Milan 170 km; Turin 110 km; Geneva 210 km
By car
From Turin or Milan
: Motorway A5, exit in
Chatillon
, take towards
Cervinia
direction to get
Antey St. Andrè
Then there is a road fork: take to right to
La Magdeleine
, follow the sign to
Chamois
and follow the paved road up to its end, in correspondence of an large unpaved parking.
From Switzerland
(Tunnel or
Grand Saint Bernard
Pass): in
Aosta
East, get into Motorway A5. Follow
Torino
direction, exit from A5 in
Chatillon
and follow the previous itinerary.
From France
(Tunnel
Mont Blanc
or
Petit Saint Bernard
Pass): get into Motorway A5, follow
Torino
direction, exit from A5 in
Chatillon
and follow the first itinerary
By train/bus
:
Italian State Railways Massif
Milan-Turin Intercity train; Turin to
Chatillon
local train.Then to
La Magdleine
by
local bus.

Routes overview
Normal route
Height difference: 859m
Difficulty: easy hiking; final steps on an exposed ridge.
From the unpaved car parking walk back on the road for about 100 meters up to the last dogleg (1875m),where starts the footpath marked 1A (yellow tags); follow it as far as a picnic area where there is a sign with a detailed map of some hiking itineraries.
From here walk on a unpaved road for about 150 meters towards East, then take a quite steep footpath into a larch forest leaving the road that turns to left. Follow this footpath for about 15 minutes up to a fork, then turn right and walk on a trail that traverses a steep slope as far as the
Tantanè
W ridge; up the aerial ridge and reach the summit.
In the vicinity of this route, looking towards N, at around 2400 m, there is a prehistoric settlement, very unusual on the Alps at this altitude.
Ski-mountaineering route
Height difference: 1020m
Difficulty: steep slopes and risk of avalanches. Check the avalanche bulletin and evaluate the snow conditions of the steep S face.
Park the car at the ski resort of
La Magdeleine
, follow the slopes then ascend in a steep forest of larches towards WNW; the end of the forest coincides with the ridge W of
Tantanè
. At this point traverse on the right and go up on large slopes to the base of the S face of
Tantanè
. Climb it (with or without skis) considering the relatively high risk of avalanches and reach the summit.
When To Climb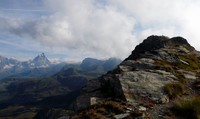 Hiking
: from June to November; usually autumn is more dry so it's recommended
Ski mountaineering
: from end of February to April
Where to stay
Several Hotels in
Valtournenche
. More info at
La Magdeleine site
and
AIAT Monte Cervino
Red tape
No restriction at all
In all the Aosta Valley the camping is allowed only above 2500 meters.
Books and Maps
Books
:
Buscaini Gino, Guida dei Monti d'Italia - Monte Rosa, Milano 1991
Maps
:
IGC, foglio 5 (Cervino Matterhorn e Monte Rosa), scale 1:50000
Map of Comunità Montana Monte Cervino, "Media Valle", scale 1:10000
L'Escursionista Editore, Valtournenche, Monte Cervino, Val d'Ayas Ovest scale 1:25000
Mountain conditions
Weather forecasts
:
Piemonte and Valle d'Aosta
- Italian version
Meteo Valle d'Aosta
- Italian, French and English versions
Thanks to the closeness of the borderline, could be useful to consult
Meteo Switzerland
-Italian, French and German versions
Snow conditions
:
Avalanches bulletin