Overview
Pyramid Peak is one of a small neighborhood group of five 9000' peaks in the northern end of the Beaverheads. Sheep Mountain 9858', Jumbo Mountain 9723', Peak 9681, Peak 9646, and Pyramid Peak 9616' make up this group. Their layout looks like a horseshoe with Jumbo Mountain planted right in the middle. Pyramid Peak does sit on the Idaho/Montana state border.
Idaho A Climbing Guide
by Tom Lopez recounts some entertaining history of the Pyramid Peak area as experienced by fur trappers in the 1830's.
Pyramid Peak can be climbed from either state. The Idaho approach is via Fourth of July Creek road from US 93. Your first good look at Pyramid is not until the final mile on the approach road. It is the boulder strewn peak off to your left. Peak 9681 with it's impressive looking west face sits to the right of Pyramid Peak and dominates the view.
The Montana approach is via the Twin Lakes campground exit on Hwy 278.
The most impressive view from Pyramid's summit is just to the east where the massive Jumbo Mountain rises dramatically 2000' from two surrounding timber choked valleys.
On a clear day summit views include Tweedy, Torrey, and Baldy 30 miles away in the East Pioneers. Warren and West Goat in the Anaconda-Pintlers. And many peaks to the southwest into Idaho.
Gas, food, and lodging can be found in North Fork although Salmon is the closest city of any size. Wisdom is the closest town on the Montana side.
Getting There
Idaho approach
From US 93 take Fourth of July Creek road which is about six miles south of North Fork. Mile marker 321 is right at the turn off.
Travel 10.5 miles and take an obvious right at the 7250' spot elevation which is shown on the topo maps. Just beyond this turn is an excellent reader board with a map showing your location.
From the turn travel just under 1 mile and park below the steep kick up. The trail starts here and begins as the road fork that goes off to your left. There is an old prospectors cabin straight ahead at the top of the steep kick up. If you find yourself at the prospectors cabin, you are at the wrong starting point.
2WD all the way. There are a couple of mud holes in the last mile that could cause some trouble. The last 1/2 mile of road is on an east side ridge and in the timber, thus it may hold snow longer early in the season.
Montana approach
Take the Twin Lakes campground exit which is 6.6 miles south of Wisdom on Hwy 278. Travel 8.2 miles. From here proceed straight ahead under the log arch which says Sunnyslope on it. The Wisdom Ranger District has told me that this is public access although it looks like a private ranch.
I have not personally traveled beyond this point and a call to the Wisdom Ranger District might be the best option to ascertain the layout of the road system and to determine an appropriate starting point. They indicate that Moose Creek Road can actually be driven 'a fair ways up' and this may be the best approach.
Summit Routes
Idaho
South ridge Class 3
Follow the road fork off to your left. This ATV road will eventually end, but as it does the Continental Divide Trail appears and you can follow this blazed trail up into the basin.
Pick your best spot to leave the CDT and go cross-country headed for the saddle between Pyramid Peak and Peak 9681. Gain the saddle at a point of your choosing. This is the Class 3 section, primarily due to steepness. Once on the saddle, it is a straight forward Class 2 effort up to the summit.
Notes: On the hike out the ATV road can be tough to pick up from the CDT, so take appropriate measures. When I went through in June this junction was mostly under water from run off making recognition difficult.
Starting elevation: 7700'
Total elevation gain: 1900'
Round trip distance: 5-5.5 miles
Montana
South ridge Class 2
Moose Creek road is probably the best approach. This old jeep road will take you into the basin between Jumbo Mountain and Pyramid Peak. From here pick your best spot to gain the saddle between Peak 9681 and Pyramid Peak.
Once on the saddle, it is a straight forward Class 2 effort up to the summit.
Options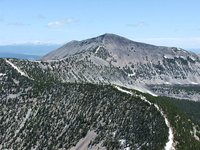 SHEEP MOUNTAIN 9858'
Continue northeast along the Continental Divide for 2.2 miles and scramble up Sheep Mountain's southwest ridge. Check out the old wide mouth glass jar used as a summit register with some entries from 1965. (Class 3)
PEAK 9681
Drop back down to the saddle between Pyramid and Peak 9681 and ascend the ridge up to the summit of Peak 9681. Distance is about 1.5 miles from Pyramid's summit. (Class 2)
JUMBO MOUNTAIN 9723'
Drop back down to the saddle between Pyramid and Peak 9681. From here drop down to the meadow below Jumbo Mountain and scramble up Jumbo's west ridge 1100' to the summit. (Class 3)
Camping
Idaho
Option 1 - Just beyond the last private residence on Fourth of July Creek road there are numerous informal camping sites available. They are spread out over a two mile stretch and are used primarily as hunting camps in the fall.
Option 2 - On the last mile to the trailhead, there are several vehicle turnouts where you could set up camp. One prominent turnout sits up high and affords an excellent view of Pyramid Peak and Peak 9681.
Option 3 - Wagonhammer RV Park and Campground is located three miles north of Fourth of July Creek road on US 93. An excellent place for a post hike shower as well.
Wagonhammer Campground
Montana
Option 1 - There is a small, but well maintained campground in Wisdom on the west side of town. It has grassy sites, picnic tables, and restroom.
Option 2 - The USFS manages Twin Lakes campground although it is about 10-12 miles beyond your objective.
Option 3 - Like many places in the Big Hole, you can probably drive close to your starting point and set up camp right there.
Red Tape
There should not be any restrictions from either state.
Area Administrators
North Fork Ranger District
11 Casey Rd.
PO Box 180 Hwy 93 North
North Fork, Idaho 83466
208-865-2700
Wisdom Ranger District
PO Box 238
Wisdom, Montana 59761
406-689-3243