Overview
Catinaccio/Rosengarten
massif there is a mountain range which is very different from the rest of the group. Everybody knows Sciliar/Schlern, the landmark of South Tyrol / Trentino, which is so beautifully seen from Bolzano/Bozen and its surroundings. From that table mountain towards the east a picturesque ridge is stretching in a form of a long arc. North of it there is a broad high plateau of
Sieser Alm / Alpe di Siusi
, the biggest alpine meadow in Europe. Roterdspitze is the highest summit in the aforementioned ridge, rising in the middle of it. Towards the west, the summit slopes are quite gently falling down on the broad plateau of Schlern. Towards the east the ridge from Roterdspitze on Rosszaehne / Denti di Terrarossa is rocky, rugged and narrow. By it the well known Maximilianweg goes - an easy and panoramic ferrata.
The rock of Roterdspitze is crumbly, that is why the mountain is not much valued with rock climbers. It is primarilly a hikers' mountain, also beautiful for winter ascents and perhaps even skiing. The majority of visitors would make a very rewarding round tour from Seiser Alm, including in it also the neighbouring summits.
The view from Roterdspitze is very fine - opened towards the west and north, flying along the ridge towards the east and further on the group of Langkofel / Sassolungo and on the south we are faced with all the important high summits of Catinaccio/Rosengarten group.
For some more information about the area, see also the SP pages of the neighbouring
Schlern/Sciliar
and
Rosszaehne / Denti di Terrarossa
.
A Cult Place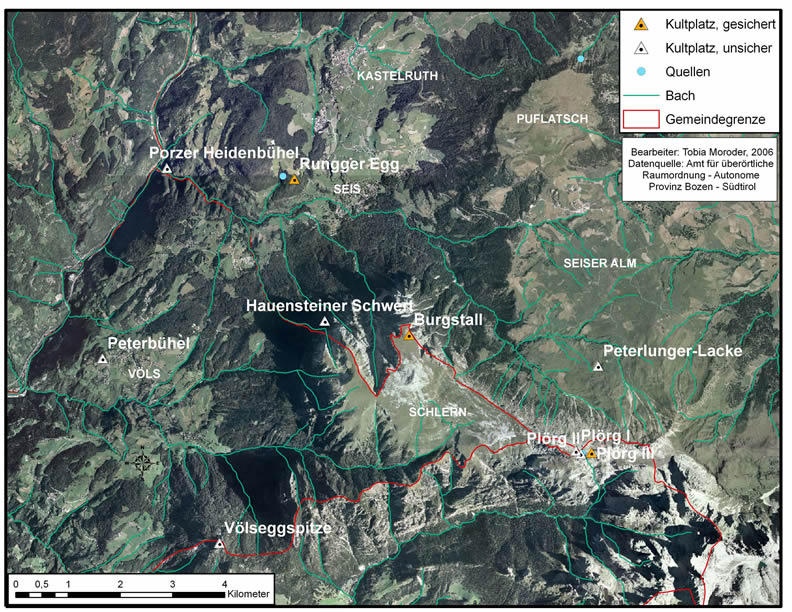 It is exciting to follow the archeological evidence which proves that the area around Schlern has been inhabited since young stone age and even more, that just on top of that table mountain there must had been a shrine, a cult place where animals were sacrificed in fire. On Burgstall, just on the edge of Schlern, ancient fire places, ceramics and a lot of calcined animal bones were found. All around the mountain, on lower elevations, there were many settlements and on some of them also cult places. Also on Roterdspitze there was at least one such place of sacrifice. A bit below the very summit, near a water source on 2530 m, three adjacent archeological sites are evidenced. Also there jewelry, fireplaces, animal bones and ceramics was found.
Having all that in mind, it is no wonder that around those mountains many legends are still alive. Their origins go far back in times before Christianity, which, after prevailing also in this area, perhaps attributed people gathering and fire sacrificing to witchcraft.
Note: On the map it is interesting to see that the places which are shrouded in legends (star marks) are also the ones, where considerable archeological evidence was found. Plörg I, II and III are the sites below Roterdspitze.
Rosengarten Panorama
Getting There
Most people will visit Roterdspitze from Seiser Alm. On Compatsch, 1800 m, nowadays a good road reaches from the west and from the northeast, from Val Gardena. Mountain roads further up from Compatsch are closed for public traffic.
The second options are the trailheads on the west and south of Schlern massif. One such trailhead is near San Cipriano, in Weisslahnbad / Lavina Bianca, in a northern side valley. This can be reached by the road which connects the main valley north of Bolzano with Passo Nigra.
The third, quite remote option is the trailhead in Campitello in the Fassa valley.
In addition, the hut on Tierser Alpl, 2440 m, can be reached by a mountain bike, best from Seiser Alm. That gives you a very nice opportunity to make a great bike & hike tour.
Routes Overview
1. Maximilianweg.
This tour starts at the hut on Tierser Alpl, 2440 m. You ascend first the highest summit of Rosszaehne, 2653 m. Then you continue by the sharp and picturesque ridge on Roterdspitze. To reach the summit of Roterdspitze you need some good 2 hours, the ferrata is rated with difficulty B (Austrian scale).  
2. From Tierser Alpl Huette, 2440 m, over the south slopes
(Groedener Hoehenweg). This is a quite comfortable marked path, which instead by the ridge, goes across the south slopes. First it descends some 100 meters and then crosses the slopes a bit upwards. When reaching to the southern rocks of Roterdspitze the path ascends steeply in many turns. There it is narrow, but not difficult at all. So it reaches the grassy slopes, goes up on Roterdscharte, 2435 m, where you turn right and ascend over the summit slope on the highest point. 1 h 45 min from the hut.
3. Touristensteig.
This is the shortest approach from Compatsch on the Schlern plateau. The route first follows the mountain road to Saltnerhuette, 1850 m, from where a broad and comfortable path ascends in a few long turns on the plateau. From there, you can continue to the hut (Schlernhaus, 2457 m), or you can turn left and ascend Roterdspitze. Many people do both summits on that tour. If you reached Roterdspitze from Tierser Alpl Huette, coming there from Compatsch over Rosszahn Pass or around, then you can return by Touristensteig back on Compatsch.
4. Gamssteig.
This is a much longer approach on Schlern plateau, which starts by Schlernboedelehuette, near Seis. The path is more steep than Touristensteig and we need 4 h to reach the summit of Schlern, and additional 1 h 30 min to ascend Roterdspitze.
5. Bärenfalle / Buca d'Orso.
This route is coming on Schlern plateau from the south, from Weisslahnbad / Lavina Bianca, 1200 m. 4 h on Roterdspitze.
Mountain Huts
Saltnerhütte, 1850 m. 30 min from Compatsch.
Tierser Alpl Huette, 2440 m, on the saddle with the same name. From Compatsch cca 2 h 30 min, with a bike some 30 min less. The hut can be also reached from more remote trailheads, for example from Tiers and Tschamin Schwaige in 3 h 30 min (through Tschamin valley) or from Campitello in Fassa valley in 3 h (through Duron valley).
Shlernhaus / Rif. Bolzano, 2457 m. Just below the summit of Schlern/Sciliar.
Red Tape
The mountain rises in Schlern-Rosengarten Nature Park (Italian: Parco Naturale Sciliar-Catinaccio; German: Naturpark Schlern-Rosengarten).
When To Climb?
Roterdspitze can be ascended any time of a year. For winter ascent we need a proper equipment, but the route (Touristensteig) is not difficult. To do Maximilianweg in winter conditions is not recommended.
External Links
T. Moroder, Kultplätze der Heiden – Tummelplätze der Hexen, «Storicamente», 4 (2008). An archeological report (In German).