Overview/Approach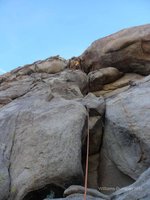 The first route I ever climbed in Joshua Tree was
Illusion Dweller, 5.10b,
located on the west face of the Sentinel. Some 700 routes later, it is still my favorite in the entire park.
For 5.9-5.10a trad climbing it is hard to beat the selection of worthy routes found on the lessor known east side of the Sentinel.
They average 200' in height. Miramontes guide has every route on the east face starred in his comprehensive guide which is unusual compared to any other wall in Jtree. Three of which are 5.9's and two are 5.10a's. Although they call it the east face, it is northeast at best and
receives little to no sun during the winter months.
There is a pleasant and easy slab walk-off the summit to the southeast. If you cut back too soon, you will have to boulder hop. I find it easier to just head all the way out to the nature trail and cut back left to the base of the wall and repeat another route to the summit. It takes just minutes to walk off and return to the base of the east face.
I climbed
Ball Bearing (5.10a)
and
Western Saga (5.9)
several years ago and therefore only have a few notes stating that I enjoyed them.
Hog Heaven (5.9) is a worthy route for sure
deserving of more than a single star in my opinion.
Fote Hog (5.6)
I consider a good trad teaching route as the gear is straightforward and the roof pull involves a "hero" move inspiring confidence in the new trad leader.
Wart Hot (5.9) is sandbagged
even by Jtree standards. Miramontes talks of traversing right above the tree, but that is incorrect. You are taking the under cling out right below the tree with thoughtful gear placements. This under cling is the crux and then it makes sense to finish Wart Hog on Fote Hog vs Hog Trough as the guide suggests.
Hog Trough (5.10a)
takes the straight forward wide section. Stemming and a bit of off-width hit a crux pulling out of the chasm. The remainder of the route offers much easier climbing for the grade.
Simply hike into the nature loop trail and turn left. The first feature on the left is named
Gateway Rock
. The next significant feature on the left is the northeast face of the Sentinel.
The photo I added of Hog Trough probably offers the best landmark in which to start.
All the routes pretty much begin here or within meters of here. The approach is 10 minutes from the parking area for Real Hidden Valley.
Route Description(s)
Routes Listed Left to Right as you face the Northeast Wall
Be Good or Be Gone- 140'-5.10d*/


Ball Bearing- 2 Pitches-5.10a**/Excellent first pitch. The final seam (crux) below the fixed belay is fantastic for the grade. Delicate moves protected with small to micro pro. Gets more sun than you think in mid- May. Dow
Hog Heaven- 180'-5.9*/Scramble up the right to left ramp past the tree (we both untied and retied through the tree). The first crack you are climbing is hidden and takes a traverse step left to get started. Climb the splitter which turns into a left to right ramp with sparse gear. Hand rail the ramp right until you can mantle up to the base of another crack. Finish this crack to the summit and a significant tree for an anchor. This is a sustained and heads up route for the grade. Rock is a bit flaky as well. Full standard rack. Walk off the feature climbers left, all the way down to the desert floor, then slightly right out to the trail. A quick left turn back requires scrambling and does not offer a faster return to the base. Dow
Fote Hog- 2 Pitches-5.6*/ You can easily lead this in one pitch just like the other routes, but you need to extend your placements to avoid rope drag. This is an outstanding 5.6 all-gear lead in the park. Climb the right to left ramp up past a tree. Head up an obvious splitter traversing right at the top on jugs to reach the obvious break in the roof above. Make a dramatic pull on jugs for the grade. Continue up the 2nd pitch by climbing a thin left facing white flake (great gear). Continue up a hands left-facing dihedral to the summit. Walk off the feature climbers left as before mentioned. Dow
Wart Hog- 150'-5.9*/ This route is poorly depicted either in the text and/or topo in Miramontes guide. The crux, which is significant for the grade, is the under cling roof to the right of the tree and ramp that starts three routes (Fote Hog and Hog Heaven). Place several small pieces as you traverse flaky rock. At the right end is a long reach over the roof that makes for a dramatic mantle. Continue up the right facing varnished flake to the break in the roof above. Another dramatic, but positive via jugs, pull and mantle awaits. From there, finish the 2nd pitch of Forte Hog or build a gear anchor and rap so you can lead Hog Trough before heading for the summit and walk off. Small to medium gear. Dow
Hog Trough- 140'-5.10a*/ This route runs up the obvious chimney (trough) system to the right of the other three "hog" named routes. You have to pull through three roofs/constrictions. The 3rd and obvious one at the top is the easiest. The first one if the crux. Step up flaky rock and place pro in the right side of the roof. A strenuous stem gets you to a jug on the right side. Almost heel hook the left and make a dramatic move over the roof. The middle constriction gets pulled up the left side in squeeze fashion but is much easier to protect than the first pull. The third is much easier. I built a gear belay up and right in a white flake on the 2nd pitch of Fote Hog. You can rap from here to complete Fote Hog and Wart Hog before finishing Fote Hog to the top and walking off. Standard rack, all trad. Dow
Western Saga- 100'-5.9*/ Good pitch for the grade. I like the variety on it and of course the roof pull which was fun and physical. I did a gear belay on the obvious ledge and we soloed up the short crack to the left for the walk off, no worries. Dow