Overview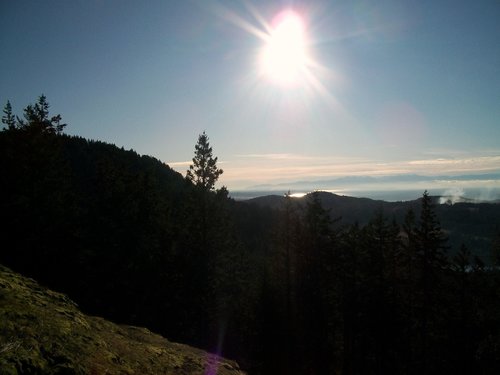 Located just south of Anacortes the small summit of Sugarloaf Mountain is not the dynamic mountain like Rainier, Glacier Peak or the North Cascades. In fact it is not even the highest elevation on Whidbey Island. However Sugarloaf Mountain is a special summit to visit. Though the true summit is actually forested and take 30 foot bushwack/scramble to get to, 100 feet to the west and the south lies good views of the Puget Sound, the Olympics, nearby Mount Erie and the some of the Cascades.
The approach is a very simple 1/2 mile 300 foot elevation gain trail to the summit. It is very recognizable from the Mount Erie scenic road with the wooded gates marking the trail. The trail is a straight forward and can be done with noraml gear most of the year. Because of the low elevation it is rare that extra equipment (microspikes, snowshoes, etc) is ever needed. That being said even if the road up is covered with snow, this summit is still very doable and make a great beginner, trainer or just a great hike to change the pace.
Getting There
VIA THE SUGARLOAF MOUNTAIN TRAILHEAD: From Exit 230 off of I-5 take Highway 20 west 11 and 1/2 miles to toward Anacortes. Where Highway 20 split head for Deception Pass/Ferry Terminal. At about two miles make a right on Campbell Lake Road. Once past the lake and at a Y intersection veer right on Heart Lake Road. Head up the road 1.5 miles and make a right on the Mount Erie Road. Take Mount Erie 0.7 mile where the trailhead will be on your left.
Red Tape
Park is open from 7 am to 10 pm daily.
Camping
Camping is prohibited. There is also no need for camping for this peak can done in an hour or less even by most beginning hikers.
External Links
This will link you to the best website for local trail conditions.