Overview
Alta Peak is a classic summit that is located in the Alpine Lakes Region. Home to stellar views, Alta Peak is popular destination for those want to bag a beautful peak along with checking out the amazing Rachel Lake. One of the major advantages of this mountain is that it is only 12 miles roundtrip and the technical difficulty of this peak during summer is barely Class 2, with only one small section of exposure on a narrow ridge near the top. In summer this narrow ridge will only require one to use a little caution on their way to the summit. However with a coating of snow this mountain can get very sketchy very quick. It is an ideal late summer-early fall summit to go for because the trail up is then snowfree and the berries are out towards the high country.
It should be noted though that once snow truly starts falling on Alta Mountain it can be very sketchy very quick. When my hiking partner and went back for the summit in fall a little after a major snowstorm we were stopped short of the summit by very sloppy snow. The exposure that could be felt only a little bit during the summer hike quickly became an issue now that the snow had covered up important parts of the route. If there is a little more than a dusting of snow then I would advise holding off this mountain until the next year. The runout can be very bad and if the snow is not solid one can run into issues very quickly. On our trip three parties turned around right where we did due to the iffy conditions. It should also be noted that this is not a winter summit due to the fact that the Racheal Lake trail is closed in winter.
The route up starts with the Rachel Lake trail which barely gains any elevation in the first 3 miles. It goes up the stream valley up to beginning of the ridge. The trail then steepens and rises up to Racheal Lake. From there a climbers path lies and heads to the right up Rachel Lake. It alternates between moderates and steeper pitches. Once you attain the ridge the trail follow the ridge to the summit. Though it is a well used climbers path there is one section where a little caution is need about 1/2 mile before the summit. Total one way trip time if conditions are ideal would 2-4 hours up or 5 to 8 roundtrip not including photo taking, which will be a lot.
There are excellent views on this summit. You can go through an entire roll of film from this summit. These amazing views include Rainier, Glacier, Sloan, Hibox, Chikamin, Thomson and most all the peaks in the vicinity. Most who summit Alta agree that it is one of the most beautiful summits in this region in terms of great views.
Getting There

From Seattle, take I-90 E to Exit 62. Turn left on Kachess Lake Road #49 and follow it for about 5 miles. At the junction, turn left onto gravel Road # 4930. The Rachel Lake trailhead will be about 4 miles on the right-hand side of the road.
Big parking lot and toilets are available.
Beware: This parking lot is famous for break-ins!!!!
Red Tape
Northwest Forest Pass required to park at the trailhead. A self-serve Alpine Lakes Wilderness Pass is required for trail use (free of charge).
When To Climb
Alta Mountain can only be attempted when the Rachel Lake Trailhead is open. There is a back wy to Alta Peak from Rampart Ridge but this again can only be done in summer. The typical season to do Alta Mountain is July to October. However once the first heavy snowfall hits Alta the condtions can quickly deteriorate and the final ridge to the summit can be very sketchy. With a good snowpack and good steps this should not be a problem. However with loose snow this ridge can be very hazardous.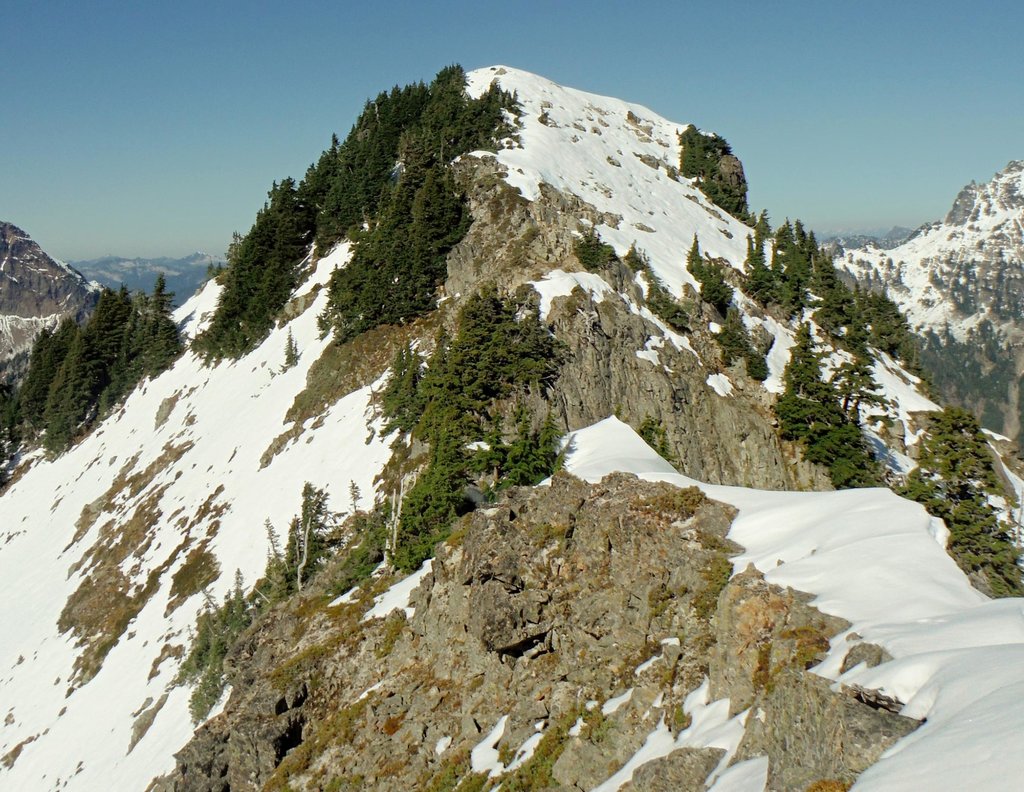 Not the right time for Alta Mountain
Camping
Camping is allowed under the Alpine Lake Wilderness regulations.
Mountain Conditions
Links:
Washington Trails Association
VTrail
Local Weather Forecast
Maps
USGS Chikamin Peak
Link to Topozone:
Alta Mountain Area
External Links