Overview
Red Mountain is one of many so named in Washington State but this particular Red Mountain is the one located north of
Cle Elum and Rosyln off of I-90. What makes this mountain worth a visit is two fold. One, it is a great spring hike (after the snow has consolidated) and it is one of
Washington's prominence peaks
, coming in at #76 out of the 144 that are listed thanks to its 2560 feet of prominence. It is close enough to Seattle to make it attractive to those westsiders who might be looking for a bit of sunshine (no guarantees) on the eastern side of the Cascade Crest.
With a blanket of snow, this makes a great snowshoe hike although it borders on the steep side, gaining over 3200 feet in around three miles, assuming you can start from the trailhead, located at the 2600 foot level. Back to the Red Mountain label for a second. This is not to be confused with the Red Mountain that is near Snoqualmie Pass nor the one near West Richland. OK, that is now laid to rest. Red Mountain at one time had a lookout but it was dismantled in 1948 so it has been gone for a goodly length of time. It was not on the highest part of the ridge but was located on peak 570
7.
  There are two summits, a north and a south one but the south is slightly higher.
It is smart to do both summits to claim this one and the views are worthy from both of them as well.
Getting There
Whether you are coming from the east or the west on I-90, you need to exit at Cle Elum. Look for SR 903 as it heads from Cle Elum to Rosyln. It is about 15 miles to the Cooper Lake Road, well signed, where you turn left and cross over a bridge. The Trailhead (unless snow is present) is about two miles from the bridge crossing and the parking is minimal along the road. Just beyond the sign for the trailhead, there is a rough 4WD dirt road going off to the right (north) and it is possible to squeeze a couple vehicles there without blocking the track. The sign signifies the trail as trail #1330.  
Maps & Route
A separate page has been created for the route and you can access it on the left side of this page.  Hopefully someone will add additional routes since I can only offer this one. 
The route page is now up:
Trailhead to summit: 3 miles
Elevation gain is 3200 feet
The mileage above is based on a somewhat direct snow ascent and will be more by trail.  
Red Tape
No forest service pass is needed to park at the trailhead but if you come when you can't get up the road, park near where the bridge crossing and the Salmon La Sac campground road are. This will add at least 2 miles each way and perhaps 400 feet of elevation gain.
Cle Elum Ranger District.
803 W. 2nd Street, Cle Elum, WA 98922.
Phone: 509-674-4411; Fax: 509-674-1530
During weekdays, the ranger station in Cle Elum is a great resource to find out about current road conditions.
Camping
In season there are several campgrounds nearby.
Most of the campgrounds don't open until around Memorial Day.
Salmon La Sac
Cooper Lake (Owhi)
Red Mountain
Cle Elum River
Wish Poosh
See
this list
for more details on spaces / cost.
Weather Conditions
"Hidden Washington"
A guide book by Karen Sykes
has several pages on two approaches to Red Mountain. Of particular interest is the route she describes from Little Joe Lake. This book also has many other hikes that may interest those who are living in the Seattle-Tacoma-Everett area that are looking for hikes that are off the beaten path and less frequented.
Trip Reports
To see all of Matt Burton's pics as well as those of others who were on the March snowshoe climb of this peak,
CLICK HERE
.
WTA Trip reports on Trail #1330
Report One
Report Two
Report Three
Trip Report by Eric Noel
EN: With a trailhead that is accessible in May and a convenient location partway between our respective homes, Dean and I decided to hook up for a try at Red Mtn. Originally, I was hopefully that we might even be able to drive a road that snakes up the north slope of the mtn to ~4000' or so and then traverses east for a ways with the trail meeting it. That starting point would have given us an easy day. That plan didn't last long as we hit snow on the road just past the lower trailhead which is located at ~2600'. It looked like this was going to be a snow hike. So we parked there and headed up the signed trail through patchy snow.
"For the first bit the trail was easy to follow with a mix of bare trail and patchy snow. We soon hit a junction with a former roadbed not shown on the map at around 3100 feet. This area has seen some selective logging in the past. The trail became fainter and we lost it for a moment. I believe the trail forks here and the main trail crosses over to the other side of the creek. There was snow here so we lost the trail. We saw no bridge across the creek though we didn't look very hard. There was more vegetation down there in the drainage too so it didn't look too appealing. So we elected to take the right fork (we never really saw the split) which was really more of a bootpath. This path stayed more on the ridge and while we were generally able to follow the path there was a bit of light brush and places where the trail seemed to disappear. We eventually hit the unmistakable road which crosses the trail at about 3800 feet. With the snow cover we were unable to determine if this road can and is still being used at all. Above here the terrain looked consistently snow covered. We could have gone left on the road for a few hundred yards and then tried to go up the gully where the trail is. But the snow slopes right above us looked moderate enough that it would make a decent route so we went slightly right on the road and then up the slopes. This was typical forest and the snow was hard but not really icy so it provided us quality footing for the ascent. It was consistently steep- we needed to gain about 2000 feet in one air mile. We headed up slope for a bit and soon the NE ridgeline came in on the climbers' right. We stayed pretty much on the slope just on the south side of the ridgeline for maybe 1000 feet or so of elevation gain in the forest.
"At perhaps 4800 the trees started to thin out to open slopes and the snow got softer. Clouds were moving in and out quickly with light snow but nothing that had us worried at all. We were sinking in a bit here but not horribly so. If it had been flatter then snowshoes might have been in order but it was steep enough that we never pulled them out and soft enough that the crampons and ice axes stayed our packs as well. The grade seemed to increase a little bit the closer we got. Or maybe I was just getting tired. There really was no navigation needed, we just stayed left of the ridgeline and that went right towards the top. When we were maybe three or four hundred feet below the top it become obvious that what we were seeing was the north and south summits. We headed left towards the south summit as reports indicated that was the higher of the two contours. We summitted but I thought we hadn't, that the north summit looked higher. Nope, the south summit was clearly higher once I looked at it from the other side.
"We didn't stay at the summit for very long, as we'd taken a while to get up this mtn. We headed down and the first thousand feet were fairly easy through the soft snow. Ice axes out but the snow was soft enough that were in control. Then we hit the forest. The going became slower as the snow was harder making for worse footing. Plus we had to weave in and out of the trees which slowed us down. This became a bit tedious pretty quickly. But we plugged away and were at the upper road in due time. We found the jumping off point and Dean skillfully led the way back down the same way through the brush where we eventually hit good trail for the final bit. All in all a good trip. The trail was a bit less maintained than I would have guessed but I suspect the gully trail may be in better shape. The upper portion of the mtn is quite pretty and features expansive views of the area. There was no real tricky obstacle or scrambling to be done. Just up up and up the snow. We took snowshoes, ice axe and crampons but only really used the ice axes on the descent. With firmer snow though we would have used crampons. I know others have used snowshoes on this trip but it felt a little bit steep to me along our route for snowshoes. I'm told this can be done in three hours, it took us a few more minutes than that for our trip. Some of the other mtns on this page are not particularly scenic nor are they interesting climbs. This mtn is a good one in both of those regards and hopefully it will have its own summitpost page someday as it is worthy of that honor."
--Eric Noel, May 4th, 2007
-------------------------------------------------------------------------------
Jim Kureman's nice pic of Red Mtn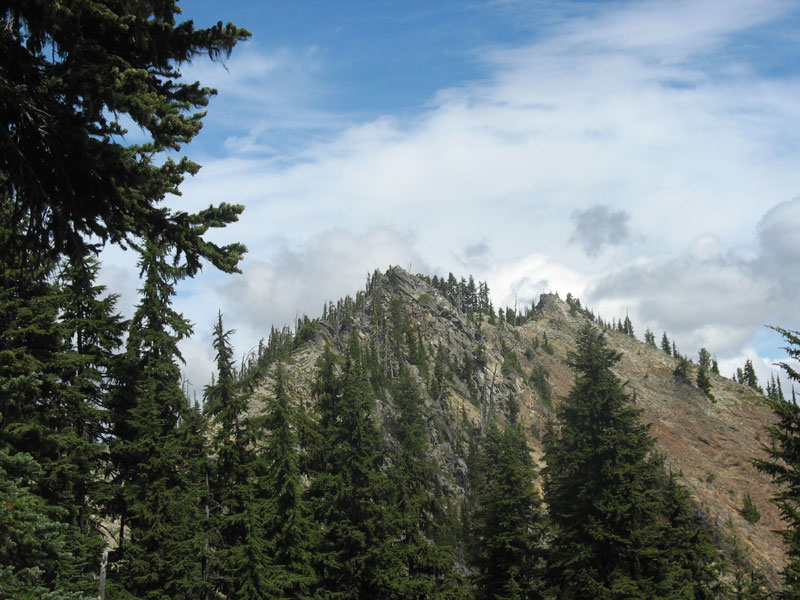 Notes
Thanks to Matt Burton for allowing me to post several of his pictures including the one below of Red Mtn. The signature shot at the right is one taken by Paul Klenke  
Recent hike involving Red mountain and containing some great pics can be
found
HERE
.
Red Mtn Ski trip report
Posted recently at NWHikers, click
HERE
Page History
This page was organically created by SP member
Dean
. All the current content is his creation, but future updates and changes will be done by me. Thanks Dean for all your hard work on Summitpost!