Overview
Crawdad Canyon is one of the most "unique" crags I have ever visited. The first and only (2007) climbing area I have ever experienced where you have to "pay to climb". Of course this is no doubt why I ignored it for years. But once you meet the folks who run the place, comprehend the dream that started it and realize where the money is going (
Southern Utah Climbers Coalition
), it becomes much easier to pay the $2.50 per head entry. Jim Bosse purchased the old Veyo Pool Resort in 1995. His plan was to create a private climbing park second to none. However, he passed away in 1998 before completion of the ambitious project. Jim's motto, "Never argue with stupid people", is one I hold close and attempt to remind myself of every chance I get, although at summitpost.com, that can be a challenge from time to time.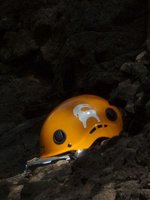 Crawdad Canyon offers endless sport climbing featuring over 180 bolted routes up and down both sides of a well shaded (cottonwood trees) one mile long canyon in the middle of the high desert north of Saint George (Veyo, UT). The property is centered along a spring fed mountain creek lined with 80' high basalt cliffs on both sides north of the
Prophesy Wall
area. It is open to the general public during spring and summer months, but is also open to
Southern Utah Climbers Coalition
annual members off season. You actually have to pick up a key for the gate at
Outdoor Outlet
in Saint George. If you are a member, the fee is $2.50 per person which gives you total access to swimming, climbing, volleyball, whatever. If not a member, the fee is $8.00. There is camping available as well, albeit, not so private in season. Watch out for about a dozen goats that roam the property keeping the brush trimmed back. It is kind of surreal to be on route and hear the goat collar bells below. Some brass plates with identification and rating still line the base of the routes, although many have gone missing. Most, but not all, of the routes have sport anchors to clip into. The cottonwoods shed so much in May, it looks like it is snowing at times.
Due to its higher elevation and unique shading by the large cottonwoods, Crawdad is definitely an escape option when it is too hot to climb at the Saint George Crags, i.e.
Black Rocks
.
Route Description(s)
The Routes are Left to Right, East to West
Baby Rubicon is a right hand turn before the main bridge, through the fence.
Calypso - 50'- 5.10a/
Calypso is a fun corner route that serves as the border between Rubicon and Baby Rubicon just to the left of Caesar's Pillar. You stem and layback up four bolts to anchor. On the easy side of 10a.

Caesar's Pillar - 50'- 5.10d/


Caesar's Corner - 50'- 5.9/
Huge difference between Caesar's Pillar and Caesar's Corner. Typical dihedral, right facing, five bolts to anchor. Runs side by side with the pillar route.

Morning Sickness - 50'- 5.11c/


Ionic Depletion - 45'- 5.11c/


Spit Shine - 35'- 5.7/
Spit Shine and Subject to Change are great for climbers in training which is what we used them for. Crawdad is great in general for guests who want to climb but have little experience. Edges and pockets through four bolts to anchor.

Subject to Change - 35'- 5.7/
Not much, but a little more challenging than Spit Shine. Slab to steep finish on real positive holds. Four bolts to anchor.

New Horizons - 35'- 5.3/
Now I know what a 5.3 is, well not really, have not done it personally, but sent up a few others. Nice to have a confidence builder right next to the 5.7's so you can show someone that they can lead as well. Stacy modeled this route via a photo. Real blocky stuff. Three bolts to anchor.

Pig in a Poke - 45'- 5.10b/


Corrupting the Natives - 45'- 5.8/
Slab, bulge and pockets through four bolts to anchors.

Leftovers - 50'- 5.9/
Contains one of the more challenging moves at Baby Rubicon. Start up easy corner until below and to the left of the anchors above an overhang. Unlock the move out right that gets you up and over the overhang direct or butcher it from the corner or the dirty right hand side. Five bolts to anchor.

Fish Story - 50'- 5.9/
Nice sustained edges to a mini roof below the anchors that is fun to pull. My favorite route at Baby Rubicon. Five bolts to anchors.

Negative Ions - 50'- 5.9/
Again, sustained edges to roof. Roof looks harder than it is, but nice route. Five bolts to anchors.
Handful of draws, 50m rope, swimming trunks for afterward. No trad climbing allowed.
Getting There
Take Highway 18 (Bluff Street) north of Saint George for approximately 18 miles to the small hamlet of Veyo. Look for the Crawdad Canyon sign on your right hand side prior to entering town. If you have run the Saint George Marathon, this is the first small town you run through on your way back to Saint George after being bused out. A very supportive town as I recall (particularly for 6:AM in the morning). Follow the road you turned onto past some horse property and to the Veyo Pool sign. Turn left and park here at the top of the hill. No dogs are allowed and they actually have a dog pen in the parking area, but much of the year it should be way too hot to leave your dog in the pen or your vehicle. Proceed on foot down the paved steep road through a set of gates to the bottom of the hill. Turn left into the pool area to pay your fee and sign your waivers. Many of the routes are marked with their respective ratings, but it is best to have Todd Goss's "Rock Climbs of Southwest Utah" handy as many of the markers are missing.
Red Tape/Camping
You can climb at Crawdad all year around, but the gate is locked during the winter months and you will have to get a key at
Outdoor Outlet
in Saint George, UT. To do this, you will have to become a Southern Utah Climbing Coalition member. The annual membership is $30 per person or $60 per family (5 people can be listed) (2007). Your daily fee with annual membership is $2.50 and $8.00 if you are not an annual member. In either circumstance, you must have a signed waiver on file. Please always check in at the office by the pool. Drinking water is available and they serve snacks, burgers, etc. by the pool.
No trad, bouldering or free soloing is allowed (thank your local lawyer). No children under 10 or dogs are allowed in the climbing areas.
The campsites are pretty aesthetic below the cottonwoods, but not too private, as the canyon is relatively narrow and climbers will be walking back and forth beside your tent. That being said, I have never seen the place too busy. The 2007 camping rates are $20 per vehicle site, up to eight people and $10 per walk in site. The nearest free camping is the
Prophesy Wall
area back south at Dammeron Valley.