Overview
Solstice Wall is probably the most moderate wall in all of southwestern Utah. Located in the tri state (UT, AZ and NV) climbing corner known as Woodbury Road Crags, Solstice Wall collects tons of winter rays and can be very inviting during the winter months if winds are tempered. The rock quality is the first I have seen of its kind.
It is called Kaibab limestone which features all kind of chert knobs, chert pinches, crimps and odd finger pockets.
Although these features look somewhat suspect, the routes appear to have been climbed enough to be relatively clean (2007). They are definitely well bolted and at least one guiding company uses this wall extensively I believe. Many of the routes (6) are 100' in length which is a far cry from the 35'ers back in St. George at
Black Rocks
and
Green Valley Gap
.
Of the three walls at Woodbury Road Crags, the Solstice is the only one that receives adequate sunshine in the winter.
I would imagine it is unbearable during the summer months. Most of these routes were developed by Todd Goss, Choli Ence and Mark Hansen in the late 90's. The approach looks longer than it really is and thus why it took awhile for these sport climbers to "get 'er done".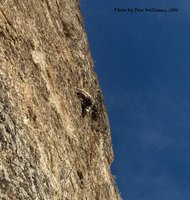 The Solstice Wall is within the Woodbury Desert Study Area, a 3,040-acre community of creosote bush, Joshua trees, bursage, and pinyon-juniper that has been closed to grazing and is returning to its natural state. The Woodbury Study served as the first ecological study of the endangered desert tortoise. Part of the largest stand of Joshua trees in the northern extent of their range is found here but it is evident that a recent fire (2007) has taken its toll on this unique vegetation. This whole area is part of the Joshua Tree unit of BLM's Utah wilderness inventory.
Solstice Wall sports 18 routes and is by far the
most moderate climbing of the three walls that make up Woodbury Crags,
if not all of southwestern Utah. We discovered this wall after trying to climb in the winter shade on Black and Tan. Todd Goss leads you to believe in his guide book that the whole area is best to avoid in winter. But if you read on to the specific description he gives for Solstice Wall, he describes it as a good winter crag and we confirmed such. It is the first wall you get to of the three at Woodbury Crags. The rock is extremely sticky and although tedious looking holds (younger Kaibab limestone), most of the routes appear to have been well cleaned of most weaknesses. However, I would still pay attention on lead. I know I pulled on a few pieces more than once. I found the routes quite easy for the grade, perhaps due to the fact I am just not use to so many feature options, particularly on 5.10 routes.
Route Description(s)
The Routes are Left to Right as you Face the Wall
The Fornications of Kings- 85'- 5.10a/
(Photos) Might be the best route for the grade at Solstice. Todd gives it 3 stars and I concur. Unlike its neighbor, Catch 22, a sustained route through a scoop. Fun climbing, but like all the routes on Solstice, quite a bit of time feeling around, might as well climb blind folded, because too many fake options with this Kaibab limestone. And of course don't fall. My fingers have bled on this wall quite a bit. Third visit before I found these two routes to the far left. This is the warmest winter St. George area crag, hands down. Ten bolts to shared anchor with Catch 22.

Catch 22- 85'- 5.10a/
(Photos) Todd gives both of these routes to the left three stars, but although Catch 22 has a fun crux-off balance move in the middle, it is not near as sustained or interesting as Fornication and some of the other routes further right. Kind of follows a drainage in the wall up and turns left at the crux move, kind of a mantel and not that overly difficult. Twelve bolts to a shared station with Fornication, the only two routes this far left on Solstice.

Crimes of Passion- 65'- 5.9/
(Photos) Shares the same anchor as the next two routes to the right. Seems easier than a 5.9. Tons of edges and pockets through at least seven bolts to anchor.

Fall from Grace- 65'- 5.10a/
(Photos) Shares the same anchor as Crimes of Passion. Went easy, but I think all the routes at Solstice do in comparison. Usually 5.10's don't have more than one option, but all the cherts seem to give you an endless supply. Nothing remarkable. Left leaning seam with pockets through seven bolts to anchor.

Tricksy Hobbits- 65'- 5.10b/


Sea of Anarchy- 100'- 5.11d/


All the Kings Horses- 100'- 5.11c/


Eve's Testicle- 100'- 5.11b/


Adam's Ovaries- (project)


Vampires- 105'- 5.10b/
(Photos) Vampires is one of the 6 full pitch routes in the middle of Solstice Wall. And I do mean full pitch at 105' sporting 14 bolts. The further left on Solstice Wall, the cleaner the Kaibab limestone which can be quite the hazard on the routes to the right. This is a harsh route on the fingers. There is at least one small finger pocket that is a must, but hard to find. That is the problem with this kind of rock face. Features all over, but not necessarily positive, hiding the ones you must have on a 5.10b. Still a great route through a small roof problem, but the crux is lower. Fairly sustained. Bomber two ring anchor at the top (2007).

Token of Affection- 100'- 5.10c/


Behind the Beige Vinyl Curtain- 105'- 5.10a/
(Photos) Behind the Beige Vinyl Curtain is one of the 6 full pitch routes in the middle of Solstice Wall at 105' sporting 13 bolts. This is a fantastic route that makes you feel like you are climbing forever on edges and neat finger pockets. Bomber two ring anchor at the top (2007).

Chertin for Curtain- 55'- 5.10a/


Curmudgeons- 55'- 5.9/
(Photos) Shares the same anchor as the route to each side of it. Nice edges and knobs through six bolts to anchor. Little testy below the anchor, if you stay true to the route, which is fun.

Torsades de Pointes- 55'- 5.9/
(Photos) Shares the same anchor as Curmudgeons. Better to leave a directional in at the top if someone wants to top rope this route. Same for Chertin for Curtain. Six bolts to anchor. Traverse over to anchor at end is the crux. Spoiled up to that point, then a little blank in comparison. Definitely more challenging than Curmudgeons.

Quaker Oats- 75'- 5.9/


April Fools- 75'- 5.9/
(Photos) This route is not worth it in my opinion. First of all, it is only a three bolt start different from an adjacent route, Quaker Oats, 5.9. And of those three bolts, we skipped the first one. Don't know what Todd was thinking here. I don't like any of these routes to the right on Solstice. Here the Kaibab limestone is loose and sharp. Too many good routes to the center and left to consider these. The crux on this route is the scoop at that third bolt. This is a harsh route on the fingers. Bomber two ring anchor at the top (2007).
Breakfast of the Damned- 50'- 5.7/
The Least I could Do- 50'- 5.6/
Getting There
Drive west out of St. George and through Santa Clara on Sunset Blvd approximately 11 miles to the Gunlock turnoff intersection. Stay left on old route 91 for another 14 miles plus. As you are descending towards AZ and NV, look for the BLM Woodbury Desert Study Area sign on the left. Access for Solstice is less than 3 miles east from the road and then turn left onto a 4 wheel drive road (most 2 wheels should make this, no worries) for less than a mile. Solstice Wall is unmistakably on your left. There is an old mine road that you can hike up towards the base of the climbs. Watch for the open pit, there is no fencing or warning signs. It is imperative that you stay on the existing trails (hard to determine at times) to avoid damage to the desert terrain, damage that can last for much longer relative to other environs.
Essential Gear
One 60 meter rope should do you, there are nice 100' routes,
so don't take a 50 meter rope.
No gear necessary here. Most of these remote climbing areas around St. George require at least some gear, not Solstice. This wall is fully bolted with modern hangers and bolts into limestone. They feel a lot more bomber than pitons in sandstone. I believe Paragon guiding comes out here and probably maintains the wall.
There are 14 bolts on one route! So bring plenty of draws.