Overview
Located in the Silver Mountain range of western Utah, this is one of seven (or more) peaks that make this area special. The fact that this peak was named after a race driver who set world records at the nearby Bonneville Salt Flats is an indication of how intertwined these mountains are to the Salt Flats. They are the "backdrop scenery", often seen in the background and in movies such as "Independence Day". More about the person this peak was named after in another section.
Cobb Peak is #131 on the
Utah Prominence list
, coming in with 1601' of prominence. Nearby Graham Peak has more than 3000' of prominence which ranks it #37 on the list so it is the greater prize. However, you could stay out here and do several together.
As will be described in the route section (under development), there is no established trail or even established best way to climb this peak. I'm sure others have done it from other directions but until those "others" share their information, I'll relate our experience and what worked for us.
Getting There
If coming from Salt Lake City, take the Bonneville Speedway (exit #4) which is the first exit west of the Rest Area. There is a Sinclair gas station just off the exit ramp and when you see that, you are on the right road. Go past the gas station and take a left at the first fork which is Leppy Pass road, the right fork goes to the Speedway. The next branch to the right (leaves the pavement for dirt) will take you to a Silver Islands Information sign and register. Stop and register and then get ready to drive on the Silver Islands Loop road, a graded dirt road for what will seem forever. Don't be in a hurry, every once in a while there is a ditch or channel across the road and hitting those at 50 MPH can make you want to get a new alignment when you get back to town. You don't need a high clearance or 4wd for this road however it is best if you have the high clearance since there are some rocky areas. Use common sense out there, during the weekdays you may not see another vehicle all day. Have enough gas in your tank and spare water as this is desert country. Cell phone coverage worked for me on the Wendover side of the range but not on the far side as described below.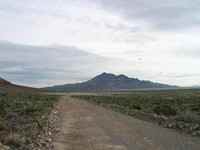 Drive the road to the NE corner of the island, where the road wraps around Cobb Peak and then cuts NW. (see map in route section - under development but forthcoming) Before you get to the Donner-Reed Pass, there is a road, a high clearance one that heads back toward the southwest on the north side of Cobb Peak. I don't have mileages for you but we parked at about the 4700' foot mark to make our effort. GPS readings will be given on a route section.
For those coming from Wendover, it is less than 3 miles east of Wendover for the # 4 exit to the Bonneville Speedway. One other alternative is to use the north side of the Silver Island Loop instead of the one described above. To access this part of the loop,after you turn onto the Leppy Pass road (or Pilot Peak road on some maps), follow the paved road with eventually turns into dirt. Continue going straight for just over 3 miles where you reach the top of Leppy pass, there is an intersection. Go right and follow this road alongside the Silver Island Mountains which is a good access road also for Graham Peak. Keep going to the north end as before and watch for the 4wd road that takes you to the 4700 foot level.
Red Tape & camping
This is BLM land so no red tape that I can think of. Camping is allowed but use the leave no trace method and use obvious previously established campsites (within 100 feet of the road). There is no water and no toilet facilities. Avoid driving off the established roads as the landscape can be damaged by vehicles rather easily.
Wendover has a large number of motels to choose from for those who want to rough it the "hard" way. Just watch those one armed bandits.
Weather
Route
There is no established trail up this peak. No cairns, no flagging, no nothing. This is a peak where you get to use your routefinding skills.
There are probably several ways up this mountain but I will provide you a few of the GPS waypoints I took on our northwest effort. You can study the
pictures that are attached but routefinding will be totally your responsibility. This is a peak for those with experience and is best done with a companion along (to get help when you break something). Am I overplaying this one? No. Veteran desert hikers / climbers will enjoy this peak but those who aren't into dealing with what a peak like this can throw at you would be best off doing Graham Peak or trying their luck at the Wendover casinos. Your cell phone won't help you until you get near the summit. Lower down neither my partner or I had coverage.
Having said the above, it took us some trial and error to hit the right route.
There is nothing technical about doing this peak so no need for ropes or the like but good cross country skills are needed as is good judgement. If you get blocked off one way, backtrack a bit and you will find a better way.
Round trip from car: 3.6 miles Elevation gain:2400+ (some ups n downs)
GPS distance from car to peak: 1.2 miles
Forthcoming GPS waypoints which I will include on a to be developed map.
No actual route page will be posted as it would be difficult to provide
an exact route. Please see the Album of pics as many of the pics might
prove useful.
Summit views
The summit is well earned on this one and the views are outstanding. No benchmark found although the summit is marked with a cairn. Dean left a register for future visitors, placed in the middle of the cairn. More are available in the Cobb Peak Album.
Odds & ends and tidbits and a sardine can.
A nice resource book with a map and description of the road that goes around the Silver Island range is
this book
by Tony Huegel called "Utah Byways". It is tour #2 in his book.
Old mines dot these mountains. The geology is fascinating to many and for rock hunters, and the fact that the ill fated Donner party passed between Crater Island and Silver Island. The Bonneville speedway and the salt flats are an amazing aspect of the overall area. Many movies have been filmed nearby and after you have been in these mountains, you would believe that most movies that depict mars or the moon could be filmed here for sure. While Mike and I were hiking through one area, Mike found an arrowhead that had been crafted out of obsidian by earlier residents of this area.
Now about that sardine can. When Mike and I reached a saddle area, Mike found a sardine can laying on the ground. He picked the can up to toss into his pack and discovered an inscription written on the inside of the can, surprisingly enough, left by a friend who we met on Flickr. See the link on the picture.
Google map
View Larger Map
Rock Climbing possibility?