What's New On This Page?
Links to Peter Podgornik's page inserted - excellent climbing routes overview.
January 24th, 2005 - Inserted links to the Kanin group. An overview picture linked.
July 19th, 2004 - Initial setup of the page.
Overview
General remark: (When reading Slovenian words on maps or in books, you will find special characters for ch, sh, and zh. They are written with c, s and z with a caron - little v above them.)
From the Italian side in last times the mountain is called also Cima del Lago - obviously very artificial.
The first tourist on Jerebica / Cima del Lago was O. Sendtner, on August 2nd, 1842.
Although Kanin mountains are not the most appropriate for hard climbs, Jerebica is totally different. No scent of endless horizontal layers and ledges, but solid rock with vertical structures, dropping some 450m and thus enabling attractive routes. Not only climbers discovered Jerebica late, also ordinary mountaineers were neglecting this beautiful mountain. Some decades ago this was understandable, because the mountain lies on Slovenian-Italian border. After regime became more liberal, the obstacle was remoteness and only one, although marked, hard and long ordinary route. I have no information how much the summit is climbed from Italian side. There are two approaches, in our literature it is written that trails are hard, neglected, requiring good orientation and scrambling.
Jerebica stands in the main crest arriving from Kanin / Monte Canin (the dividing pass is Cez Brezic, 1699m) towards north-east, where on Predel Pass it reaches the Mangart-Jalovec group. Before reaching Jerebica and after leaving it, this crest has many lonesome peaks, which are only rarely reached by mountaineers. On north-west, slopes of this crest fall deep in Jezerska dolina / Val Rio del Lago. On south and east, slopes of Jerebica crest are falling first in Moznica valley (side valley of Koritnica) later in Koritnica valley itself. The crest ends on Predel Pass, 1156m, where the road crosses the mountain range and border.
In Jerebica subgroup the following peaks can be listed (from SW to NE): Bohinca, 1938m, M. Rukavec, 1728m, Mesnovka, 1841m, V. Snezni vrh, 1958m, Gorenji Vogel, 1847m, Krivi rob, 2005m, Jerebica, 2125m, M. Jerebica, 1786m, Planja, 1693m, V Podne, 1456m, Nemske glave, 1596m, Ruseva glava, 1512m.
Summit Panorama
Jerebica / Cima del Lago summit panorama. Almost the whole Mangart-Jalovec group is seen from the SW direction.
The panorama from Jerebica summit is great. The Mangart and Jalovec pair are from nowhere seen in such harmony, and rising above Log pod Mangartom more tha 1900 meters! Towards north-west the whole massif of Vis and Montaz can be seen. Further to south-west Kanin group, especially high slopes of Rombon above Moznica valley are impressive. Towards south-east in distance Krn group and on north-east the long, mighty wall of Loska stena.
Getting There
Numbers refer to Kanin group huts: (1) Koca na Stolu, (2) Bivouac C.A.I. Manzano, (3) Dom Petra Skalarja na Kaninu, (4) Rif. C. Gilberti, (5) Rif. Divisione Julia-Nevea, (6) Bivouac Marussich, (7) Dom na Predelu.
See the
Julian Alps
overview page and the
Kanin Group
page!
By car/bus Soca valley and
Bovec
can be reached over Vrsic pass (from Sava valley) or from south, from Gorica/Gorizia. In Bovec you turn from Soca valley into Koritnica valley (towards north, in the direction of Log pod Mangartom and Predel Pass). Arriving by car the true trailhead starts at the end of Moznica valley. Some 3 km south-west of Log pod Mangartom a narrow road deters towards west and takes you into Moznica valley.
Jezerska dolina / Val Rio del Lago can be reached from Trbiz/Tarvisio, driving south till Rabeljsko jezero (Lago del Predil, Lake Raibl).
Mountaineering Map:
- Tabacco: Alpi Giulie Occidentali Tarvisiano (No.: 019). 1:25000.
- Julijske Alpe - Zahodni del (Western part). Planinska zveza Slovenije. 1:50000.
Routes Overview
A schematic map of Jerebica.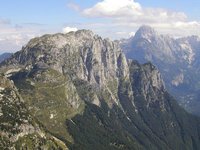 Normal ascents
1. The south-west ascent from Možnica
valley can be treated as one of the two normal ascents. From the road end up on Jezersko sedlo (saddle), 1720m, and on the northern side of foresummits to the top. From Možnica valley 5 hours. Although marked, the route needs an experienced mountaineer.
2. From Jezerska dolina / Val Rio del Lago.
In maps and in literature two approaches from north are mentioned. The first one starts in the main valley just opposite of Beli potok / Rio Bianco valley, then ascends over the slopes of Mirnik, finally reaching Jezersko sedlo, 1720m. This route is also marked and easier than the route from Moznica. The second route starts at Rabeljsko jezero (lake) and goes through Gamsov graben (Gola dei Camosci, Gamswurzgraben) - ravine, when reaching its end we need to scramble and climb a bit to reach the north ridge of Krivi rob and later the marked path. Would appreciate any further information!
Waterfalls
Koritnica valley is also known as the valley of 100 waterfalls. Some of them are hardly accessible, others easily. Here are links to some waterfalls in the Jerebica area (also some English descriptions):
style="display:block"
data-ad-format="autorelaxed"
data-ad-client="ca-pub-6523272176520096"
data-ad-slot="7132222476">