General Survey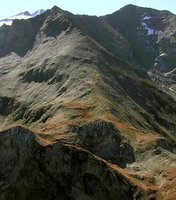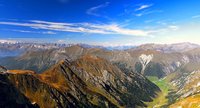 Kleine Kaserer is nice, seldom visited and panoramic, asymmetric-bowl like shaped mountain
in the Olperer's lateral ridge.
There are, actually, three Kaserers; Falsche (wrong one) Grosse (big one) and Kleine (small one).
Kleine Kaserer is lowest and the northernmost of them and the only one accessible
by hiking and easy scrambling, either from the Kasererscharte over the NW flank and north ridge
(easiest, 2 hours, I UIAA) or over the south ridge (longer, I-II UIAA).
There are no marked trails to the summit, but main forks from the signed paths are marked with stone cairns (steinmandl).
Kleine Kaserer doesn't rank high inside its parent range - by elevation it is 56th out of the 72 3000 meter and above high summits
in the Zillertal alps. Still, it is popular among small yet devoted number of followers because of it's view - it is considered a
"balcony" with the view toward the Stubai Alps. Views down the opposite side are less great, being visually polluted with
ski facilities on the nearby Tuxer Ferner glacier - an area heavily developed for wintersport purposes.

Word or two about the easiest way to the summit:
From either Schmirn or Tux valley by foot up the marked nontechnical paths till the Kaserer scharte pass. Surroundings are blessed
with blue Gentians and red Alpine-Roses - on Kaserer ridge proper there are no flowers. Slopes descending due north are home to
small but vivid marmots colony. At scharte, paths are branching, follow the waymark for Geraer hute for 50 metres or so.
Now, note the stone cairn on your left.
From here, barely visible unmarked path takes you up the slope to the first summit,
from here elevation loss to approximately halfway of the ridge where you'll find nice flat ledge - good place to have a break, if you need one.
Path circumvents few small pillars and steepens up the randomly exposed ridge - no problem for surefooted,
one of two places require climbing skills inside I UIAA.
You want notice the main summit until large white metal cross appears infront of your nose.
Return same way and if you have some more time, bag the Weisswand, another nice panoramic point, with white metal cross of the
same tipe and size as the one on Kleine Kaserer.
Panorama view from Kl. Kaserer
Getting There
By car:
From East,
Inntal autobahn motorway A12 - exit Zillertal. From here, national highway B 169 till Mayrhofen and further down tuxer Landesstrasse till Tux
and further to Hintertux.
From Hintertux by foot to Tuxer Joch pass and further to Kaserer scharte. There is also year round gondola service from Tux to Sommerberg alm,
from there another 30 minutes or so to Tuxer joch.
From West,
Brennerautobahn motorway A13 till exit Matrei, further via Steinach till Stafflach. Here fork left for St. Jodok and via Schmirn to Weiler Toldern.
From here follow posted road for Wildlahnertal.



By train or coach:


Express railway station Jenbach/Tirol. Zillertal railway to Mayrhofen.
Mayrhofen is main node for postbus services to any of the tributary valleys
sutable for ascent. Train connection fetched from Austrian railways server.



Air transport:


Nearest airport is InnsbruckFlughafen, some 90km away

Camping & Huts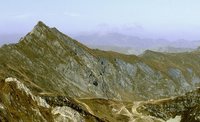 Nearest camping ground is located in Mayrhofen at the village outskirts
Comfortable, open year-round, 200 places
Contact info:
Hermann Kröll
Laubichl 125
6290 Mayrhofen, Austria
phone: +43 5285 6258051
fax: +43 5285 6258060
email: camping@alpenparadies.com
website

Nearest huts are

Spannagel haus

, some 2 km due northeast accross the Tuxer ferner glacier, followed by

Geraer hutte


which is just under 3 km due southwest and finally, the

Tuxer Joch Haus

located 3km due north from Kleiner Kaserer.
In terms of convinience, however, the order is reverse.
Tuxer Joch hut is easiest to approach and from here the easiest and shortest ascent of Kleiner Kaserer over north ridge goes.
Geraer hut is more convinient as starting point for ascending

Fußstein

(3380m/11085f, backyard mountain of Geraer hutte) or

Schrammacher

(3410m/1185f).


We may use Geraer hut for attemping Kleine Kaserer over Hollscharte or western Hollwand ridge - longer and by technical grade more difficult then Tuxer Joch hut - north ridge route.

Approach from Spannagel haus requires rumbling down the Tuxer ferner moraine rocks till the foot of the

Lärmstange

East face, you´ll find a large cross there, followed by circumventing Lärmstange in half loop due west and catching up with path contouring Weisse Wand southeast slope. From here, uphill due northwest till Kaserer scharte over the normal north ridge route. You can get to aforementioned cross down the carriage road from Spannagel hut - less scenic and more time consuming. Spannagel hut-Kaserer scharte, good 2 and half hours.

As said earlier, Kleine Kaserer is one day venture, thus no need to stay in the huts or camping grounds.
Tuxer Joch Haus

2316m/7597f 6292 Finkenberg, phone: 0043/5287/87216
often crowded as it is located on main mountainbikers route

Spannagel haus

visited mostly because of nearby cave, which is said to be largest marmor cave in the Eastern Alps
Familie Anfang
Spannagel 779
6293 TUX
Tel.: +43 5287 / 87251
Fax: +43 5287 / 86162
info@spannagelhaus.at

Geraer hutte

only really classic moutain hut out of three, but also the most remote
phone: (0043) 0676 96 103 03
Homepage: http://www.geraerhuette.com
E-Mail: Geraerhuette@utanet.at
Weather Maps & Security
Weather:
Weather Tirol (in German)
Weather Tirol in English
Avalanche info service Tirol (German)

Webcams:
Up-to-date Weather/Snow condition and 3 webcams on different altitude to choose from
inside 2-3km range east of Kleine Kaserer (English language)



Maps & books:


Rother Zillertal Alps
Kompass 037 Mayrhofen-Tuxer Tal-Zillergrund
freytag & berndt WK151 Zillertal -Tuxer Alpen - Jenbach -Schwaz

free of charge:


Tuxer Wanderbuch




Zilleltaler Huttenfuehrer

(hut guide)
both booklets can be obtained for free at Tourist offices in the area.

Online map - Tirol has excellent online map server.
For detailed view of Kleine Kaserer just click here

Book:
One book not dealing with Kaserer, but very good if you plan longer time hikes in the area
is Trekking in the Zillertal Alps pocket guide by Cicerone. See review over at Summitpostgear

Security: Mountain rescue service, dial

140
style="display:block"
data-ad-format="autorelaxed"
data-ad-client="ca-pub-6523272176520096"
data-ad-slot="7132222476">