Overview
Mercedario is the 8th highest peak in South America. The surrounding area is a pristine place. Very special, very out of the way (and I mean out of the way). I saw only one other climber when I was there in 1993. And that was when we were leaving (WM). In 2018, I met 1 climbing party and 1 trekker in 7 days (NI).
It should be no surprise that Mercedario draws comparison with Aconcagua. Both are close to each other, have similar heights and weather, and share an easy normal route and yet many more challenging ones. But on Mercedario, there is no crowd, no permit required, no or shorter approach, and no satellite TV at base camp (ok, I guess you could get that with the money you saved on the permit...). Personally, I have done both mountains back to back by their normal routes and have found Mercedario similarly challenging but more interesting for the above differences. To any adventurous friend who do not care about the #1 status, I would recommend Mercedario before Aconcagua.
Getting There
Fly to Mendoza Argentina.
There is an issue if you go through customs at Santiago airport there is a good chance that you will have all meat and dairy products from your expedition food confiscated upon entering Chile. Stay in transit and take a short (45 min) flight to Mendoza, Argentina. This will allow you to keep your food, and possibly see Aconcagua and Mercedario from the air as they fly close to it at times.
Mendoza to Barreal
You can take a bus to Barreal, but you have to through to San Juan first (2 hours). The bus from San Juan to Barreal should take another 5 hours and operates twice daily (El Triunfo).
Alternatively, you can drive or hire transport directly to the trailhead from Mendoza. Or, take the bus to Uspallata and hitchhike to Barreal from there, but that road does not see much traffic.

Barreal to the trailheads

It is 2 hours from Barreal to the shelter at Laguna Blanca (for north and east routes). As of February 2018, four wheel drive was only required for the switchbacks between 2900 and 3100 meters, 4.3 km before the shelter. This is a logical and reasonably comfortable place to spend the first night. It is not uncommon for the road to be washed out. There was a massive flood in late 2005 that cut off access to the Laguna Blanca shelter for a while. Even now, after a big storm, puddles may make the road impassable for a day or two.
For the south and west routes, you only have to go about half this drive to get to drop off point at Santa Ana, which is at the base of the Valle del Colorado.
Arrange for a pick up and make sure you are there on time. Or it is a 2-day walk out to Barreal, which is doable, especially if you cache food and water on the way in.

Outfitters
In February 2018, I found Hostal Barreal, Don Lisandro and Posada Don Ramon/Fortuna Viajes who can provide transportation from Barreal to the trailheads (4500-5000 pesos each way, or 250 USD at that time). Orviz was doing it from Mendoza for double the price. If you are flexible on your dates, car-pooling with other climbers may be possible. I went in with Fortuna Viajes and out with another party who booked with Orviz, and had good experience with both.
Gear and clothing rental can be had at Orviz in Mendoza. They had cartridge gas and even their own freeze-dried food in 2018, but both at a very steep price.
Information from Uwe Krause:
Hotel Barreal Contact: Ramón Gerónimo. Uwe got his mules via Anibal Maturano - but you can ask for Renzo Herrera in Barreal. He lives close to a small museum. But there should be also other people with mules. One mule to Valle del Colorado cost 160 US$.

Routes
From the North:

Normal route or "Incas" route: F. Easy walking. FA 1934
North glacier: PD. A variation of the normal route.
From the West:
Southwest face or west wall: D?. three camps within the wall, rock and ice climbing, a good approaching route is to cross the "Peine" through the "Valle del Colorado". See AAJ 1984 for FA, also AAJ 2004

West ridge: the fastest route, one camp, dip slope
From the East:
Caballito glacier: AD. Marvelous glacier, last camp at the Mesada. See AAJ 1976 for FA.
Paduszek glacier: AD. See AAJ 2012 for FA.

From the South:
Japanese route: AD. A constant 45 degrees ramp from 4400m to 6000m, last camp at the Mesada. See AAJ 1969 for FA.
El Peine: or south ridge, rock climbing, three camps.

Red Tape
No permission required. It is good practice to sign in at the mining company office on your way up so that they can alert their trucks of an incoming car. You sign a form and tell them your plan, but they will not look after you if you do not sign out.
When To Climb
December to the beginning of March. There can be lots of snow and the rivers can be impassable outside this time. The road may be impassable for after a big storm even in season, but this is rare and should only last a day or two.



Camping
You can camp anywhere. But bring out all you bring in. Keep this place clean. Lets not recreate the mess that occurs on Aconcagua just 75 miles south.
The winds crushed our tents at the high camp. Ended up with the stove and water on my head at 3:00am. We spent the rest of the night with our feet in the air keeping the tent upright and trying to sleep. We did the summit the next day and returned all the way to the abandoned mining camp the following day. (WM)
My tent had a better time, but I have been stuck at high camp for two days for the wind to calm down and get a chance to summit. (NI)
Possible schedule
Mercedario is almost as high as Aconcagua so you should plan for a similar amount of time for acclimatization and extra days for bad weather (high winds). The shorter approach may allow you to save a day or two compared to the much longer hike to Aconcagua, but you still have to take your time acclimating.
Gear list
Partial Equipment list info:
Here is a brief list for you.

6-pairs socks

6-underwear

2-pairs of shorts for the walk in

3-T-shirts for the walk in

2-bandanas or a sun hat to keep off the sun

Sunscreen, sunscreen, sunscreen plus zinc

Good sturdy hiking shoes

1-sleeping bag (as warm as you can get)

1-sleeping pad (your choice the more comfortable you are the better you sleep the more energy you will have) you can get a Crazy Creek chair that goes with your pad this is a good investment.

2-expedition weight Patagonia long underwear tops (or 1 depends on how dirty you like to be)

1-expedition weight Patagonia long underwear bottom

1 lightweight fleece bottom

1-heavy weight Patagonia or similar fleece jacket

1-Gortex shell jacket

1-Gortex shell pants (full length zippers)

1-Down filled jacket liner from Feathered Friends of Seattle, (optional but I always end up using it)

1-Downfilled Gortex guides Parka 1-Warm hat with ear flaps

2-pairs of heavy duty mittens (in case you lose one pair up high)

1-pair fleece gloves 1-pair ski gloves

1-pair of Koflach double plastic boots, One Sport (warmer)($$$) or Asolo (I prefer Koflach, I find them more comfortable)

1-pair of gaitors

1-pair ski poles

1-ice axe

1-pair of sharp crampons (test them on your boots before you leave and make sure they fit perfectly)

1-headlamp with extra batteries and bulbs

1-cup with spoon attached

1-Swissarmy knife

1- stove of your choice (I use Markhill stormy hanging stone with butane/propane cartridges, you will have to get fuel in Mendoza or San Juan as it is difficult to fly over) Allow at least 1 canister per day for up high per 2-man tent.

1-3 tents one set up at base camp. one at camp 1, perhaps another for higher up.
3-1-litre waterbottles with insulators (drink at least 5 litres a day to help acclimatize)
Food.... (WM)





I did not have to use my ice axe and crampons on the normal route in February 2018, but it may be an exception rather than the rule. (NI)

Avoiding Altitude sickness
Sunset over Pico Polaco 6000m from Mercedario base camp (south face side)
You should be prepared for the possible onset of altitude sickness. High altitudes are stressful on the body, and lack of oxygen up high can produce slightly debilitating effects, such as fatigue, headaches, shortness of breath, loss of appetite, nausea, and a drunken gait. Altitude sickness generally doesn't occur below 10,000 feet, but people have suffered its symptoms lower than 8,000 feet.

There's not much you can do to prevent this problem, but there are ways of alleviating its effects. The key to doing this is simple: take it easy. Take a day or two before beginning the walk in to acclimatize yourself to the elevation. Go at your own pace, and don't take chances. Even if you're in excellent shape, don't be fooled. The lack of oxygen at such high altitudes can definitely throw your lungs for a loop. Walk at a comfortable, slow pace and don't carry too much weight. Make sure to hydrate yourself regularly, drinking 4 to 5 liters (nalgene bottles) of water per day; On some climbs camelbacks can be mountain companions because of their convenient water portability. The only problem being keeping the nozzle clean, I find they can get gross and need constant cleaning. Myself, I attach a 1 litre Nalgene bottle to each side of my backpack so that I can reach them easily without removing my pack. These solutions would have to be modified to suit the weather and conditions of climbing Ama Dablam. Bottles would have to be insulated and the tube from the camelback could tend to freeze up. Taking antioxidant vitamins (A, C, and E) also helps reduce the effects of high altitudes. Of course working out before you go is another great preventative measure. While this doesn't guarantee an easier time when up high, it can enhance your lungs' ability to cope with the challenges of high elevations.
Try to spread out your ascent over a period of two or three days to give your body more time to adapt. Play by the "climb-high, sleep-low" theory of ascent: go on a short hike to a higher elevation, then return to the (lower) elevation at which you'll sleep.
Physical fitness, as mentioned above, is no guarantee against developing altitude sickness. Past excursions to high elevations without developing symptoms is similarly no guarantee against getting sick. There's no way to predict who is more susceptible to altitude sickness, although climbers who overexert themselves, those who are panting or breathless, and those who stagger far behind the rest of the group are likely candidates.
Surefire signs of impending illness include extreme fatigue, headache,
loss of appetite, and shortness of breath. If you experience any of these symptoms, the best thing to do is take a break from climbing for a couple days to acclimatize. Once the symptoms disappear, it's safe for you to continue. If the symptoms persist or get worse, you should descend to a lower elevation.
More serious levels of the illness include increasing tiredness, severe headaches, vomiting, and loss of coordination, and are indicative of acute mountain sickness (AMS). If such symptoms appear, don't hesitate to get immediate medical attention. If serious symptoms go ignored for more than 12 hours, they could have dire--even fatal--effects, such as accumulation of fluid in the lungs or brain. The most important symptom of AMS is loss of coordination. If someone staggers or walks in a drunken gait, check them out for further signs of AMS. A good test is, essentially, the police's test for drunkenness--ask the person to walk in a straight line, placing one foot directly in front of the other without staggering or losing balance. If the person cannot perform, he or she should descend immediately--and never alone. Go slowly and without exertion, and ideally while it's light outside. Descend should continue until symptoms begin to decrease; relief usually occurs within 1,000 to 1,500 feet.
There are prescription drugs out there that you can take for severe symptoms. One of the most common is called Diamox; it works by stimulating your breathing. Diamox is a strong medication and has some slight side effects, such as an annoying tingling in the fingers and toes. You will urinate more frequently so getting out of the tent at night in a storm could be a problem (if you don't use a pee bottle). This will also necessitate you dringing more fluids to compensate. If you take too much I have seen people get very ill. I avoid taking it if if I can.
Food list
Buy what you need in Mendoza. Selection will be very limited in Barreal.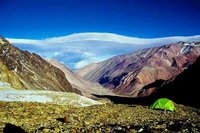 Camp 1 south face base camp
What food to bring? Basically it boils down to what you can carry and prepare easily. Also what you feel your body will crave and digest when (as in most cases) your appetite diminishes as you gain altitude.
Here are breakfast, lunch and dinner suggestions
Breakfast
Bag of cereal
Milk powder
Box of raisins
Small tinned fruit
Piece of cheese
Hot chocolate
or Coffee or tea
Breakfast bar granola
Lunches
Granola bar
Chocolate bar
Bag of mixed nuts
Piece of cheese
Crackers
Tin of salmon or tuna or ham or sardines
Cookies
Juice crystals
Dinner
Cup of soup(s)
Japanese noodles
or
Freeze dried dinner
or tin or foil pouch of beans
Small tinned fruit
Cookies
Tea or Hot chocolate
Snacks
Granola bar
Chocolate bar
Peanut Butter tubes
Bag of mixed nuts
Piece of cheese
Cookies
Dried apricots or similar
Pringles chips
Honey tubes
Optional Bars
Power bars
Cliff bars
Squeeze gels (Energy)
Local food for the walk to base camp
Bread or rolls
Summer sausage
Cheese
Hard boiled eggs
Oranges and Apples
The next chore then is organizing your food into lodgical packs for transporting to base camp and each of the higher camps. This will depend on how many days you have set aside to do the mountain. I tend to break things down to 3-day packs (3-breakfast, 3-lunches/snacks, three dinners). But single day packs combined into stuff sacks works well too.
External Links
Starting up the South Face (Japanese Route)