Overview
Middle Peak is a off trail hike to the South of Thane. Its best done in the spring when the brush and alders are not in full bloom. Typically this hike is done in conjuncture with West Peak (conveniently on the way to Middle Peak). The summit gives you great views down Gastineau Channel and the South end of Douglass. There also is no 'official' trail, so route finding may be necessary.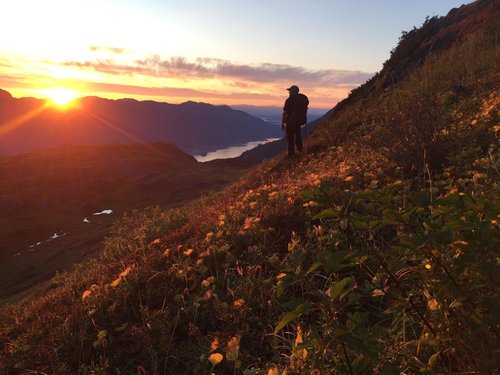 Getting There
From Downtown Juneau, take Egan Drive South which becomes Thane Road for 5.7 miles. The road will dead end at the Point Bishop-Dupont Trail head. The other route leaves from a parking area on the west side of Thane Road 4.1 miles south of Downtown Juneau where Sheep Creek crosses the road.

Route
There are two basic routes up Middle Peak. One leaves from the waterfall where Sheep Creek crosses the road called the Sheep Creek Route, and the other is a shorter hike that leaves from the trail to DuPont Dock and Bishop Point and heads up Little Creek called the Little Creek Route. Both routes cross over West Peak en route.
See the route page for more details and for the map and Garmin .gpx files.
Red Tape
There is no red tape here, so please use LNT principles.
When to Climb
Mid-June through mid-September is the normal hiking season. With easy access, winter ascents would be reasonable as well, though there will be avalanche danger on the highest slopes.
May/June is when I'd recommend to climb and can be a really nice time to climb since it's the sunniest summer month, though there tends to be more snow around. There will be less brush earlier in the year too. July is excellent too while August and September are wetter and cloudier. Fall and winter tend to be quite wet and the brush and alder will be really thick.
Winters are much milder here than in interior Alaska.
Camping
Backcountry Camping
Permits are not needed to camp in the Tongass National Forest.


External Links