Overview
Geographical classification: Corsica - Corse > Bavella Massif > Punta di U Chiapponu
Punta di U Chiapponu 1111 m
The glamor of the Bavella Massif, regarded by many people as a wild and astonishing landscape amongst the Mediterranean mountains, is out of discussion. One of the most impressive peaks belonging to Bavella Massif is Tafunata di Paliri, a three-cuspidate complex summit situated in the Paliri Chain. Nearby Tafunata di Paliri we find the smaller but stunning Punta di U Chiapponu, a steep and slender needle built in the magnificent pure "Bavella" granite, precisely situated on Tafunata of Paliri Western foothills, on the left of Col de Finosa. At present the needle has only one route, Linea d'Ombra, running along the spectacular ridge facing West.
Getting There
Access to Corsica

Corsica, l'Ile de Beauté, can be easily approached by plane (airports both in Bastia on the Eastern coast and Ajaccio on the Western coast) and by ferry-boat from Livorno and Savona italian ports. The most convenient destination in Corsica to visit the Bavella area, one of the wildest region of the island, is the airport of Bastia if you're getting there by plane; the same Bastia port if you're getting there by ferry-boat.
The starting point to explore Bavella is Bavella Pass mt. 1211.
ROAD ITINERARIES TO BAVELLA PASS:
- From Bastia (Corsica Eastern coast) take RN 198 towards Solenzara; a few kilometers before getting there, turn to right and follow D268 to Bavella Pass (km. 130 from Bastia).
- From Aiaccio (Corsica Western coast) follow the RN 196 to Petreto, then the road N852 to Aullene, Quenza and Zonza (km. 90 from Aiaccio). From Zonza follow D268 to Bavella Pass.
From Bavella Pass drive down along the North East side of D268 (direction Solenzara); from "Auberge de Bavella", a bit under the pass on Solenzara side, you must count exactly 1,8 km. along the road D268 to find a forest unsurfaced road on your right-hand side, leading towards the peak. Parking lot along D268. Don't block the entrance of the forest road...
Route overview
Line d'Ombra report - French Scale
Summit altitude: mt. 1111
TD sup., 6b+ max.
Length: 250 mt.
Pitches: 6
Exposure: W
Starting: Road D268 Col de Bavella
Hut: Auberge – Gite d'Etape du Col de Bavella
A steady and magnificent route on extra-solid red granite. Well equipped with 10 mm. bolts.
Approach: from the parking along NE side of D268 - at km. 1,8 past Auberge du Col de Bavella - take towards right an unsurfaced forest road, walking along it for about 2,5 km. After a crossroads with GR20, the forest road does a semicircle. When the GR 20 takes a path towards right, you must keep yourself on the forest road, leading to a grassy glade, where Punta di U Chiapponu finally appears. At the right end of the glade a small trail goes down, reaching a dried red stream - several cairns – and rising steeply to the bottom of the peak (1 hour and 30 minutes from the parking).
P1- A superb pitch. Starting up a red corner, then towards left climbing a little overhang with "tafoni"; a system of hard and shallow cracks leads towards right above the basal overhangs. A last little overhang leads to the little belay. 6b+, 50 mt.
P2- Another superb pitch. Climb a pinnacle, then up along a steep beautiful wall leading to a chimney with tafoni. Up along the chimney to the belay 6a+, 35 mt.
P3- From the belay climb a dihedral-crack, then towards left to take a magnificent and vertical red wall. 6a, 40 mt.
P4- Another dihedral-crack leading to a characteristic slab. Climb the slab to a belay below a red overhang with "tafoni". 6a, 40 mt.

P5- Climb straightly the overhang, then a corner and a slab leading to a little red wall; climb the wall starting with a crack, then up along its ridge. 6a
P6- Walking along some easy slabs reach the last wall leading to the summit cairn. 4b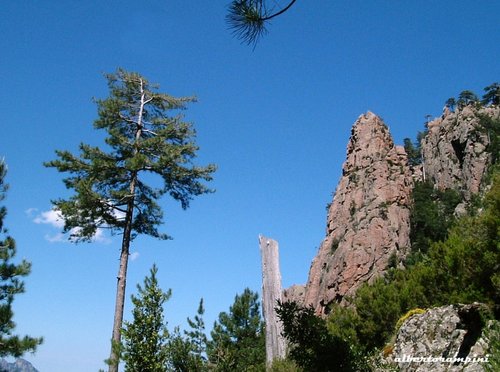 Descent - From the summit one abseil leads on the shoulder below the last wall. Head towards left – facing out – following a vegetated ledge to enter a gully. Descent along the gully by walking and some easy downclimbing to a wider gully. Climb the easy slabs inside the last gully reaching the starting point (1 hour from the summit).
Red Tape
Bavella Massif is a fantastic world, a preserved milieu situated inside a Regional Park Parc Naturel Régional de Corse - Parcu di Corsica.
Free camping and bivouac are not allowed. Fires are strictly forbidden. Maximum care is required to keep for the future this extraordinary environment.
Nature and climate
Nature is wild and peculiar; in Corsica we can find more than 5% of authoctonous kinds of flower and plants, in addition to the authoctonous fauna. On the contrary, several kinds of animal current inside Mediterranean countries are away from Corsica, like squirrels and vipers.
Climate is the typical one of the mediterranean middle-mountain areas situated at these latitudes: often very hot in summer and with cold and snowy winters; early and middle Spring and early Fall are the better seasons to climb. Due to Bavella closeness to the sea, winds are often stronger how much they are at the same height in the Alps. Rainfall sometimes are important and dangerous when joined with strong winds. On the contrary, sometimes we can find some long periods of drought.
Where to stay
Col de Bavella
- Auberge du Col de Bavella - Hotel and Gite d'Etape
- Les Aiguilles de Bavella - Gite d'Etape
Zonza
– Hotel L'Aiglon, Hotel de la Terrasse
- Municipal Camping of Zonza, Camping La Riviere
When to climb
Best season to climb goes from late April to October.
Meteo
Guidebooks and maps
"Bavedda – Aiguilles entre ciel et torrents: Escalade, Rando, Canyon" by Jean Louis Fenouil and Jean Paul Quilici - FFME
Map IGN 4253 ET "Aiguilles de Bavella – Solenzara"