Overview
Ouray
is the site of some of the best ice climbing in Colorado. Although there are some long climbs in the area, Ouray is primarily known for its short, difficult routes. The Camp Bird area and the
Ouray Ice Park
attract more ice climbers than anywhere else in Colorado. Ouray is an excellent place to learn the sport because of its many types of routes.
Approaches in Ouray are generally short and easy, especially the Ice Park is very safe. The main obstacle is the extremely high avalanche danger, which can close the Camp Bird Road and even Red Mountain Pass (the main road going sough of Ouray towards Silverton).
Slip Slidin' Away
is one of the easier and short climbs off the Camp Bird Road, located in the area called Skylight. Hiking along the Camp Bird Road is an interesting experience - you will see climbers everywhere, and the scenery is very spectacular. As typical for ice it forms every year a little bit differently. Slip'Sliding Away is located in a cleft just a little bit past
Skylight
. It does not get any sun, the first pitch is very reliable yearly. The 2nd pitch is in a different condition yearly, at least per my experience - I have done the climb 3x now.
Getting There
Ouray is located in southwestern Colorado on Hwy. 550, approximately 80 miles north of Durango and 35 miles south of Montrose. The portion of Hwy 550 between Ouray and Silverton, 24 miles to the south, is known as Million Dollar Highway and is one of the most scenic and avalanche-prone drives in Colorado. The drive can be pretty scary in icy conditions, and chains are often required. The road also closes when there is a high avalanche risk.
Camp Bird Road
is a very popular area to ice climb. The road up to Camp Bird can be very icy, so please check the conditions, and have chains ready in your car. The road may also be closed when avalanche danger is high. If the road is closed - do not attempt to walk, ski, or snowshoe along it.
The Camp Bird Road is typically open to the Senator Gulch area, about 4.5 miles above the Ouray Ice Park. There is a pullout for parking - it can fit maybe 10 to 15 cars, and the parking space can get full on weekends, especially if the weather is nice. Approach to all climbs is along the road, which is typically snowplowed, or the snow is leveled by snowmobiles. (can't imagine snowmobiles getting past the gate now).
The mining above Camp Bird Road is now fully operational year round and the road is in excellent conditions, but they close the gate at Senator Gulch, so you cannot drive it although you will see trucks driving to the mines. They open up the road to public May 1st, and it is one of my favorite back country ski areas in the large basin below Mt. Sneffels.
The Skylight Area
is second only to the Ouray Ice Park in the popularity due to a concentration of high-quality climbs and ease of access. It is about 10-15 minutes walk up the road from the parking at the Senator Gulch area. The area is pretty obvious - there are climbs along this road, located right next to each other, many mixed climbs with obvious bolts, sometimes ropes left hanging down (climbers working on their route often leave a rope in place). You will most likely see many other climbers here.
The Slip Slidin' Away
is pretty obvious from the road. The climb is located on your right side, first you will pass Poser's Lounge, a half-cave with many difficult mixed climbs, then several short climbs, Skylight is very easy to identify - the first pitch starts inside a narrow small chimney. There are several climbs from here towards our Slip Slidin' Away, some do not form every year. Slip Slidin' Away is about 40 meters higher up the road from Skylight. It is one of the more popular climbs in the area, and the ice forms here usually early in the season.
You have to hike about 25 meters up the slope to the base of the climb, this section can be icy, and will most likely require crampons. Guides usually rope up their clients when accessing the base of the climb, but I have done it each time rope less, not too steep.
Route Description Slip Slidin' Away
Rating
: WI4 (early season deserves WI4-5, and thin ice)
Length
: 45 meters (if following as 2nd pitch WI3/, mixed gully); 35 meters if going up a steep pillar on the 2nd pitch to the right of the gully
Pitches:
2 (could be combined into one long pitch)
This two pitch climb has a more difficult variation to the first pitch (on the left) that is very thin. Otherwise, simply climb on the easier ice to the right and either toprope the variation and/or continue to the short WI3 pitch above. I have climbed it each time early in the season - twice in November, and once early December. Remember this is a popular area, 2nd to the ice park. So, if you plan to climb there, come early, otherwise you will not get parking spot and Senator Gulch, and you will not get onto the climb. I would also imagine that later on in the season it does get into "park's" conditions with many steps and ice axe hooks form frequent ascents.
I have seen this climb in later season, and obviously the ice was much thicker. The 2nd pitch was not even worth climbing it in late November of 2010. The ice was not so great, dinner plates and larger plates of ice were coming off during our climb.
December 2011 provided better conditions, the ice was great, and we were able to climb all the way to the tree anchors at the end of the 2nd pitch.
November 2014 - thin first pitch, and the 2nd pitch did not follow the gully, rated by Jack's Robert's book as WI3, but instead we climbed a short thin steep pillar WI5 to the right of the gully. There was an easier terrain to another short pitch of very thin ice/mixed climbing to a large tree with a new anchor (looked like placed this year).

Descent:
rappel from trees (there was a rappel sling placed 11/10 in a good condition, 12/11 rappel anchors good, 2014 new slings with rappel rings). You do need two 60 meter ropes. We brought 70 meter rope in the past, and it was too short, but we climbed the longer gully. I think with rope stretch the steeper variation of 2nd pitch may get you down with 60.
Images from the climb

Essential Gear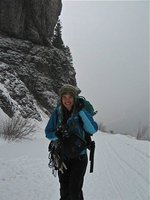 Two 60 meter ropes
Screws, slings, harness, helmet, consider eye protection
May consider extra webbing, rappel rings for security reasons (this climb is very frequently climbed during the season, so the anchors should be good, but you never know).
And whatever you like to ice climb in - a thermos bottle with hot tea is always a good idea:)

Definitively good crampons! We had a little epic on our climb. The leader's right crampon broke off while on a steep section of an ice. He just anchored himself to an ice tool, then placed a screw it, and lowered himself to "steal" my crampon to finish his lead.


External Links
Ouray Mountain Sports - great resource for the latest gear, you can also rent some equipment and they can sharpen your screws.
Ouray Hot Springs - really nice after a cold day on the ice
Mountain Project - description of the climb.
Denver Post - describing a few climbs from Camp Bird area.
Something to keep you warm
Weather