Overview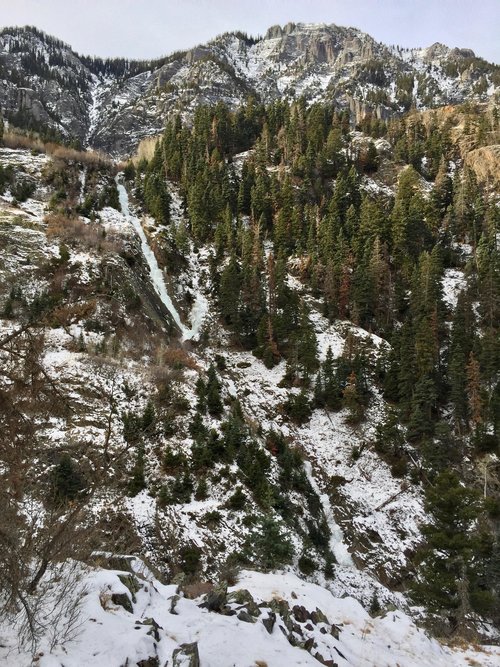 Wild Horses
is a relatively easy climb rated as WI3 (steps of WI2 and WI3 ice), located just off Million Dollar Highway. The climb does not form every year. It is located just below (down stream) from a more sustained and popular climb
Horsetail Falls WI4/5
. The climb follows a gully, with steps of WI3 and some easier climbing in between. There are no fixed anchors on the climb, so expect to be building your own.
The approach is rather heinous. You have to cross
Uncompahgre River
, and typically there are snow bridges formed here. Consider setting up a handline on the descent into the Gorge.
The climb is briefly described in
Colorado Ice
guidebook by Jack Roberts.
The climb is located just a couple of miles upstream from the popular
Ouray Ice Park
.
Consider visiting
Ouray Hot Springs
afterwards.
Getting There
Follow Hwy. 550 south of town of Ouray for approximately 2.3 miles, at which point a bridge spans Bear Creek, and there is also a nice
overlook
over the gorge and the Horsetail ice climb/waterfall in the summer. Park at the overlook. Do not descend for Horsetail falls (this descend is located on the south/upstream on Uncompahgre River. Walk down stream/north and find an easiest path into the gorge. We made a mistake and continued on an easy ramp, which brought us pretty far down, but we got clipped out. We could see into the gorge and an obvious gully, which starts pretty high up (just about 10 meters from the road). So, identify this steep gully and consider setting up a hand line. The steepest section the descent is right at the end when reaching the river. Hope for ice bridges across the river.
Approach Time: 30 min
Number of pitches: 4-5
Length: 240 meters
The route is an obvious ice gully, which can be viewed from Highway 550 = Million Dollar Highway. I thought the approach was the most difficult part of the outing. The climbing was easy. We used one 70 meter rope for climbing and did run it for about 55 to 60 meters for each pitch. There was a lot of rope drag. Follow the ice in the gully. It was continuous, at some sections we heard water running below the ice, nothing too exciting. Expect steps of WI3 with short walks in between. The view of Why 550 is great and the surrounding area. Expect to set up your own anchors.
Descent: we chose to walk off to the north/down stream from the climb for most of the way and joined the ice gully near the bottom. The walk off was easy - easier then descending into the gorge on the opposite site. Once in the gully we set up an rappel from an ice column (I drilled a hole through and pull rope through), and rappelled about 20 meters to the bottom of the gorge. We have to up climb again the steep approach gully on the opposite site of the gorge to get back to the car.
Essential Gear
Personal Climbing Gear: harness, boots, ice axes, crampons, helmets
Ice screws - ice is easy, if confident climber 3-4 screws enough, slings
Anchor building material
One 60 meter rope is sufficient
Consider setting up a hand line for the descent into the gully
External Links