Overview
Geographical classification:
Eastern Alps
>
Dolomites
>
Sella Group
>
Col de Stagn
Col de Stagn 2517 m
The mountain area located in proximity of
Refuge Franz Kostner
is a beautiful place to climb some fine routes on various peaks and crags;
Col de Stagn
is one of these latter, a stunning mountain crag located above the
Campolongo Pass
and belonging to Sella Group, Vallon Subgroup. The setting is lovely and the views are breathtaking from anywhere one turns.
On the steep and compact East Wall, built in a black and yellow dolomia of good quality, some interesting climbing route have been recently realized, in addition to a trad route running on the East ridge.
Getting There
The starting points to approach the crag are both
Corvara in Badia
, located in the homonymous Val Badia, and
Campolongo Pass
.
Road access to Corvara in Badia
- From Bolzano: follow the Brennero Motorway towards North, exit Bressanone and then follow the Val Pusteria road to Brunico. In Brunico turn to right, following the Val Badia road to Pedraces and La Villa. In La Villa take on the right the road to Corvara.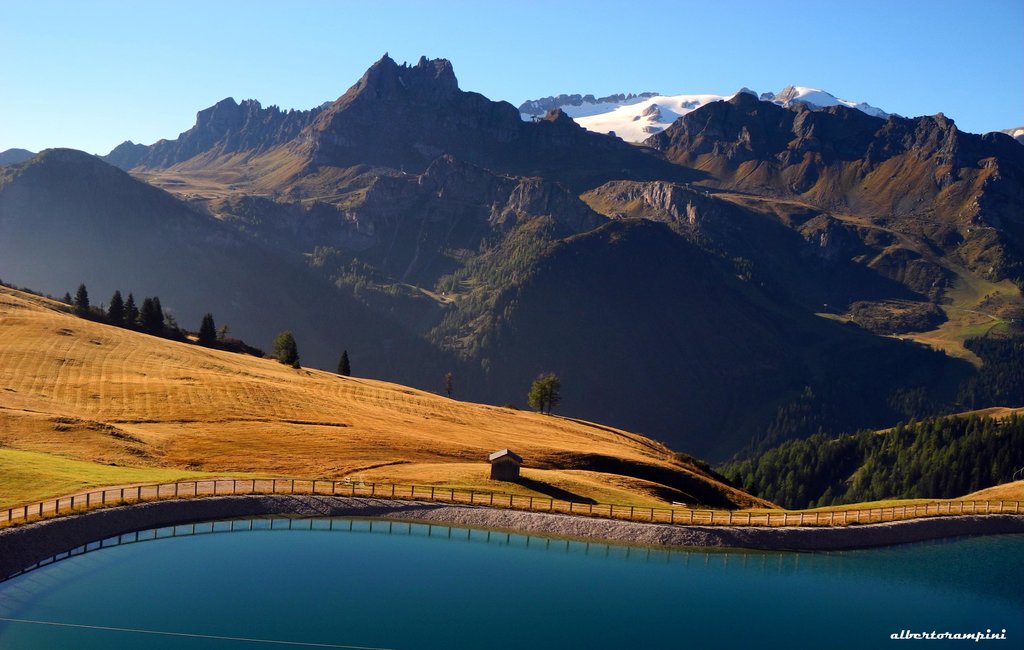 Approach to Col de Stagn

There are three possibilities:
- by walking from Corvara in Badia
- Take the path n. 638 rising to "Boè" cable car upper station; at a junction follow on the left the path n. 636 and when the path begins to descent you're getting to Col de Stagn wall on your right hand. Leave the main path crossing the meadows and heading to the wall.
- by "Boè" cable car
starting from Corvara in Badia - from the upper station carry on as reported at the previous point
- by walking from Campolongo Pass 1875 m
– Take a dirty road starting from Campolongo (path n. 636) and getting after 0,20 minutes to Refuge Bec di Roces; near the shelter a parth starts reaching and crossing the characteristic Needles named Bec de Roces. Pass Bec de Roces and reach a crossroads (singpost) just below East Face of Col de Stagn. Leave the main path and head to right up the slopes to gain the base of the wall
Col de Stagn Ludomania report
Col de Stagn East Wall – Ludomania report
(French scale)
Summit altitude: m 2517
Difficulty: French 6a max
Route length: 200 m
Exposure: East
First ascent: T. Kostner, M. Agreiter, A. Crafonara 2013
Starting point: Campolongo Pass or Corvara in Badia
A worthy route up the central pillar of Col de Stagn East wall running with a logical and nice line. Protections are good, a bit spaced on easier pitches
Approach -
See the previous point; the starting point of the route is located on the left of an obvious pillar, on a small terrace inside an inlet from which is well visible the first fix
L1
- Climb the slabs to a grassy ramp and follow it towards right. Belay under a little wall - 5a, 30 m. 6 fix
b>L2 - Up two little overhangs (crux pitch), then vertically to a stance on the right - 6a (or 5b and A0), 35 m., 8 fix
L3
- Up to the right of the stance, then climb a little ridge towards left and a crack cutting a little pillar, reaching the stance - 4c, 5 fix
L4
- From the stance traverse left, then climb up straightly reaching the summit of the pillar. Climb a little wall and reach the stance - 5b, 60 m., 6 fix
L5
- Climb a little wall and some steps to reach a terrace where is situated the belay - 5c, 30 m., 5 fix
L6
- On easier rocks to the end of the difficulties, belay on a outcrop - II, I, 30 m.
After 100 m. walking up you're getting the summit of Col de Stagn (cairns). Wide and stunning views!
Descent:
two possibilities depending from your starting point
- coming from Campolongo:
from the summit of Col de Stagn cross the summit debris heading to the left to reach the path coming from Refuge Kostner. Follow it towards left, reaching the crossroads at footh of Col de Stagn (wooden signposts), then descend following the same path of the approach
- coming from Corvara:
from the summit head to Refuge Kostner, reach it and the upper station of the cable-car
Other routes
- East Ridge
- Eva Dorme
VI VI+ pp VII+, 160 m - First climbers: Roly Galvagni, Massimo Maceri Nov 2011 - Jul 2013
Red Tape
No permits, no fees and no particulary restrictions in hiking and climbing
When to Climb
The best season to climb goes from June to September
Accomodation
There are two shelter in surrounding:
- Rifugio Kostner
- Rifugio Bec de Roces
Meteo
ARPAV DOLOMITI METEO
DOLOMITI METEO VENETO
ARPAV DOLOMITI METEO
Phone +390436780007 fax +390436780008
CENTRO VALANGHE DI ARABBA
Phone +390436755711 fax 043679319 e-mail cva@arpa.veneto.it
Guidebooks and maps
Guidebooks and maps

"Arrampicare Dolomiti Nord-Occidentali"
Vol I by M. Bertolotti- L. Galbiati – F. Vascellari Collana Mountain Geographic
Kompass f. 616
1:30000 Provincia di Belluno Arabba-Marmolada
Tabacco ff. 06–07
1:25000
style="display:block"
data-ad-format="autorelaxed"
data-ad-client="ca-pub-6523272176520096"
data-ad-slot="7132222476">