Overview
Rank: 1916the highest peak in Colorado
Prominence: 365 feet
USGS Quad: Jones Hills
Planning Map: Trails Illustrated #110 Leadville | Fairplay
Peak Stats: Lists of John

Getting There
Jones Hill is surrounded, literally, on all sides by dirt Forest Service roads of varying condition and thus is an extraordinarily accessible peak. The most direct access is via Hwy 285 south of Fairplay from the east, but the peak could also be reached from the Leadville area via the unpaved Weston Pass Road (Rt 22). The route you select will depend on the vehicle you're driving (clearance, traction, etc.), the time of year (road accessibility due to snow/mud) and personal preference.
I will post a detailed snow season route from Buffalo Peaks Road (FSR 431) shortly!
Red Tape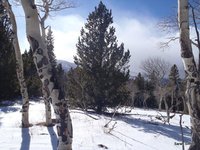 There is little red tape governing recreational use in this part of the National Forest and there is no fee to access this area. Adhere to LNT (Leave No Trace) principals, observe fire ban when in effect and do not harass wildlife or allow your pet to do so.
Camping & Lodging
Rustic Truck Camping
There is plenty of rustic, first-come, first-served camping along the Forest Service roads surrounding this peak. Be prepared to haul in your own water and pack out your own garbage.
Established Forest Service Campground
North of Jones Hill is Weston Pass campground which, despite the name, actually sits about 4 miles southeast of Weston Pass.Weston Pass Campground:
14 sites


No reservations (first come, first served)


$12.00 per night


Elevation: 10,200 ft.


Fairplay
A small collection of hotels and bed & breakfasts can be found in the nearby town of Fairplay.
Weather & Seasons

Click for weather forecast

Fall would be a lovely time to visit Jones Hill, when the aspen trees are glowing golden. Be aware, however, that a lark elk herd frequents the area. Be cautious during the fall rut (generally September and October) when hormones and spirits run high among the herds, as the bulls build and defend their cherished harems. You really don't want to get in the way of a 700 pound horny animal with antlers…

Snow season is lovely in this area, though road access can be a problem. Hunters often keep the roads rutted (through the snow) into the fall, providing a nice combination of "good accessibility" with "nice powder romp." Getting your truck stuck back here would be bad news, though, so it doesn't hurt to have good traction on your tires plus axle lockers if the snow is deep. Note that the snow simply accumulates among the trees into deep drifts on this peak, so in winter and spring, be prepared for a deep snow slog through the trees.

Expect summer to be crowded (in the general area, not on the mountain), though the weather to be pleasant.


Click for weather forecast

External Links
Please notify me via Additions & Corrections of any trip reports or other external information I can add to this section.