Overview
ColoradoRank: Unranked
Prominence:192 feet
Mountain Range: Tenmile / Mosquito
USGS Quad: Climax
Trails Illustrated Map:#109 Breckenridge, Tennessee Pass.
Rising to 13,692 feet and bearing an official, USGS name, Loveland Mountain rises only 192 feet from the low point of the connecting saddle with ranked Mt. Buckskin(13,865 ft.), rendering Loveland Mountain an unranked but named Colorado thirteener. Loveland Mountain has superb 360-degree views. Mt. Democrat, Mt. Cameron, Mt. Lincoln, and Mt. Bross seemed close enough to touch. Buckskin Gulch seemed incredibly deep. South Park and the towns of Alma and Fairplay were visible to the east. Mt. Buckskin is 76th highest peak in Colorado which make this mountain Centennial, but at same time even being unranked Loveland Mountain is nice complimentary hike together with Buckskin.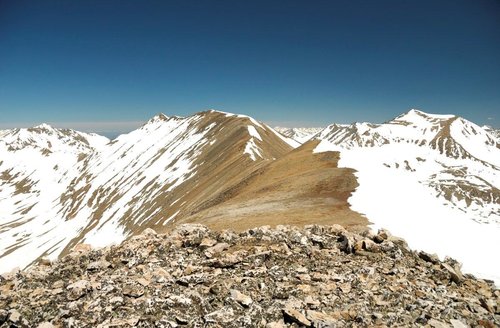 Getting There
Directions:

Take Colorado 9 toAlma. In the middle of town and on the west side of the road, look for a smallsign for the road to Kite Lake. Turn here and drive a bit through a residentialarea. Continue 6 miles to Kite Lake. The last mile of this road can be a bit morerough, but a good-clearance 2 WD should still be able to make it when the roadis dry. There are restrooms and some camping spots at the trailhead. You mustpay a small fee to park/camp at Kite Lake. If you park below (no fee), walk upthe road to Kite Lake.


Winter Access: :

Closed at the Paris Mill site which is about 3 miles up the road and 3 miles below Kite Lake.




Route
Usually, Loveland Mountain is climbed together with Mount Buckskin, ranked thirteener located on same ridge line. There is at least two easy ways to get on top of this mountain. The easiest way is from Paris Mill site, which is winter closure 3 miles before Kite Lake. From here you have to hike about mile to gain ridge, once you are on ridge it's easy class 2 to the summit. There is summit register at the top. Another way to summit this mountain is from the Buckskin Mountain, which means you have to drive to Kite lake and hike from there. See
Buckskin Mountain
page how to get this summit, from top of Buckskin Mountain it's very easy class two about one mile to the summit to the Loveland Mountain.
Map
Camping
Kite Lake Campground is a very popularcampground especially in the summer time. 5 campsites that are available hereare on a 'first-come, first-serve' basis. Pinic tables and vault toilets areprovided. Since this is a primitive campground there is no water or dumpsteravailable. It is advisable that visitors contact the South Park Ranger Districtfor current assessibility before visiting the area. As expected conveniencesare few in a primitive campground like Kite Lake Campground. As expected thereare restrooms here, and primitive camping is a great way to be in closeproximity to nature.
Directions:
From Fairplay travel North on Highway 9 to the town of Alma. Turn right onto Buckskin Gulch Road and travel 8 miles to the campground. This is a high clearance route please exercise caution.

Accessibility:
This site is heavily affected by seasonal weather. County Road 8 can be difficult to travel during the winter months. Please call the South Park Ranger District for current conditions.
General Notes:
Parking:
There is limited parking available at the trailhead. As this area is the only staging area for the Lincoln - Democrat loop, there is heavy summer traffic.
External Links