Mt. Cameron or in some circles, Cameron Point, though rising well above the covetous 14,000ft level in Colorado is not considered a ranked or even true mountain. It is a perverbial black sheep that takes its place among a small herd of Colorado 14ers that also includes:
.
However, Mt. Cameron has a facet that the others cannot claim, accessibility. Mt. Cameron resides in the center of a topographic triangle which is anchored by
Mt. Democrat
,
Mt. Bross
and
Mt. Lincoln
. Collectively, they are known as
The Decalibron.
People typically do not venture into the Mosquito Range, just west of Alma and Fairplay to only hike Mt. Cameron. It is only a momentary stopping place en route to one of the other three. However, due to its proximity to the Front Range, accessibility and relative ease of hiking, it is almost always included in any trip to these mountains.
The predominant factor in keeping Mt. Cameron from being officially recognized is the fact that its' saddle with Mt. Lincoln does not drop the required 300'.
Also, Mt. Cameron's summit plateau lies entirely on a private mining claim and only .2 mile from the Baltic & Crescent Help Mine
(towards Mt. Lincoln)
.
Cameron is certainly not part of Mt. Democrat nor is it a part of Mt. Lincoln (although, one could make the case). Because of the relitive paltry 138' of prominance, it is not an officially recognized summit despite being named. So this kind of begs the question as to why a Mt. Cameron page exists on Summitpost?
Most people here in Colorado know, and to some extent, will crack and make jokes at Mt. Cameron's 'signifigence' and yet, one can still hear people, from time to time, reference it as a seperate mountain
(old habits I assume)
.
But all you need to do is glance up at the top left corner of this page to the "climbers log" link to see how many people still claim an 'ascent.' And it is for that reason, plus it's a major part of the route, Decalibron, that it exists here on Summitpost. Plus, it can be hiked by virtually anyone and is truly, in some people's words, a "mountain for all seasons".
Closures and access...
Closures and access...In the summer of 2005 (June to be exact), the Forest Service started handing out fliers and notices to hikers and campers in the extremely popular Kite Lake area just west of Alma. This small area, which is spider-webed with private mining claims including the
Moose Mine
,
Dolly Varden
,
Sweet Home Mine
and the
Russia Mine
was going to become off-limits to all public access. As usual, "liability" was the smoking gun as to why. Keeping Mt. Cameron company is its' close neighbors, Mt. Democrat, Mt. Bross and Mt. Lincoln.
To those who are somewhat naive on this touchy matter, this news came as a big shock to the hiking/climbing community because these four peaks, collectively known as The Decalibron are among the easiest to access and easiest to climb of Colorado's 14ers.
Of the 57-60 seperate land owners, roughly three acually voiced concern to the Forest Service thus getting the ball rolling.
Then something extremely positive happened. The mining owners, who quite unlike Rusty Nichols
(of the Wilson debacle)
are and have been talking to the town of Alma to allow public access and lift the veil of uncertainty that liability usually carries
(for the land owners)
.
On March 8th, 2006, Gov. Bill Owens passed into law (from the Colorado State Legislature) House Bill 1049. This bill was designed to require the current land and mine owners to clearly identify, sign and maintian trails.
In August of 2006, the Town of Alma "leased" roughly 4,000 acres from a small collective of the involved land owners thus accepting the liability. There is some confusing stipulations and addendums attached to the agreements that basically absolves the Town of Alma from most lawsuits and govermental litigations. So until various specifics can be worked out: formal access, trail projection, erosion concerns, lease duration etc,
Mt. Bross is still legally closed
.
However, having said that, the Colorado Mountain Club will be helping in this ardorous project. It has received funding from Colorado State Parks via the State Trails Program to install trail signs, restoration signs and abandoned mine signs along the 'to be determined' portions of the trail. The Colorado Fourteeners Initiave I believe is also assisting in this.
No wonder the legalities are so complicated.
With all these mining claims, its a wonder anything can get done.
→ → → UPDATE! (2008) ← ← ←
During the summer of 2008, the CFI will be researching trail design and restoration on approximately 6.72 miles and 4.8 miles repectively. An orchestration of CFI, the Forest service and the Town of Alma will be continuing and finishing the following:
• Delineate a trail corridor
• Design specific trail routes with station markers
• Establish signage locations
• Design ecological restoration plans and construction of
During the summer of 2008 and 2009, various field sessions will be held in conjecture with CFI trail crews, Colorado Youth Corps trail crews and volunteers to close, stabilize and restore the numerous user-created trails that exist on these mountains.
New signage will include:
•
A trailhead kiosk
- this will be installed in 2008
•
Trail directional signs
(approx. 12)
•
Closed for restoration signs
(approx. 15)
•
Abandoned mine signs
(approx. 5)
→ → → UPDATE!! (2009) ← ← ←
This is the official statement released back in 2009 from the CFI
(Colorado Fourteener Initiative)
.
FAIRPLAY, Colo., May 29, 2009:
After four years of cooperative efforts, the Mosquito Range Heritage Initiative (MRHI), Colorado Mountain Club, Colorado Fourteeners Initiative, private land owners, Town of Alma and the U.S. Forest Service-South Park District announce a conditional June 1 opening of the "14er" trail from Kite Lake to Mounts Lincoln and Democrat.

Based on trail work completed to-date, private land owners have agreed to a conditional summer 2009 access to Mounts Lincoln and Democrat.
Only the approved access route from the Kite Lake trailhead is open.
The agreement includes continued efforts to educate hikers about potential mountain dangers and the need to respect private property.

"This is a trial opening," emphasizes Cara Doyle, MRHI Executive Director. "Continued future legal access to these two popular Park County peaks will hinge on hikers' respect for private property and willingness to stay on the designated and signed trail. If people do not stay on this designated trail, we could lose this privilege."

The lease between the Town of Alma and the private land owners can be retracted if hikers stray off the approved route or if private property is vandalized. It is important that hikers stay on the signed trail and keep away from all mining-related structures.
The process has been long and complicated to obtain safe, legal hiking access through the maze of private mining claims on these extremely popular peaks. Located in the Mosquito Range, these three peaks are "Fourteeners," mountains over 14,000 feet. Trail design, environmental assessments, and signage were completed in 2007, followed by 2008 trail construction by several of the access partnership groups. About 3,900 acres of the trail are leased from two private mining claim owners by the Town of Alma. Work will continue in 2009 to further sign and delineate the hiking route.

Although hiking routes on the slopes of Mt. Bross could be opened under the same signage and route conditions, access to the true summit may never be possible. Many of the landowners on Mt. Bross cannot be contacted or are unwilling to allow public access. All of the property owners must be in agreement, or legal public access is not possible.

Private landowners caution that with hundreds of mining claims on the mountains there is no way to know where all the tunnels and prospect holes might be. This creates dangerous conditions for hikers who stray from approved trails. Tunnels or "stopes" are so near the surface that plant roots growing on the surface can be seen on the ceiling of the passageway. The potential for a cave-in is very high.

Mounts Lincoln, Democrat, and Bross were closed by private land owners in 2005, citing liability concerns about potentially collapsing open mine shafts and vandalism. Colorado House Bill 1049 extended liability protections of Colorado's Recreational Use Statute to owners of private land where "attractive nuisances" such as abandoned mines exist.
Looking south towards the Decalibron from the summit of Quandary Peak
→ → → UPDATE!! (2012) ← ← ←


Per the CFI website with summer 2012 updates:
(Official Link)
Access to Lincoln and Democrat (only) has officially been granted.
This opening is conditional, however, and is contingent upon hiker's compliance with the regulations set fourth. Here are the details, please be sure that you are aware and familiar with these rules and regulations as following (or not following) will determine the future access to these peaks.
The approved route is the Kite Lake route
.
ONLY
Mts. Lincoln, Cameron and Democrat are open. The true summit of Mt Bross remains closed at this time, due to inability to get contact with all of the land owners
(100% consensus is needed by all landowners in order to open access.)
Hikers can do the full loop (up Democrat, over Cameron, to Lincoln, then around the summit of Bross), but are not granted access to the Bross summit.
It is very important that hikers respect the needs of private landowners by:
1.)
staying on the trail at all times (the trail has been signed and clearly delineated), and
2.)
not approaching or entering ANY mining structures in the area. If this is violated, the landowners have indicated that they will reinstate the closure.
Part of the conditional opening is that CFI have Peak Steward volunteers present at the Kite Lake trailhead on busy summer weekends. Volunteers are needed.
Contact: outreach@14ers.org for details on getting involved!
Planning and design efforts on the Lincoln, Democrat, and Bross loop were initiated by the Forest Service and CFI after the 2005 closure and were completed in 2007. In 2007, CFI seasonal staff installed most of the required signs along the designated trail.
The National Forest Foundation awarded CFI a "Friends of the Forest" grant to sponsor a volunteer project on September 8th. The 31 volunteers included groups from the Mosquito Range Heritage Initiative (MRHI)and MWH Engineering in addition to other CFIvolunteers, and a substantial amount of valuable trail and restoration projects was completed.
MRHI and MWH Engineering also worked with CFI's Adopt-a-Peak program on these peaks during the summer and continued their involvement in 2008. In 2009 the Wildlands Restoration Volunteers also teamed up with CFI and provided over 50 volunteers to perform a crucial re-route on Bross.
How You Can Help
1.
Volunteer in 2012
, Become a Peak Steward!
Contact outreach@14ers.org for details.
2.
Respect private landowner rights
. Landowners have the right to restrict public access when they see recurring problems with vandalism and trespassing. Stay on established trails, educate yourself about private property issues, stay away from old mine shafts, and do not remove or damage anything (mine buildings, signs, etc).
3.
Donate to CFI
. Your donations help CFI to fund trail crews, organize volunteer projects, and educate the public about Leave-No-Trace and alpine ecology – all core to our mission and greatly needed on the Lincoln, Democrat, and Bross effort.
4.
Be patient
. We're working hard on these three peaks, but large-scale trail projects take time and funding to complete. In the meantime, respect the private landowners' needs by enjoying the wide array of other accessible Fourteeners and high peaks in Colorado!
Getting There
Due to the current nature of the access and property issues and fickle state of the progress being made, the
Kite Lake Trailhead
(12,020ft) will be the only trailhead described.
KITE LAKE
If approaching from the north, that is from the town of Breckenridge, drive south on Co.9 cresting Hoosier Pass
to the small South Park town of Alma. This is roughly 17 miles.
If approaching from the town of Fairplay in the south off of US.285, proceed out of Fairplay north on CO.9 to Alma some 7.8 miles away.
Once in the town of Alma, turn west onto Park County 8. This is a dirt road also known as Kite Lake Road. This turn is located directly across from an old country store.
Continue west passing some residential houses and 6 miles later, the Kite Lake trailhead will end your travels in the heart of Buckskin Gulch. Kite Lake Road is and can be rough, especially in the last mile. Some careful driving will enable passenger cars to reach this trailhead. If uncomfortable with the road conditions, there are areas about .7 miles before the lake where one can pull off and park.
This is also a popular trailhead in winter due to its ease of access. Snowmobilers and cross country skiers are a common sight. Road closures are typically around 11,000ft or 3.5 to 4 miles out of Alma.
Also of note, this trailhead and approach can be
nightmarishly windy.
USGS Quads:
Alma,
Climax,
Pike National Forest
Red Tape/Camping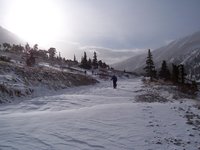 For those with moderate clearence or 4wd capabilities who drive to the proper trailhead, there is a $3 daily use fee payable in self-service envelopes. For those who park farther down the road, there is no fee (of course) but free space is limited.
There are campsites available at Kite Lake at a $7/night rate. They are a bit on the 'primitive' side and are available on a 'first-come, first-serve' basis. There is also an outhouse located near the lake.
Camping at Kite Lake can be very enjoyable espacially considering the elevation of the immediate area and the proximity of ones vehicle. The Kent-Belle Mine is only a few paces into the basin past Kite Lake.
One other thing I'll mention is that in recent years, there seems to be some animosity between hikers and local town folk in Alma. I've heard more times than I care to admit, of cars being broken into, things stolen, damage and people being harassed. So
PLEASE
....don't leave valuables in your vehicle.
When To Climb
As has already been stated in the aforementioned sections, Mt. Cameron can be hiked in basically any season of the year. Due to it's phenominally easy access, close proximity and
class-1 hiking
, Mt. Cameron is a mountain for everybody.
In the summertime, crowds will descend upon these mountains with an almost ridiculous zeal. It is a rare thing to have any one mountain in the Decalibron to oneself. So take that as it is and plan your departure early. Plus, one also has the constant threat of thunderstorms to deal with. Other than Mt. Democrat's summit and to a lesser degree, Mt. Lincoln,
YOU
are going to be the highest thing running around on essentially flat terrain. Plan on leaving the car early and returning early. In Colorado, lightning is a very serious matter.
In the winter, of course, the threat of thunderstorms is gone. Blizzards and cold temperatures, high winds and dangerous wind chills replace lightning and rain. These mountains are still very much accessable per winter however, if you're no stranger to cold temperatures and snow, it's doubtful you will see many people, few at most.
Weekends of course are the busiest time. Plan your trip mid-week and enjoy a greater sense of solitude that otherwise is difficult to find in this historically significant area.
Mountain Conditions
Click for weather forecast
External Links
Mt. Democrat, Cameron, Lincoln, Bross
--Recent report from Anna.
(4.1.2012)
Good beta!
Decalibron (08/06/2003)
14ers.com - The Home of Colorado's Highest Peaks
Fourteener Photos, Route Descriptions, Forum, and more...
The Decalibron
Hiking in Colorado
Topographic Map
View Larger Map