This page is up for adoption
I have decided to open up my Washington State pages for adoption to those who have been to the summit of the mountain and have a interest in maintaining and updating the page. Contact me via messenger if you are interested.
Overview
Mission Peak? If you live in Washington State, it is possible that you've never heard of a peak by that name. However, if I were to say "Mission Ridge", then the lights of recognition come on quickly as most people have heard of Mission Ridge and have perhaps been there to ski. Mission Peak is at the north end of what could all be called Mission Ridge but that is my take on that.
Like to ski? I do and for years I would head up to
Mission Ridge
to hit the slopes. Little did I know when I was schussing the slopes that someday I would return when there was no snow to ski on to hike to the highest point on the ridge which was known as Mission Peak. Why did I want to hike to Mission Peak? Well, it is one of
Washington State's 144 prominence peaks
, coming in at #62 on the list. The ski area is well known to most skiers of Washington State and it often has some of the best snow due to its location well east of the Cascade Crest and isn't so prone to the infamous "Cascade Cement" that some of the Cascade ski areas are known for.
Mission Ridge is also famous for the wind that sometimes whips across the top as recently in the latter part of 2006 (December 15th),
wind gusts of 135 mph
were recorded which closed down the ski area for the day.
Mission Peak was once the
site of a lookout
, built in 1934, it was short lived as it was removed sometime around 1945.
A couple large concrete pillars still remain so you can tell where the lookout was located. Click
HERE
to see a photo of the lookout.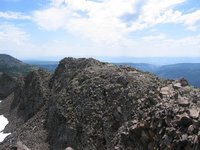 Where did the name Mission come from? Rumor has it, it was named after a Liberator B-24 crashed into the mountain while on a mission. To read more about this, click on this NWHIker trip report
HERE
Getting There
You need to get to Wenatchee Washington to get close to this mountain and there are several ways to do this.
From Seattle you can either go to Wenatchee via US 2 over Stevens Pass, through the tourist town of
Leavenworth
and then on into Wenatchee. Go through Wenatchee to the
south end of town
and follow the signs that indicate the ski area of Mission Ridge. Another alternative from Seattle would be to go over Snoqualmie Pass on I-90 and then just beyond the town of Cle Elum, take the Blewett Pass highway that will hook into US 2 a few miles east of Leavenworth.
From Spokane, US 2 is a slow way to go but it does work although it is faster to take I-90 through the Moses Lake area, turning off and taking a route through Quincy Washington that hooks into Wenatchee's south end by crossing a bridge. Just beyond the bridge, signs will lead you to towards the Mission Ridge Ski area.
There is even a back door way from Blewett Pass but you will need to study the maps closely if you want to attempt this route and tackle the complex of forest roads.
Red Tape
Some in the past have hiked up through the ski area but recently signs have been put up warning hikers to not go through the area due to construction that seems to be always in progress. Your choice if you choose to do so.
No permit is needed to park at the ski area but I am not recommending you use this way up to the ridge. Of course, you could go during ski season.
No permits are required to park at the spot where I parked to access the peak and I will cover this the route section (available as Lookout Trail route at left).
For more information on the area:
Wenatchee River Ranger District - Leavenworth office
Vaughan Marable, District Ranger
600 Sherbourne
Leavenworth, WA 98826
(509) 548-6977
(509) 548-4067 (Voice/TTY)
Fax: (509) 548-5817
Leavenworth office hours: 7:45 a.m. to 4:30 p.m. Monday through Saturday.
Lake Wenatchee office … phone (509) 763-3103 (VOICE/TTY)… address 22976 Hwy. 207, 9 miles north of the Coles Corner junction with State Highway 2. Summer office hours 8:00 a.m. to 4:30 p.m. Wednesday through Saturday. CLOSED IN THE WINTER
Camping
Squilchuck State Park
is one area that is close enough to camp at.
Squilchuck State Park is a 288-acre camping park covered with forests of fir and ponderosa pine. The park sits at an elevation of 4,000 feet. See the link above for more information.
Wenatchee and Leavenworth have plenty of motels to choose from and there are places to camp near the Beehive Reservoir which I will highlight on the route description page (under development)
Weather
Click
HERE
for the weather info.
More information and trip reports
The Wenatchee Forest service page offers a lot of information and this can be found
HERE.
Nabbing the peak during ski season would be a possibility but I'd put some snowshoes on after riding to the top of the lift. I don't know if you can get a single ride ticket but a phone call to the ski area should answer that question.

LATEST TR by Moosefish and also found here
NWHikers
NWHikers.net often has great trip reports and pics on Washington hikes/climbs
Here's one that is well worth a read
Click Here
Another report with some pics
Click Here
Here's one about how Mission ridge got its name plus there are several nice pics that were taken up through the construction zone of the ski area.

This is a must read.
Also mentioned in that report is a comment about a snowshoe hike up from the ski area. Sounds like something I need to do sometime.
More tidbits about the area plus a nice larch picture.
Click Here
Snowshoe potential? This report helps on that.
Click HERE
My
original trip report
posted at NWHikers


Here's the latest one March 2008
:
Here is one
from NWHikers.
Ski area stuff
Mission Ridge is a great fun ski experience (my viewpoint)
In March of 2006, the Seattle P-I ran
this article
which brought people up to date on what was happening at the ski area. The new quad lift, located at the half way part of the ski area was named the "Liberator" after the bomber that had crashed back in 1944.
The article also has a nice little map that provides a quick overview.
A Wenatchee World
Newspaper article
on the history of Mission Ridge ski area.
Map