Overview
With an elevation of 9511', Bonanza Peak is the highest non-volcanic peak in Washington, as well as the highest point in Chelan County. Despite these aspects, Bonanza Peak is the second-most prominent point in the county (with Mount Stuart as the most prominent point in the county), and the 26th-most prominent point in the entire State. Bonanza Peak is truly one of the crown jewels of the Cascade Mountains, if not all of Washington.
Due to its elevation and prominence, Bonanza Peak can be seen from atop many mountains and valleys. The peak has three large active glaciers (Mary Green Glacier, Isella Glacier, Company Glacier) in-between several sub-summits. A knife-edge ridge connects the main two summits. Loose rock and rockfall is common on the upper slopes of the mountain, although the steep slopes and rockfaces do not allow for much loose rock to gather for any considerable length of time. Rockfall danger is usually human-triggered or storm-triggered rather than naturally loosening free.
During the 1800s, the mountain was originally named North Star Mountain. A minor highpoint located southwest of the peak was actually named Bonanza Peak. However, when the US Geological Society (USGS) provided its first topographic map of the region it mistakenly swapped the two peak names, making the true "North Star Mountain" be shown as "Bonanza Peak" and vice-versa. Due to this single clerical error the revised peak names became widely used rather than the original names. During 1937, the mountain was first summited by three members of the Mazamas mountaineering club: Curtis Ijames, Joe Leuthold, and Barrie James.
Bonanza Peak is considered by many people to be the most difficult county highpoint in the lower 48 States to summit because successful summiters must possess and use a wide variety of mountaineering skills. Many other mountains have longer approaches, steeper rock climbs, more difficult crux sections, and more glacier travel, but Bonanza Peak combines each of those aspects into one summit trip. In other words, Bonanza Peak does not contain the worst for any one mountaineering aspect but throws a lot more variety into one scenario than most mountains.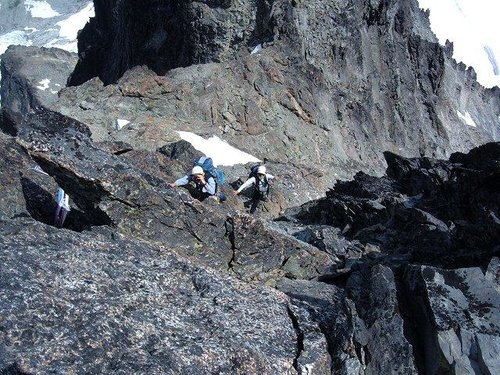 Famous peakbagger Greg Slayden might have summed-up Bonanza Peak the best, in relation to county highpointing:
"... Only Bonanza has a significant glacier to cross in addition to 1,000 feet of steep rock, a good portion of it exposed class 4. Many skilled parties do climb Bonanza with no rope on the rock (downclimbing carefully), and in early season the glacier can be relatively trouble-free. But the crevasse danger is real, and rappels make the decent much easier. Furthermore the rock on Bonanza is no place to be in a storm.
I suggest that Bonanza is like Olympus with no Blue Glacier, a steeper and shorter climb up to the Snow Dome, and a summit pinnacle about 10 times taller but not quite as steep. It's a big mountain that throws a lot of sustained climbing at you. If you can comfortably scale Bonanza, it is safe to say that you should be able to handle any other USA 48-state county highpoint technically."
Getting There
The quickest and most widely used approach is via the "Lady of the Lake" ferry service based in Chelan, WA. Two ferry services are available: the "Lady of the Lake II" (standard) ferry and the "Lady Express" ferry. These ferries can drop-off people at Lucerne, along Lake Chelan. However, from June 1 through late September most summit parties choose the "Lady of the Lake II" ferry because that is the ferry which is most reliably picked-up by the Lucerne-to-Holden bus route (see more information below).
The "Lady of the Lake II" ferry can be caught either at the Chelan facility or at Fields Point Landing located 16 miles further up-lake. Ferry reservations in advance are highly recommended, especially during busy Summer months. The current ferry schedule is available at
this link
.
Once the ferry service drops-off riders at Lucerne, they can either hike 13 miles to Holden Village or catch the daily bus route which travels between Lucerne and Holden Village. For current schedules and to verify bus pick-up/drop-off times, please use the following links:
HOLDEN VILLAGE
: registrar@holdenvillage.org
"LADY OF THE LAKE" FERRY
: 509-682-4584 (local) or 888-682-4584 (toll-free)
Once in Holden Village, check into the "Hike Haus" to register the summit party. Then proceed hiking west out of town, to either Holden Lake or Holden Pass for camp. From Holden Village, hike west for 0.9 miles until the trail junction with Holden Lake Trail. Turn right onto Holden Lake Trail and hike 4.0 miles to the lake.
If continuing to Holden Pass, hike around the eastern and northern end of the lake, initially along an unmaintained trail which becomes a faint path through marshy and brushy terrain. Once at the northern end of the lake, begin ascending up the wide gentle-sloped stream gully. The gully is full of slide alder in the middle; a climbers path can be found on the rightside (eastside) of the stream(s) and slide alder. The upper gully leads to Holden Pass on its rightside, and waterfall ledges on its leftside.
The standard summit route uses the
Mary Green Glacier
from Holden Pass or Holden Lake. Please see the "Route" section, for further details.
Red Tape
Bonanza Peak is located within Glacier Peak Wilderness, which does not require any special overnight permits or backcountry permits.
If approaching from Lucerne or Holden Village, then no special permits are required. However, all summit parties are requested to register at the "Hike Haus" located in Holden prior to any summit attempt starting from that area.
If parking a vehicle at an official trailhead (such as from the north, west, or south approaches), then a Northwest Forest Pass (parking pass) is required.
When To Climb
The steep slopes of Bonanza Peak, as well as the cornice-prone knife-edge summit ridge, make Winter and early Spring ascents typically unfavorable and dangerous. Most summit teams attempt Bonanza Peak between June-October, with most successful summit teams attempting the peak while the bergschrund can still be easily crossed but also while most/all snow is away from the standard rock scrambling route that begins above the bergschrund. These favorable conditions typically occur between early-to-mid July during most normal snowpack years.
Camping
Backcountry camping is allowed within Glacier Peak Wilderness.
Most summit teams use one of two campsite options:
OPTION #1
: Camp at, or above, Holden Pass.
OPTION #2
: Camp at Holden Lake.
Option #1 is preferred by most summit teams because it eliminates an extra 1000' of elevation gain on summit day, and depending on conditions that extra gain (and time for it) might make or break a summit attempt.
The wilderness area uses a "Leave No Trace" camping policy. Please only use established campsites, where available, unless camping on snow.
It is recommended to stash all food and scented items away from any campsite, preferably using a bear canister or by tying a bag (or container) of such items high in a tree.
Peakbagging List Completions That Occurred At Bonanza Peak
Bob Bolton became the second person to complete the Washington County Highpoints (CoHPs), when he summited Bonanza Peak on July 15, 2004.
Bob Packard became the third person to complete the Washington CoHPs, when he summited Bonanza Peak on July 17, 2004 (only two days after Bob Bolton).
External Links
Trip Report
Written By SummitPost Member "Redwic"
Trip Report
Written By Greg Slayden
Trip Report
Written By Sergio Verdina