Overview
Located along the Blue Ridge Mountains in west-central Virginia, Rocky Mountain is an easy road-hike and rock scramble to a 4,072-foot summit which affords some fantastic views especially to the south. The peak is the highpoint of Rockbridge County and a probable highpoint for Amherst County as well (nearby Mount Pleasant's summit in Amherst County is one foot lower). It is also one of the handful of peaks in Virginia with over 2,000 feet of clean prominence, with 2,272 feet*. This is a fun and easy peak to hike if on a limited schedule: good road access means you can usually bag this peak in less than two hours total from the main highway, US-60.
Not surprisingly, the height and prominence of this peak has made it an attractive location for tower builders.
(*This is assuming Rocky is higher than other nearby peaks such as Pleasant and Bald Knob. If a survey comes back with different information, then the status could change as well)
Getting There
Locate yourself onto US-60 about 15 miles east of Lexington and about 19 miles west of the town of Amherst. You'll be on the east-facing slopes of the mountains in some picturesque little towns like Oronoco and Forks of Buffalo.
Keep an eye out for County Road 634 (Coffeytown Road) and go north along it, staying left at a Y-junction with Wiggins Springs Road about 2 miles in. Stay on Coffeytown Road to a T-junction about another 2 miles further, and go right (the street signs will help you keep on route). After another mile or so, the pavement ends and the road is now a solid gravel road, now marked as Forest Road 63. Continue up FR-63 about another 2 miles to Salt Log Gap, which will be obvious (even though there is no sign there). You'll be at a four-way intersection of forest roads.
At various points along the drive the conical summit of Rocky Mountain will come into view.
Go north on a slightly lesser gravel road for a bit less than a mile to a junction with FR-1176A. Smaller passenger vehicles will probably want to park here or even back at Salt Log Gap.
The summit is less than a mile up the rest of the road. This peak could be climbed all year. Winter snow could close the road(s) for short periods.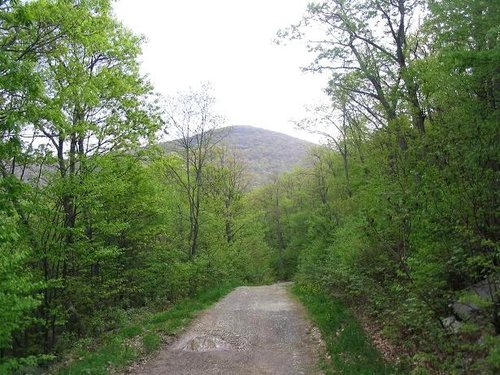 Red Tape
None. Have fun.
Camping
The immediate area around the peak is part of the George Washington National Forest, but no campgrounds are nearby. I suppose you can car-camp at an out-of-the-way spot but be aware there are some private residences herein as well - don't camp on their drive way!
Coffeytown, Oronoco and Forks of Buffalo are small mountain communities with no inns. Buena Vista just over the range about 9 miles has some cheap lodging, as does Amherst.
External Links
George Washington National Forest
Amherst County lodging options
Buena Vista Motel, Buena Vista VA
. We stayed here. Basic, cheap, nice location.
The Summit
Hike or drive to the top. From Salt Log Gap you're looking at just under two miles each way with about 800 feet of gain. From the FR-1176A junction it's about 3/4 mile and 500 feet of gain.
The summit is topped by some rocky outcrops near the east edge of the towers. An easy way up the backside leads about 12 feet up to the top, with some excellent views.