Intro
Rumanov Stit, Rumanowy Szczyt, Rumanspitze, Rumancsucs, "Ruman's Peak" 2428
Great, castle-tower shaped peak in the very heart of High Tatras rising proudly in a magnificent ridge between
peaks of Ganek(2459) and Zlobiva(2426).
The ridge above Kacacia Valley
Similarly as in the case of close neighbour Ganek, Rumanov peak gained his fame of inaccessibility in 19th century when it was defending itself from climbers' attacks for many years.
Rumanov's north-eastern over 600 metre high face is the most famous rocky formation of the peak. It was a stage of real battle for the first ascent between the greatest Tatra climbers of interwar period. Finally the first successful climb of the extremely difficult cliff was made in 1927 by Polish team : Jerzy Golcz, Tadeusz Krystek and Konstanty Narkiewicz-Jodko.
First winter ascent of the NE face was accomplished just in 1956 by Jan Cervinka and V.Snasel (through left pillar).
The incredible NE Face "diretissima" route was conquered in 1932 by Boleslaw Chwascinski and Tadeusz Bernadzikiewicz.
Viewing from the south, from Rumanova or Zlomiskova valleys Rumanov presents itself very inconspicuosly while from northern side, from Belovodska and Kacacia valleys it is undoubtedly one of the most majestic peak faces in High Tatras.
The
name of the peak
commemorates person of Jan Ruman Driecny jr.(1840-1879) – famous Slovak Tatra guide.
First ascent :
27.IX.1902 – Janusz Chmielowski and guides Klemens "Klimek" Bachleda and Jan Gasienica Tajber
First winter ascent :
11.IV.1914 – Alfred Grosz and F.Zuber
Rumanov Stit (2428)
Rumanov Stit
rises above
Kacacia
(north) and
Rumanova
(south) valleys, which are upper floors of consecutively
Belovodska
and
Zlomiskova
valleys in a main Tatra chain between prominent culmination of Ganek massif(2459) and Zlobiva(2426)peak, very close to the first one. Rumanov Stit and Ganek remain separated by the saddle of Gankova Strbina(ca.2388) staying the only tourist accessible gate to both summits.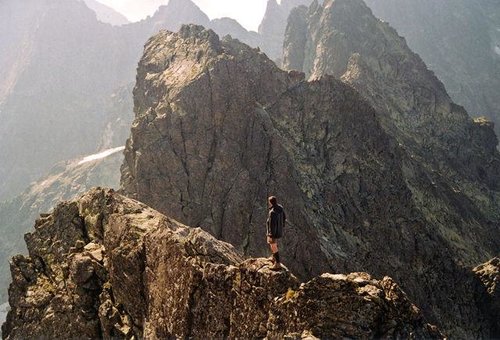 Rumanov Stit has got 2 summits:
SE summit (2419)

NW summit(2428) – the main one

Rumanov's legendary NE face is over 600 metre high and falls towards north and east to the bottom of Kacacia Valley with Zelene Pleso (Green Lake) and to huge gutter of Kacaci Couloir falling down north from Zapadna Zelezna Brana Pass(ca.2280) ("Western Iron Gate")

In the structure of NE face 3 great pillars can be distinguished :

Left Pillar culminating in SE summit

Middle Pillar

Right Pillar which on its whole length forms the right boundary of great Stanislawski's Couloir falling from Gankova Strbina Pass.
It culminates in a small saddle at the foot of NW-main summit's vertical cliff. About the half of the height of the pillar, there rises haughty crag called Rumanov Mnich ("Ruman's Monk").

From the screes under Rumanov's NE face to the summit cliffs, the space between the left and right pillars is a giant, vertical couloir known as Rumanowe Koryto(POL).


Getting There
You can visit the area both from Slovak and Polish side of the mountains, but when planning climbing Rumanov Stit it is definetely better to stay on Slovak side.

The key thing when planning a stay in Slovak High Tatra is to get to Poprad - major city in the area with airport and very good communication links with the rest of the country, from there you should go to one of close High Tatra resorts : Stary Smokovec or Strbske Pleso for example.
The last town seems to be best base when thinking about climbing Rumanov peak from the south (It is a center from which most of marked routes of the area starts their run).
You can of course find accomodation anywhere in the area, thanks to an electric train line you'll find yourself anywhere you want at the right time.

Poprad-Tatry Airport

Slovak bus and train connection search

On Polish side as always you must get to Zakopane first, very well developed bus and train communication with the whole Poland, especially nearby Cracow City (100 km) with international airport.

Cracow Airport

Everyone who'd like to visit Rumanov peak area (just like Ganek…) from north should take one of many buses or minibuses going in the direction to Palenica Bialczanska ("Morskie Oko") and get off one stop before the final one at Lysa Polana - former Polish/Slovak road bordercrossing point.
No more than 100 metres further behind the building a long trail to Belovodska Valley starts its run.

PKS Cracow – Zakopane bus departures

PKP - Polish Railways connection search

PKS Zakopane - buses

Routes Overview
Detailed info about climbing routes in Rumanov Stit area will appear soon .

Tourist Route :
There is only one Rumanov Stit summit route that we can call a "tourist" one, it is a non-marked route leading from Popradske Pleso lake through Zlomiskova and Rumanova valleys to Gankova Strbina Pass(all the time to this point along Ganek summit route) and just below the saddle by small, steep, crumbly, rocky gutter to the right side crossing over a rib and finally by grass-rocky ledges to the main summit(about 3 1/2 h from Popradske Pleso chalet).

Though the final stage of the route is undoubtedly easier to the Ganek's one (no such seriously exposed sections) it is still accessible only for experienced high mountain tourists in good summer conditions (dry rock), in winter it is a serious climbing undertaking.




As far as Tatra National Park – TANAP regulations are concerned, tourists are allowed to hike only on marked routes.

There is a possibilty of "legal" climbing many famous "non-marked" peaks like Rumanovy or Ganek for example with licensed Tatra guide.

Tatra Mountain Guides

Tatra Mountain Guides


Rumanov Stit area - Map


Tatry Wysokie (High Tatra) map, in scale 1:25 000, description in 6 languages, ISBN 83-87873-26-8, available in all shops and book stores in Zakopane . Here you can check the net version

Tatra Maps (English version)

Red Tape
It is Tatra National Park(TANAP) area, there are no entry fees but You can hike using only marked trails.

Watch out for strict rules of wildlife conservation.

Stay always respectful to mountain nature!

From 1.11 to 15.06 year by year all marked routes in TANAP(the whole Slovak side of Tatras) are being closed for tourists(besides the routes leading to mountain chalets).


When To Climb
Best time for climbing/hiking: August – October.

June/July: frequent t-storms, heavy rainfall periods and foggy weather.

Planning visiting Tatra Mountains in winter, don't forget to check actual HZS avalanche forecast


Mountain Conditions
Severe and extremely changeable high mountain climate, be always prepared for sudden weather breakdowns!

Rescue Phone Number: 18 300

Horska Sluzba - Tatra Mountain Rescue


Camping
Lots of accomodation possibilities of different standard and price on both sides of Tatra Mountains.

The nearest town is Strbske Pleso- Slovakia's one of the greatest mountain resorts, full of hotels and guest houses.

Strbske Pleso Hotels

Popradske Pleso Mountain Hotel(1500)
This hotel is situated upon beatiful Popradske Lake in Mengusovska Valley on the main marked route leading to Rysy and the entry to Zlomiskova Valley (Rumanov, Ganek and Vysoka tourist routes).
Great scenery but the area is usually overcrowded in the summer.
The cheapest bed - about 450 SK per night.

Popradske Pleso Hotel

Camping in Tatra National Park besides a few designated places is strictly forbidden!


External Links