Overview
Silvertip Mountain is a high elevation ultra-prominence peak located in southern British Columbia, Canada. The peak is regionally significant, especially to peakbaggers, yet few parties summit the mountain each year.
Silvertip Mountain has several key distinctions that separate it from other peaks. First, with a clean prominence of 6089', Silvertip Mountain is the most prominent non-volcanic peak in the Cascade Mountain Range. Most peakbaggers with general knowledge of prominence might assume that distinction belongs to Mount Stuart, located in neighboring Washington State (U.S.A.), but that peak only has 5354' of clean prominence. Another key distinction of Silvertip Mountain is that it is the furthest south of all Canadian ultra-prominence peaks, located only approximately 10 miles from the contiguous U.S.A.
Many ultra-prominence peaks are located in western Canada, but Silvertip Mountain is one of the few such peaks located near major cities and major roadways. One interesting aspect of Silvertip Mountain in relation to prominence is that the peak is only the 35th-most prominent peak in the province of British Columbia. To put that into perspective for Americans who might be reading this, if the U.S.A. border extended northward approximately 10 miles to include Silvertip Mountain, it would be the sixth-most prominent peak in Washington State and the 25th-most prominent peak in the contiguous U.S.A.
There are multiple approach options for Silvertip Mountain. However, each option involves steep elevation gain and at least some section(s) of travel on steep, loose scree. The Canadian Border Survey party, led by E.T. De Coeli, did the first known ascent of the peak on July 5, 1908. The next verified summit ascent was done by Norman Kellas on September 1, 1940, via the southeast ridge of the mountain. The first known winter ascent was done by Bruce Fairley and Harold Redekop on March 21, 1981. Waterfall ice-climbing has also been attempted on the mountain slopes. However, due to very steep slopes and avalanche-prone terrain located on all sides of the mountain, winter ascents are not recommended and are rarely attempted.
The peak is only recommended during dry periods, generally from late July through late September during most normal weather years. The current route option that most people use for Silvertip Mountain is via the
southwest ridge
. This route option involves a variety of terrain but is considered the least technically difficult (i.e. least dangerous) summit route option. The southwest ridge route is the recommended summit approach for general hikers and new visitors to the peak.
Another route option that people use for Silvertip Mountain is via the Sumallo River valley and northwest side of the peak, heading up steep gullies to the west ridge of the mountain. This route has only been a semi-popular option because it has the highest starting elevation (approximately 3500') and shortest distance (approximately two miles car-to-summit) of any route possibility for the peak. However, this route option also has extensive slide-alder bushwhacking and very steep terrain filled with loose & unstable scree, some of which is quite sizable. Many people have been seriously injured while traversing the northwest route, either by slipping on unstable scree or being impacted by large rolling rocks.
The northwest route should only be attempted when the lower scree gullies are still filled with snow. Unfortunately, those gullies usually thaw-out much sooner than the rest of the mountain, making the optimum timeframe to attempt this route very small and vary each year. In addition, if the lower gullies are still snow-filled then it is most likely that the upper sections of the mountain are also covered by snow and ice. So although lower snow slopes might help people more easily reach the west ridgetop of the peak, the snow conditions on higher elevations might possibly stop attempts short of the summit.
Both main routes eventually follow sections of the west ridge of Silvertip Mountain, atop which one must scramble the more-technical false summit of the peak before reaching the true summit hill. Other route options include the northeast ridge, east face, and southeast ridge. However, each of those options involves steeper terrain, higher technical difficulty, and longer ascent times than the two previously mentioned routes. As mentioned earlier, the southwest ridge route is the preferred and recommended route for Silvertip Mountain.
During 1859, topographer Henry Custer drew a sketch for the Boundary Survey that gave the name "East Skagit Mountain" to the peak. However, the name "Nuk-a-lah-woom Mountain" was shown on a Series-68 manuscript for that same Boundary Survey. Although the word "silvertip" is a nickname for a grizzly bear, and the name could even be interpreted as a possible mineral or mining reference, neither is the reason for the name eventually given to the peak. The name "Silvertip Mountain" refers to the fact that the peak's upper elevations have snowpack for most, if not all, of each year even while surrounding peaks and mountain ranges have long-since thawed-out.
Silvertip Mountain is located only four miles northwest of the confluence of the Skagit and Kelsilkwas Rivers. The peak can be seen from many mid-to-high elevation peaks as well as some local valleys. Although the peak is famous for loose scree on many of its slopes, the mountain actually has a mixture of many rock types. The primary rock type on the mountain is comprised of andesite and pyroclastic (greenstones) of the "Paleozoic Hozameen Group." The mountain also has limestone, chert, and Custer Gneiss. There is also an unnamed glacier located on the upper east side of the mountain with drains to Silvertipped Creek.
Getting There
FOR THE RECOMMENDED (SOUTHWEST RIDGE) ROUTE:
1) From Chilliwack, BC, head east along Highway 1 towards Hope.
2) After approximately 30 miles, take Exit 168 for Flood-Hope Road (immediately prior to Hope).
3) Turn right onto Flood-Hope Road.
4) After 0.2 miles, turn right onto Silver-Skagit Road. The road is paved for a short distance, but eventually becomes decent gravel with some "washboard" areas.
5) After 22.4 miles, turn left onto an unmarked dirt/gravel road. For reference purposes, the Maselpanic Forest Service Road is passed on the rightside (southside) of Silver-Skagit Road at 22.0 miles. After passing that road junction, a leftside spur road will be passed 0.2 miles further east: DO NOT TAKE THAT ROAD. A second leftside spur road, 0.2 miles further than the first spur road, which has a large dip in the beginning of it, is the correct road.
6) The spur road winds for 0.25 miles to a road-end and parking area, at the base of a steep, brushy, fan-shaped slope that is the remnant of a past clearcut. This is the beginning of the southwest ridge route.
FOR THE NORTHWEST ROUTES:
1) From Chilliwack, BC, head east along Highway 1 towards Hope.
2) After approximately 31 miles, continue straight onto Highway 3.
3) After 4.2 miles further, take Exit 177 for Highway 3 (towards Penticton).
5) After 8.8 miles, at Sunshine Valley, turn right onto Ferguson Creek Road.
6) After 0.8 miles, continue straight onto the Forest Service Road, known as Sumallo River Road. Follow the road for several miles, until impassable. Then hike south up the road, bushwhacking through slide alder, until reaching the lower northwest gullies of Silvertip Mountain.
Red Tape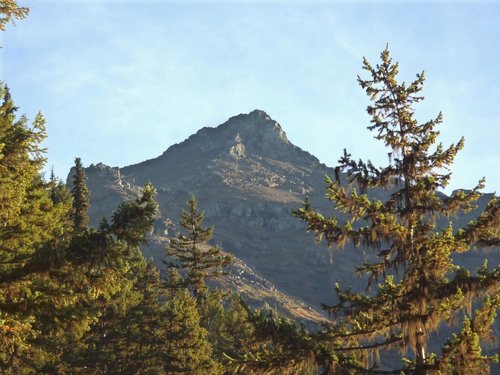 No permits or passes are required to climb Silvertip Mountain.
The mountain is recommended to be attempted during dry periods, typically from late July through late September.
Water sources on the mountain are extremely limited, except for several streams encountered at approximately 6300' elevation on the southwest ridge route. Plan accordingly.
Camping
Backcountry camping is allowed on the mountain, but the steep terrain eliminates most areas. Most people opt to car-camp at the base of the intended route(s).
The nearest official campground is "Silvertipped Campground" located only a few miles southeast of the peak. Several other small campground locations are found along Silver-Skagit Road.
External Links
RECOMMENDED TRIP REPORTS FOR SOUTHWEST RIDGE ROUTE:
"Silvertip, B.C. 8517 ft, 9/30/2012"
"Silvertip Solo, 20 July 2010"
"Silvertip - Aug 18, 2012"
------------
RECOMMENDED TRIP REPORTS FOR NORTHWEST ROUTES:
Failed Attempt on June 12, 2012
"Silvertip Mountain - June 24, 2006"
------------
MAPS:
"SKAGIT RIVER": Map 92H/3 (Scale 1:50,000)
"HOPE": Map 92H (Scale 1:250,000)
------------
LITERATURE:
"Cascade Alpine Guide: Volume 3" by Fred Beckey*
*Please note that the various routes listed in the book for Silvertip Mountain are only to be used as general references and are not entirely accurate or complete.