Overview and Route Description
This page was deleted but has been restored. Unfortunately, the climber's log was lost permanently, and there were entries other than mine. If you have climbed this peak and had signed the log, please re-sign it.
Overview
Austin Peak is not something one is likely to find on a map. More like an alpine plateau than an actual mountain, Austin's name is known to few other than those who have near-encyclopedic knowledge of Wyoming's mountains, and it was in fact such a person (SP member
jimmyjay
) who revealed the name to us when we met up with him to climb nearby Breccia Peak.
From Jay: "I talked to Tom [Thomas Turiano, author of the Yellowstone mountaineering Bible,
Select Peaks of the Greater Yellowstone
] about the peak up on Bonneville Pass. He, too, knows it as Austin Peak. Some people on this side call it Brooks Mountain (an early homesteader, I believe, Austin was either a lodge owner or an FS/F&G dude), but Bonney's place-name listing is 'Holcomb Terrace.' Tom also found that interesting and will get back to me on it. No one name seems to be dominant with mountaineers or the other groups (skiers/snowmobilers/hunters)."
Austin crests 11,000' along the Continental Divide and bounds the vast, remote Teton Wilderness in Wyoming's rugged and wild-beyond-belief Absaroka Range. Its upper reaches are characterized by seemingly endless tundra meadows that in summer resemble carpets mottled more white, yellow, red, and blue than the typical green of tundra. In fact, my (Bob's) two trips up here, plus our climb of the similar Breccia Peak, have convinced me that the high Absaroka meadows of the Togwotee Pass area are among the three or four best alpine wildflower areas in all the Rockies, perhaps in all the U.S.
It is hard work on the legs and lungs getting up Austin, but the rewards are the glorious strolling atop this plateau-like mountain; the aforementioned wildflowers; and the incomparable views that on a clear day include the Tetons, the Wind River Range, the Gros Ventre Range, the Pinnacle Buttes and the Brooks Lake Cliffs that entrance so many travelers along the road over Togwotee Pass, and the expanse of the relatively trackless Absarokas. Visible to the north is Younts Peak, supposedly the most-remote mountain in the Lower 48.
Unless only technical climbs can stir your mountaineering passions, a trip up here may leave you thinking you have just had a preview of Heaven.
Route
Route Info: approximately 8 miles RT, 1800' of elevation gain, Class 1 (to Bonneville Pass) and Class 2 beyond. It never has to get harder than Class 2.
Hike to 9900' Bonneville Pass, which the trailhead sign indicates is 3 miles away. Actually, the broad pass begins after about 2 miles of hiking, but the area where you want to leave the trail is closer to 3 miles. Along the way, you pass Jules Bowl, site of a recovering illegal clearcut in the 60's; this section of the trail also yields nice views of the Pinnacle Buttes. Just north of the trail near the east end of the pass, close to where the trail drops steeply in the direction of Coffin Butte, there is a small lake fed by small streams coming from the slopes above it and whose outlet flows east with the trail. You now must leave the trail and start climbing the cliffs and slopes north of this lake. It is easier and drier (much of the surrounding area is willowy and marshy) to head around the lake's eastern side, and there are more and better options for ascending the slopes on that side, too.
Do not think for even a second that the ridge you see from the lake is the summit ridge. Do not think that the next ridge is, either, or the one after that. The summit ridge is northwest of that third ridge. Really, there is a series of benches here, not true ridges.
Increasingly spectacular mountain views and wildflowers will compensate for your exhaustion and frustration, though. To reach the true highpoint, you will need to use a GPS device or your eyes as best as you can, for there is no cairn or USGS marker. Actually, ascending this summit brings to view another summit about half a mile away that is probably the TRUE summit, but no markers are up here to help. In any event, both summits are about 11,100'. It doesn't really matter, anyway; reaching the summit plateau and experiencing the scenery from it are what this climb is all about. Coming up here is really about the solitude and the scenery, not the few feet that separate the true highpoint from the rest. And if you must have the actual highpoint and want to be sure, just tag both. That's what I (Bob) did on my first visit here in 2001.
Do be sure to hike north to the abrupt edge of the plateau, where awesome, ridiculously rotten cliffs plunging into the Teton Wilderness reveal what is so common about mountains in the Wyoming Absarokas: one side may look gentle and rolling, but the other is frighteningly rugged and almost impossible to climb (the rock is among the country's loosest and most rotten, almost like hardened powder in many places).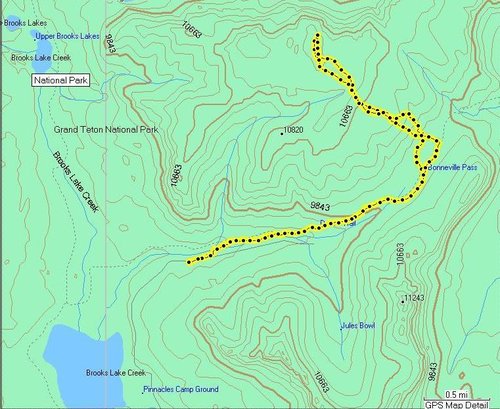 Getting There
About 7 miles east of Togwotee Pass on U.S. 26/287 northwest of Dubois, turn onto the road for Brooks Lake and follow this good unpaved road for 4 miles, where a road heads right for the Bonneville Pass Trailhead. This road is marked on maps as a 4wd road, but it is passable for passenger cars. The road ends at the trailhead in 1.7 miles. The elevation here is about 9300'.
Red Tape
This is prime grizzly country, which means special rules about food storage and personal behavior are in order. I will not list them all here. Bottom line: If you don't know, don't go.
Camping
The Brooks Lake and Pinnacles campgrounds are both located about a mile past the turnoff for the trailhead. Summer 2007 fees were $10/night. Both are small campgrounds that operate on a first-come, first-served basis, and Brooks Lake is very popular with fishers, so don't show up after 3 P.M. on a nice summer day and expect to find an open site. The campgrounds have trash bins, bearproof lockers for food storage, pit toilets, and water (though the water at Brooks Lake was shut off in July 2007).
Both campgrounds are among the most scenic developed campgrounds you will ever see. Brooks Lake is surrounded by open meadows and towering cliffs and pinnacles (see pictures in this section).
External Links
For more information on camping and regulations:
Shoshone National Forest
.