Overview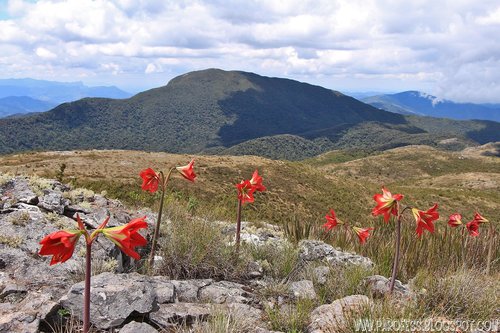 Morro do Cristal de Itatiaia, or Cristal Hill of Itatiaia, is a elevation that gently rises from one of the main traverse trails there is inside the limits of the park, this one called Serra Negra traverse (because it runs by the
Serra Negra Peak
, very close to Cristal Hill). Just as another mountains in Itatiaia NP, its size surpasses most of brazilian mountains from outside the park and outside
Serra Fina Range
, and all southern mountains in the states of Paraná, Santa Catarina and Rio Grande do Sul.
The huge plateau of Itatiaia has an average altitude of 2.350m high, and you can find yourself hiking from 2.200m to 2.450m without reach one summit whatsoever, from point to point at the park. North to South, East to West. So, the park holds dozens of peaks and hills above 2.500m and this makes it the biggest concentration of 8000ft peaks in Brazil. No other place equals Itatiaia in that matter or in beauty of course.
Morro do Cristal is one of the places inside the park no one goes, partially because they don't know it or/ and never heard its name even from someone that went there. In fact, the only one I know that summited the mountain before me was my friend and partner Tacio Philip, and I was with him when he did it back in 2010 (or 2011, not sure about that). At the time I decided not to do it since we had like 17kms to hike that day only, and I didn't want to spoil my good strength for the next day (now I figure I was getting sick already), the day we would work on our summit bid for Serra Negra Peak. So,while he did his own summit bid in Morro do Cristal, Pedro Hauck and me sit our butts at its base at around 2.380m by the traverse route and talked for about 90 minutes. Just waiting for Tacio.
This is one of the last summits I had to do to finish my personal goal of keep in my belt all the summits of the park, with or without a name. Now, I just discovered another one I must do to make the list more complete, and I am still missing a couple more summits from the east border of the park, which holds Gigante Peak and Ovo Peak, two peaks no one goes ever, and the last known ascent for Ovo Peak is 12 years old if I recall correctly.
Easy access, easy ascent, and even so nobody thinks about Morro do Cristal. Not a good looking peak either I must add, but the views, wow! Serra Negra rises from the deep valley like a hairy giant and the other nearby peaks like Pedra do Sino de Itatiaia (2.670m), Unnamed Peak 1 (2.649m) and Agulhas Negras Peak (2.792m) really turn the view into a painting.
Getting There
From Minais Gerais/ São Paulo/ Rio de Janeiro, you have to take a bus to a little city called Itanhandú.
Several bus companies can take you there. Once you get to Itanhandú, take a nother bus from the same bus station to Itamonte, a smaller town, at the bottom of the Sierra.There is the point: Once you get to Itamonte, it is hard to find transport to the park entrance.
But there's some taxi drivers that know the park and can take you up to the park, and that's gonna cost you around R$ 100,00 (about US$ 45.00).
From the main entrance, you have to register at the military office, than you're free to get into the park from 8am to 5pm. It is important to get out at the right time to avoid problems.
The trailTo this mountain, you must follow the same route to Pedra Furada Peak, but as soon as you get to its base at around 2.400m high, turn RIGHT looking at an old part colapsed house, since there is no trail, just head towards the highest point as you wish. Don't expect this to be hard, more like a nice walk in the mountains. From Alsene camp site, in and out, should take around 4 to 5 hours.
Some more shots of the area
Red tape
The Park has hard rules.
Don't bring drinks; Inflamable fuel; Knives and fire arms.
There is electric power inside the hut and that's all. Therefore, take the whole equipment needed, like flashlights, headlamps, stoves, food and proper clothing. The trails are relatively easy, but for the unexperienced mountaineer it can become tricky, mainly if you get lost.

Taxes to visit and to climb inside the park:
US$ 2 person per day to sleep at the hut and US$ 6 for entry (once);
There is a parking lot by the park entrance.

Be careful not to step over one of these:
The Maldonada Redbelly Toad (Melanophryniscus moreirae) is a species of toad in the Bufonidae family. It is endemic to Brazil. Its natural habitats are subtropical or tropical high-altitude grassland, swamps, and intermittent freshwater marshes. His name here at Brazil is "Sapo Flamenguinho". It takes that name because of the brazilian football team Flamengo (it has the same colors: black and red.
He was chosen to be symbol of the park. This frog lives only in this area. That´s why they don´t allow cars inside the Itatiaia National Park during the breeding season (between december and february).


Panorama views.
Sat info views
Weather Forecast

PS: The weather forecast on this link is not for this mountain but it will do just fine since the mountain from the forcast (Black Needles) is just a few kms away from it.
Legal Issues

To hike/ climb is a dangerous activity and requires proper equipment and clothing, the owner of this page cannot be blamed by injuries caused to anyone who read this page for its info about the mountain, and eventually got hurt by doing so with reckless behaviour or bad weather conditions.

Paulo Roberto Felipe Schmidt – AKA: PAROFES
External Links
My youtube channel: www.youtube.com/parofes - Now with 270+ videos online!

The biggest brazilian website about climbing and mountaineering, for which I'm a columnist: