Colorado Rank: 151
Parent Lineage: Line Parent: 13832 Proximate Parent: Redcloud
Class: 2
Nearby Mountains:
Getting There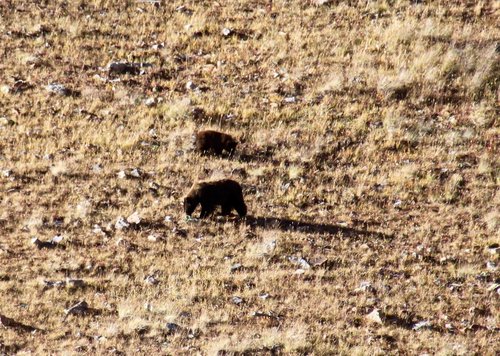 Cooper Creek TH

- well marked traihead located just one mile past the popular Silver Creek/Grizzly Gulch trailhead used for the 14ers: Redcloud, Sunshine and Handies.
From Lake City take Hwy. 149 south, 2.5 miles. Turn right on the road to Lake San Cristobal. Follow the paved road about 4 miles, then continue on dirt road for another 8.3 miles. Bear right at the fork - well signed road up Cinnamon Pass; and travel another 4.2 miles to the Silver Creek Trail. The Cooper Creek Trail is located approximately .8 miles further on the right. Obviously, you can access this trailhead also if coming over Cinnamon Pass from the west - Silverton area. You do need a 4WD high clearance vehicle to reach this trailhead.
The road is open year round up to Sherman townsite (only a ghost town currently with very few buildings left), the road up towards Cinnamon Pass is closed from November (conditions dependent, could be earlier) til late May.
Route
The Cooper Creek trail
is well marked and easy to follow. It does ascend through forested area, passes through open meadows, crosses the creek, and finally starts to ascend towards a basin below the Cooper lake. You will see "Every Mountain" right ahead and slighty to the east as you ascend up the valley.
I chose to hike up the easier slopes west of "Every Mountain", so I left the trail before it started to ascend up towards Cooper lake. Cooper lake is nicely placed below Gudy Peak. You have to get pretty high on the west ridge of "Every Mountain" to be able to see its waters. Once I reached the saddle, the going on the west ridge was easy. There is a false summit and some section of the ridge have a pretty obvious trail.
The summit had a cairn. I did not find any summit register. The views are spectacular in all directions.
I continued eastwards and had to drop into a saddle between "Every Mountain" and "Cooper Creek Mountain". This east facing ridge is steeper and you are on scree, but nothing is too technical (see photo with climber on the summit). Every Mountain appears more dramatic when one is examining it from the east. I continued onto the easy ridge walk towards the summit of Cooper Creek, returned back to the saddle and dropped into the Cooper Creek drainage. I tried to join the trail, but ran into bears: mom and bear cub. What a nice way to finish the hike!
Red Tape
Driving on Scenic Alpine loop is free, parking at the Cooper Creek TH is free as well.
When to Climb
Summer and early autumn is the easiest since you can drive to high up on Engineer Pass or Cinnamon Pass roads. Winter and spring provide a more difficult access, and you have to travel through avalanche prone terrain. Check avalanche conditions prior venturing out there in the winter -
Northern San Juan Avalanche Information Center
.
The alpine scenic loop is usually open to motorized vehicles in June and closes with the first big snowfall - late October, early November.
Camping
There is primitive camping right at the trailhead. If you wish to have access to a dry toilet, you need to drive less than 1 mile to the Silver Creek/Grizzly Gulch TH.
External Links