Overview
At just over 181,000 acres, the Maroon Bells-Snowmass Wilderness Area is Colorado's forth largest 'wilderness' playground. The other areas that eclipse this include: The Weminuche
(largest)
in southern Colorado, The Flat Tops
(basically north of Glenwood Springs and Glenwood Canyon)
and The Sangre de Cristo Mountains/Wilderness area. There are two additional areas that are larger, Dinosaur National Monument and Rocky Mountain National Park however, both these areas have a sizeable portion of their bulk still under wilderness proposal status. So as of now, they do not qualify but are of note.
Tucked away in the White River National Forest is
"Siberia Peak"
. This is a seldom climbed peak and among Colorado's panthanon of mountains above 12,800ft
(785 ranked)
. "Siberia Peak" is one of Colorado's
least climbed peaks
and least visited. Considering the awe-inspiring profile that this mountain strikes from the south (Lead King Basin), it's a bit surprising that more people don't commit it to memory for a future scramble while en route up Snowmass Mountain's S-Ridge or the resident centennial,
Hagerman Peak
. As the crow flies, it's no more 1.5 miles due west however, as the cow walks, it's miserable drudgery.
"Siberia Peak" lies at the head of Geneva Lake Basin which is accessed from Lead King Basin via a short but switchbacking trail up a waterfall and moderate cliffs. The summit lies roughly 2,500ft above the similarly named, Siberia Lake. Ptarmigin frequent this area.
At 13,420ft, "Siberia Peak" is Colorado's 307th highest mountain. It lies 1.2 miles WNW of its proximate parent, Snowmass Mountain and claims roughly 754ft of prominance, satisfying the minimum requirements to qualify as a ranked peak. "Siberia" lies just inside of Pitkin County and commands grand and sweeping views of the
Capitol/Snowmass Traverse
.
The climb is predominantly class-2 but can touch on class-3 scrambling near the summit ridge. Expect gray, aggrevating & blocky scrambling similar to what's on Snowmass Mountain's ridge.
True to Elk form, "Siberia Peak" is composed of teetering blocks and loose rock. The area's metamorphic and sedimentary composure doesn't mix well together and creates the area's notoriety for loose and dangerously bad rock. However, the colors cannot be denied in terms of beauty. After one has spent some time in the Maroon Valley or near Fravert Basin, the rock switch in the West Elks is rather noticable. Most of the sedimentary shale and mud is replaced by fractured white granite and clay. This is especially noticable along the Capitol-Snowmass Ridge.
Getting There
As with most mountains, the summit can usually be reached by almost any aspect, exceptions not-with-standing. "Siberia Peak" has two routes that I can see as being reasonable. However, since one of these routes approaches the mountain from the west via East Avalanche Creek and involves a SIGNIFICANT amount of hiking and bushwhacking, I'll save this option/description for later.
The other approach shares the trailhead for Snowmass Mountains' S-Ridge by way of Lead King Basin which, I believe is how most people approach the mountain anyway. From the town of Carbondale, travel south on Hwy. 133 for just under 45 miles passing through the sleepy town of Redstone. Before the road makes a prominant switchback up towards McClure Pass, turn left onto County Road 3 and proceed southwest on this dirt road for roughly 3 miles to the small town of
Marble
.
County Road 3 briefly changes name. As one is approaching town, it changes into West Park Street. Follow this to W. 3rd street and turn left. Turn right (east) onto Main Street for a short distance. Turn left (north) onto E. 2nd Street and almost immediately, make another right onto Silver Street as it wraps around the north side of
Beaver Lake
. Silver Street for whatever reason retains it's original moniker of CO. Rd. 3 past this lake. Driving through Marble is actually easier then it sounds.
The dirt road will eventually climb up Daniel's Hill and reach a fork. The right (south) branch leads to the (even) smaller town of Crystal and eventually, a spur will contour back north into Lead King Basin to the aspen-shaded trailhead. Staying left and continuing straight up Lost Trail Creek (FS #315) will also lead to the same trailhead although a tad longer in length. Both roads are equally rough although the Crystal approach (FS #314) is is slightly rougher. A 4x4 vehicle is highly recommended.
There is a sign-in register and map at this trailhead. Strike out north on a good trail towards an obvious cliff band and waterfall. The trail is also used by pack animals. From the trailhead, the roundtrip mileage is roughly 8.6 miles.
One can also access
Fravert Basin
from this point.
Of note, while hiking above Geneva Lake en route to "Siberia Lake", the main trail continues to the left at the signpost for campsite #4. The trail climbs very gently up the hill.
This is NOT marked
. If you keep hiking on a (right) east veering, flat trail, this will take you to campsite #5 and eventually to the valley floor where it hooks up with the Hagerman Peak trail.
View Larger Map
Route
"Siberia Peak" at first seems like a simple scramble when viewed from below at Geneva Lake or from one of the higher tarns. And indeed, there is a good, easy to follow trail that heads all the way to Siberia Lake at the head of the drainage.
The proximate route from this side heads up the
South Ridge
. There is the option to do some short but rather steep 3rd and 4th class scrambling/climbing on some lower cliffs to gain the ridge proper without having to contour around them to catch it (ridge) at it beginning. Although, skipping these small cliffs would not be a problem. Just a little something to add more 'spice' to the climb.
From the bottom, scramble up the South Ridge in an almost straight line to the summit ridge. The scrambling is aggrevating at best. Most of the rock is loose (typical Elk fashion) and is of wildly different sizes and consitency.
Most of this ridge is choss but the closer to the summit ridge one gets, expect the occasional white slab to make an appearence. Veering over on a diagonal but upwards traverse won't really make it any easier.
Once the summit ridge is gained, just keep to the crest and follow the painfully few cairns. There is a sizeable gap in the ridge that may force you to downclimb off to the west. I suspect a descent to the right (east) can also be done but we followed some old footprints (left) and they proved right.
There is a dirt gully that will climb back to the ridge. A small jelly jar does exist underneath the summit cairn to sign. Siberia Peak is a lot of work for a low 13er but don't expect to see anyone. Solitude is yours!!
As for the descent, there's always the option of retracing your steps but a MUCH QUICKER route would be to descend off the summit straight down the East Face. Just be careful as some sections of this slope are extremely loose and keep in mind, the lower slope is guarded by some decent cliffs. SO keep your descent on a southerly traverse heading back towards the South Ridge.
Red Tape
Along the northern approach via Lost Trail Creek, there are multiple lots of private property. Soon after the road splits, there are cabins that belong to the Colorado Outward Bound School located along the left (north) side of the road. Along the right side (south), multiple private cabins dot the creekside and a few mining claims are present. Stay to the road until the canyon is breached near
Mt. Arkansas
.
There are fewer private property concerns along the Crystal River and fewer mining claims to deal with. However, people still live in the town of Crystal. Please respect their property & space en-route to the trailhead.
And as always, follow ATV, OHV rules and regulations and of course, the
Leave No Trace
policy.
That's it!
Camping
In regards to camping, there is minimal room at the trailhead. And considering this particular area receives frequent through-traffic from ATV's and Jeep's, car camping might not be the best option either, in terms of noise & dust that is. However, if this is the plan, there is room on the other side of the road from the trailhead and a few flat spots just down road. Plus, heading a short distance into the aspens is always an option.
At
Geneva Lake
(about 100 acres in size), there are multiple camping spots already designated along the west side, a few of them being quite nice. Plus, one has the advantage of using the lake for water. Geneva Lake at 10,970ft also has fish!
Geneva Lake is only about 60-90 minutes hiking time from the trailhead (9,700ft) and would make for a significantly better (and quieter!) choice.
There are seven numbered camping sites with #7 being the only one located on the east side of the lake in almost complete isolation from the others.
My own opinion on the campsites are as follows:
| | |
| --- | --- |
| #2 | Relitively near the main trail. This spot has great views but is prone to noise from hikers passing through It is large and flat with decent access to water. |
| #3 | Is located across the trail from campsite #2 up the slope a little bit. The views aren't as nice but it is much quitier with good solitude. This is a smaller area. |
| #4 | This is the highest camping spot and is also located just off the main trail but at a further distance then site #2. It is also the furthest and highest camping spot to reach. The views are 'blocked in' by the trees surrounding it but consequently, they provide a nice wind-block and places to hang food, gear etc. |
| #5 | Is located off the off main trail along a flat, traversing trail that contours eastward. This area is large and flat with some rather good views. It would probably accomodate 3-4 tents. Access to water is easy however, since there is some confusion at the trail junction to campsite #4, a amount of people keep hiking straight towards campsite #5 thinking that 'this' trail is the main trail. Because of this, there is a decent trail that keeps going past site #5 switchbacking to the valley floor to the inlet for Geneva Lake. However, the main trail for Hagerman picks up in this marshy area. |
| #7 | Is located on the east side of the lake and accessed by hiking to the valley floor and slightly up trail on a good path through the marsh. It is marked by a low wooden sign. It is slightly in the trees near the lake shore. |
There are no required fees to camp at Geneva Lake but 'Leave no Trace' principles and camping ethics, of course, still apply.
This is truly a beautiful place and personally, one of my favourites in Colorado.
External Links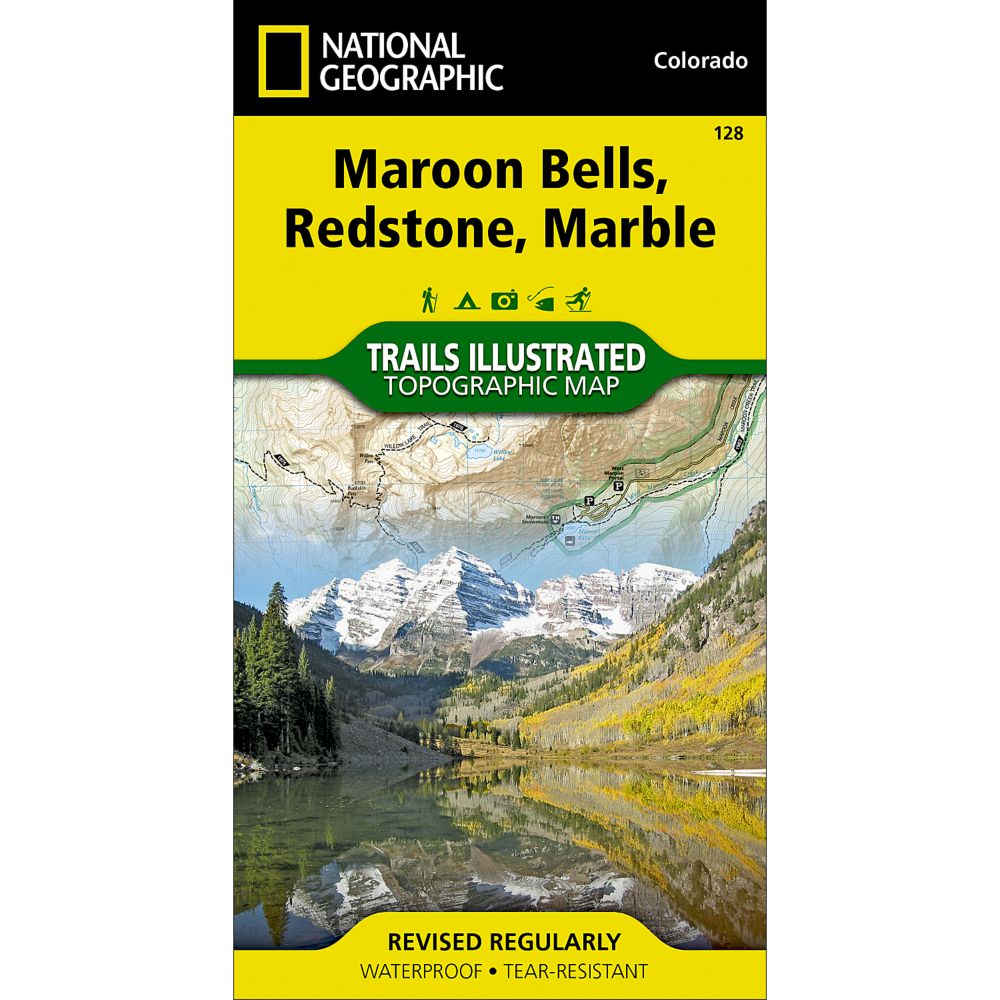 Trails Illustrated Maps #128
(Maroon Bells, Redstone, Marble)
USGS 7.5' Quad: Snowmass Mountain., Capitol Peak