Overview
Signal Peak tops the Kofa Mountains in southwestern Arizona, and at 4,877 feet, achieves the highest elevation in Yuma County. Seen from afar, the Kofas are a rugged range of sheer cliffs and dramatic spires, enclosed within the Kofa National Wildlife Refuge, which affords it protection from development. There is no infrastructure within the range. There are no maintained trails, trailheads, roads or camping areas. Instead, everything is left in as natural a state as possible. Public visitation is welcome and is free. Scatter camping is allowed, and enough people venture into the backcountry to have worked in a few rugged trails.
Although from Palm Canyon Road the summit appears to be reachable only by technical cliffs, a hiker's route is available from the north and east 'back side' via Kofa Queen Canyon Road. Nevertheless, those with the right training and talent can attempt and often achieve the summit via its 5th-class west-facing cliffs.
Getting There
Get to the junction of US-95 and Interstate-10 in the town of Quartzsite (20 miles east of the AZ/CA state line, 120+ miles west of Phoenix). Drive south 18.5 miles on US-95. Turn left (east) onto Palm Canyon Road. Drive east 3.2 miles to Kofa Queen Canyon (KQC) Road on the left (north now). Follow KQC Road northeast about 7.5 miles into the Canyon to where a subsidiary Canyon opens up to your right (south). Passenger cars won't manage this last road. You'll need high clearance and preferably 4wd. The road inside the canyon is alternately rocky and sandy, and braids in and out with the wash. Just follow the 'better-looking' route if unsure at a junction. Enough people come up here you should be able to see lots of tire tracks.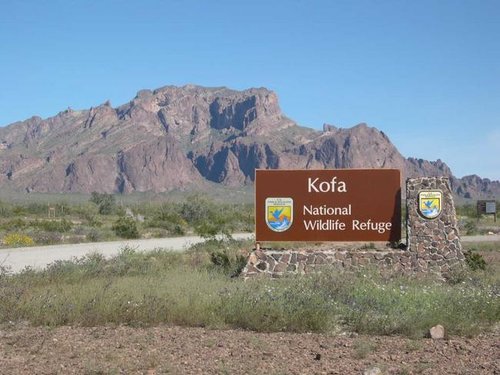 Red Tape
The peak and approach canyons are within the Kofa National Wildlife Refuge, while the desert flats to the west are BLM. No fees or permits are required to camp or hike here.
See below for a link.
When To Climb
Winter is best - generally from November through April. Rain is rare and snow is non-existent. Most winter days are clear and pleasant, with temperatures in the 70s and 80s (roughly 25-30C).
Summer is insane here. Daytime highs regularly exceed 110 F (43C) and often top 120 F (49C). Even at night the temperatures stay in the 80s and 90s. There's no reason to be here this time of year.
The shouler seasons can be nice. Summer heat abates about October but it can still be hot in the day, cooler at night. Same for April and May. You may get lucky at those times and come during a cool spell.
Camping
There are primitive camp sites off of the various roads and tracks west of the range. Many people just 'scatter camp'. The best camping seems to be off of KQC Road. There are a number of open rocky flats off the road to park and camp. Some have fire rings. The ground is rocky so pitching a tent might be tricky.
The usual rules for dispersed camping apply: camp apart from water sources (hah!), pack out all trash and waste, stay near the road (cross-country driving across this desert would not be a good idea), don't overstay your welcome (usually 14 days is the limit).
The Kofa NWR
Kofa National Wildlife Refuge
Much of the Kofa Mountains lie within the Kofa NWR. This site offers information about the NWR. The lands are left in their natural state, but visitation is welcome. Hunting does take place here so check to be sure you won't interrupt the hunters, and be wise around them if so.
Visit also www.cohp.org
Further useful and updated information can be found at the county highpointers website:
Yuma County, Arizona
External Links
•
Signal Peak - Yuma County (AZ) Highpoint - www.surgent.net (1999, 2003, 2005)