Overview
Avalanche Peak and The Cross are located in the Boulder Mountains of central Idaho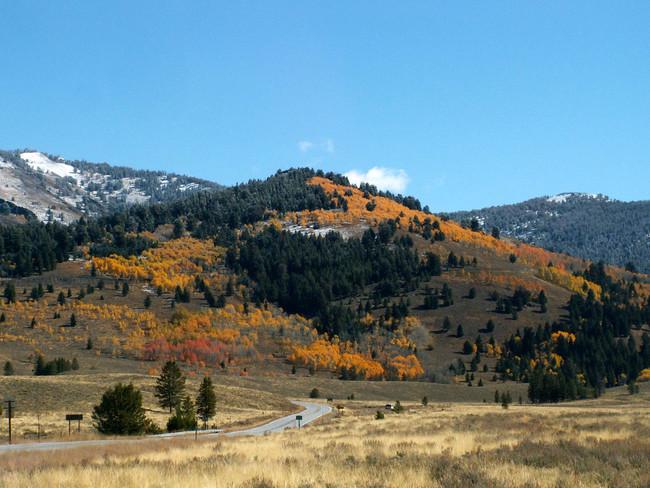 The Boulder Mountain front range north of Sun Valley is primarily made up of soaring peaks with sheer limestone faces, and crumbling rock, The Cross and Avalanche Peak are two exceptions in this area. These summits are the last two named mountains located on the main crest at the head of the Wood River Valley, just before the Boulder Mountain's terminus.
The Cross is named for a wooden cross that once stood on the summit, but because of its sheer exposure, the cross has been long gone. Avalanche Peak is certainly not named for its avalanches, as its summit flat and rounded, hardly discernable as a mountain. So why post, or even climb these twin hills? Avalanche Peak and The Cross's names are synonymous with a back country skiier's paradise. Their easy accessiblilty, wide open, perfectly pitched slopes, and heavy snowfall, spell heaven for those who want some deep powder turns in mid-winter. Because of their popularity, a semi-permanent trail is established by snowshoers and skiiers in winter.
For those of you who are not into back country skiing, these mountains makes for an excellent early season snowshoe for those of you needing to get your legs back after a long winter. Though if you are a novice hiker looking for a nice hike to begin with, this is just for you.
Due to a lack of significant destination beyond Avalanche Peak, their lackluster appearances, and close proximity the highway, nearly 100% of traffic seen on these summits is in winter.
Up To The Summit
For access to both peaks, follow Idaho 75 north of Ketchum to Galena Summit. Drive just past the summit into the Sawtooth Valley until a pullout on your right comes into view. Your journey begins here. If attempting in winter, a sign that may startle some people, reading high avalanche danger, is void to those of us who remain on the primary route. If there is no broken in trail, head north then northeast around Pt. 8,990. Continue northeastward across the wide-open meadow until The Cross comes into view. Head towards the funky little summit which is only .5 miles from the trailhead. Though not steep, a very thin, spindly summit awaits you with fantastic views. Be sure to keep your balance while crossing the summit as a fall to your right or left will leave you tumbling down the slopes. Descend northward to the saddle of The Cross and Avalanche Peak. Hike up Avalanche Peak's broad southwestern slopes enjoying the enormous view before you of central Idaho. It may actually be difficult to locate the actual summit as this are is very flat in nature. Once you have found the "summit block," an enjoyable class two walk leads you to a small cairn and more wonderful views.
Red Tape
No fees or permits required. Even though you remain out of avalanche territory along this route, it is not recommended to be untertaken during high avalanche danger.
When To Climb
As I mentioned before, nearly 100% of traffic that occurs on these summits is during the winter and spring months. For mountaineers during the summer, allow no more than an hour for this trip.
Mountain Conditions
For local avalanche conditions, check the
Sawtooth National Forest Avalanche Center
for accurate information on the area....The Cross may sometimes be referred to as "Mushroom Ridge" on their daily report.