Overview
The headlands of the Castlemartin Range are home to some truly world class climbing, and the headland that separates the golden beaches of Flimstone and Bullslaughter Bays is no exception. It's obviously identifiable from a large rock arch, known as Moody Nose, which sits uncomfortably upon a landward slanting slab on the headland's most southerly tip.

The headland has a long history of use. During the Iron Age it was the location of a small fortified settlement, known locally as Crocksydam Camp, the remains of which can still be seen today. Within the battlements of the fort are the remains of an early lime-kiln, and evidence of quarrying can be found throughout. These days the area is part of an army firing range, but is open to the public when not in use and is a popular destination for climbers.

The climbing can be found to the east of Moody Nose, and is reached by scrambling down the headland to the east of said arch. The routes are a satisfying mix of easy, moderate and hard grades, which are split between a number of crags of surprisingly different character. The Crystal Slabs themselves are by far the most interesting of these crags, taking the form of a large, apparently smooth slab with an obvious overlap which runs the length of its upper quarter. More difficult climbing can be found just to the east on Mosaic Wall, which appears to be broken and perhaps quite lethal, but is in fact home to a number of solid routes graded E3 and above.
Rock Climbing
The climbing at Crystal Slabs can be split between five areas: Levitation Wall, The Crystal Block, Crystal Slabs, Mosaic Wall and Thunder Wall. With the exception of Levitation Wall and the Crystal Slabs themselves, all areas are in some way affected by the tide, the degree of which can depend of the time of year and weather. All of the crags can be reached by scrambling down rocks to a grassy ramp on the eastern side of the large rock arch. Descend the ramp eastwards to the base of the slabs, which also gives access to the area's other crags.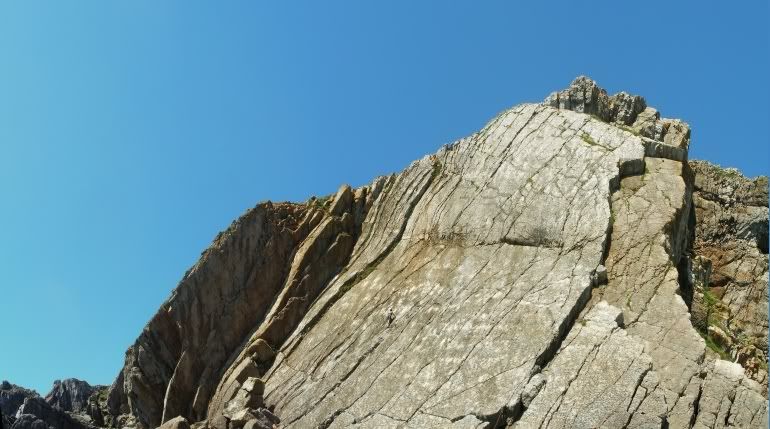 Crags and routes are listed from left to right, and are graded and rated with the aid of the old Climbers' Club Guide to Pembroke, the old Pembroke Supplement and the 2009 Rockfax Pembroke guide. Since then, the Climbers' Club have published a new comprehensive guide for this area, Pembroke Volume 3: Range East – Stack Rocks to Hollow Caves Bay, which adds a significant number of new crags and routes to the area, though the changes to this pages' crags are few. Nevertheless it is recommended that you refer to this or the Rockfax book for up-to-date information and route descriptions. In addition to these sources Rockfax's website also has descriptions for the routes included in its book, which can be viewed on its online route Database.
Routes are rated using the British Adjectival Grading System. A conversion table of international climbing grades by SP member Corax is available: download it here. With the exception of Tenby South Beach Quarry, bolting is strictly prohibited everywhere in Pembroke, so don't even think about it here.
Route Symbols:

| | |
| --- | --- |
| | A so-so route, neither good nor bad. Not unpleasant unless otherwise stated. |
| | A good route which is definitely worth a climb. |
| | A very good route, one of the best on the crag and well worthy of attention. |
| | An excellent route, one of the best in the area, and probably in Britain too. |

No Restrictions

Used to indicate that there are currently no restrictions, either seasonal, temporary or permanent, affecting a route.

Restrictions

Used to indicate that there are restrictions, either seasonal, temporary or permanent, affecting a route. See the Red Tape and Access Section for more details.
Levitation Wall
This is the steep wall around 50 metres west of the main slab, and is the first crag reached on the approach. At its right end is a big corner leading to an overhanging cracked wall, Overhead Cam and Crankshaft start up this corner.
No.
Name
Length
Pitches
Adjectival
Grade
Technical
Grade
Quality
Restrictions
1.
Captain Cat and the Fish-Head Nibblers
17m
1
HD
2.
Pump up the Volume
18m
1
E3
5c
3.
Levitation
20m
1
HVS
5a/b
4.
Packed Lunch
18m
1
E1
5b
5.
Overhand Cam
18m
1
E1
5b
6.
Crankshaft
18m
1
E2
5b
The Crystal Block
The Crystal Block is located just below Levitation Wall and takes the form of a square cut promontory with a narrow zawn on its east. Routes Crystal Block Arête to Isn't Gold are on the seaward face, while Crystal Facet and Crystal Facet Arête are on the slabby face on the east side of the zawn.
No.
Name
Length
Pitches
Adjectival
Grade
Technical
Grade
Quality
Restrictions
7.
Crystal Block Arête
15m
1
VD
8.
Plane Polars
17m
1
HS
9.
Hornblende Buttress
17m
1
HVS
5a
10.
Hornblende Chimney
17m
1
HS
4b
11.
Crossed Polars
15m
1
HS
4b
12.
Thin Section
15m
1
E1/2
5b
13.
Crystal Block Chimney
15m
1
VD
14.
Powder Finger
15m
1
HVS
5a
15.
Midas Shadow
17m
1
E1
5b
16.
Line of Cleavage
15m
1
E1
5b
17.
All the Glitters
15m
1
E3
5c/6a
18.
Isn't Gold
15m
1
E2
5b/c
19.
Crystal Facet
15m
1
S
4b
20.
Crystal Facet Arête
15m
1
HVS
5b
Crystal Slabs
The Crystal Slabs is the obvious white central slab, characterised by right leaning cracks. The main slab is flanked on each side by subsidiary slabs. It's heaven for those who like VS 4c's.
No.
Name
Length
Pitches
Adjectival
Grade
Technical
Grade
Quality
Restrictions
21.
Bloodstone
40m
1
VS
4b
22.
Sloose
30m
1
HVS
4c
23.
The Gadfly
43m
1
VS
4c
24.
Sixth Crack
46m
1
VS
4c
25.
Razzle Dazzle
46m
1
VS
4c
26.
The Crucifix
49m
1
VS
4c
27.
Michelangelo
46m
1
VS
4c
28.
Crystal Edge
18m
1
HVS
5a
29.
59th Street
61m
3
VS
4b, 4a
30.
Crystal Arête
46m
2
VS
4c
Mosaic Wall
To the right of the Crystal Slabs is a vertical face seamed with cracks which gives superb climbing on deceptionally good rock.
No.
Name
Length
Pitches
Adjectival
Grade
Technical
Grade
Quality
Restrictions
31.
Hole in the Wall
34m
2
HVS
4c, 5a
32.
Paint by Numbers
43m
2
E4
6a, 6b
33.
Mural Landscape
46m
2
E3
5c, 5b
34.
Rollerwall
46m
2
E3
5c, 5b
35.
Public Anenome
43m
1
E5
6b
36.
Bristol Cream
43m
1
E6
6b
37.
Wallbanger
43m
2
E3
5c, 5c
38.
Digital Tapestry
46m
1
E3
5c
39.
The Rude Roof
24m
1
E6
6b
40.
Rude Route
49m
2
E6
6b, 5a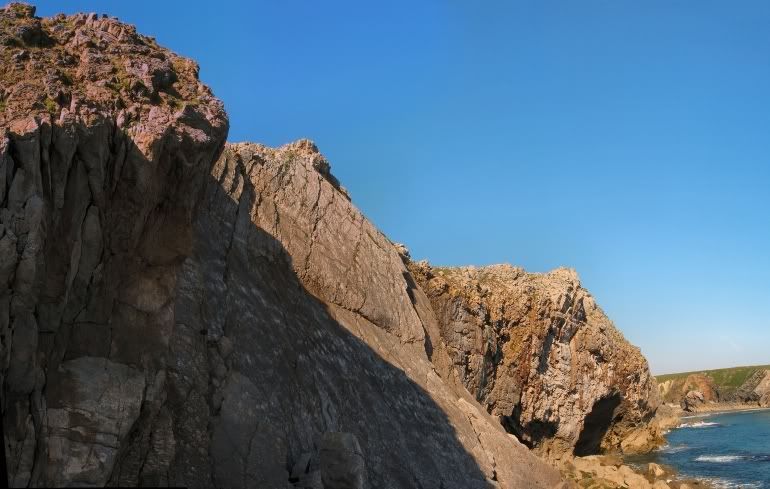 Thunder Wall
This is the great impending bastion to the right of the Mosaic Wall. Like the Mosaic Wall, it looks loose, but is in fact very stable. It can be approached by traversing round from the Crystal Slabs but requires a low tide.
No.
Name
Length
Pitches
Adjectival
Grade
Technical
Grade
Quality
Restrictions
41.
Concrete Jungle
67m
2
E2
5a, 5b
42.
Thunderdome
53m
2
E3
5a, 5c
43.
Thunderbird
67m
3
E2
5a, 5a, 5c
44.
Line of Loosed Resistance
61m
2
E4
5c, 5c
Weather Conditions and Tides
Weather Forecast
This section displays the weather forecast for Bosherston, which is located just to the east of Crystal Slabs. This gives a pretty good indication of what the weather will be like on the crag, as both Bosherston and the Crystal Slabs area sit at around sea level.
This weather forecast is generated by the Met Office Weather Widget
Tide Times
Tide times can have a significant impact on where and when one climbs. It is therefore extremely important to check the timetables before embarking on trip to the area. UK tides information for all standard and secondary ports is provided by the UK Hydrographic Office (UKHO), and displayed on the BBC's website. The link below provides a link to the nearest monitoring station to Crystal Slabs:
When to Climb and Essential Gear
| | |
| --- | --- |
| The most reliable conditions are in the summer, but the low altitude of the crag may make it a viable option in winter. The gear needed depends entirely on the routes you plan to do. Easier routes will only require a moderate rack, while harder routes will require a something more comprehensive; a good compliment of friends or other camming devices will certainly help. A single 50 metre rope should serve well on most easy routes, however, double ropes would be a wise choice for the harder stuff. In addition to your usual gear, you might want to bring along an abseil rope to speed up access to the base of the crag. | |
Getting There
When approaching from Carmarthen (SN 405 196) take the A40 Truck Road signposted for Saint Clears (SN 274 160). At the Saint Clears roundabout, take the A477 Trunk Road towards Pembroke Dock (SM 969 036). Before reaching Pembroke Dock, turn left onto the A4075 (SN 019 027) to Pembroke (SM 989 012). In Pembroke, drive straight over the first small roundabout you reach and drive along the A4139 a few hundred metres and turn left and take the B4319 south towards Castlemartin (SR 915 983). Around 500m after the Merrion Camp (SR 939 968), take a left hand turn at a crossroads (SR 931 970) and drive down an unclassified road to the Stack Rocks Car Park (SR 925 946).
Park at the Stack Rocks Car Park and walk west along the coastal path, past Elegug Stacks, The Cauldron, and Flimstone Bay. Crystal Slabs (SR 935 943) are located on the headland, which on the Ordnance Survey map is called Moody Nose, just beyond Flimstone Bay, and the descent can be made by scrambling down its western end. The headland is easily identifiable by a large rock arch which sits on a landward slanting slab; the descent is to the east of this arch. If you find yourself reaching Bullslaughter Bay (SR 940 942), you have gone too far.
Red Tape and Access
Crystal Slabs is located in the Range East portion of the Castlemartin Range. This area is an Army firing range, although they do not use exploding ammunition. Access is permitted whenever firing is not taking place, which is normally on weekends, Bank Holidays, and in the evenings (after 4.30). The night firing normally occurs on alternate Mon/Wed and Tues/Thurs nights. The Range is sometimes open during the week, but it is best to check before travelling. Phone the 24 hour help line on (01646) 662367.

For further information, the British Mountaineering Council (BMC) runs a Regional Access Database, which holds mountain/crag specific information on matters of conservation and access, including issues such as nesting restrictions, nature designations and preferred parking:

If you are in any doubt about any particular access arrangement, or need to report an incident, you should contact your local BMC Access Representative or the BMC Access Officers for Wales: Elfyn Jones
Camping and Accommodation
Maps
Guidebooks
External Links
Images