This beautiful and imposing pyramid belongs to the Gran Paradiso Group, forming a triptych with Tresenta
Questa tanto bella quanto imponente piramide appartenente al gruppo del Gran Paradiso, forma un trittico con La Tresenta
(3.609 m)
ed il Ciarforon
(3.642 m).
ne descriviamo la Via sulla
Parete Nord
, mentre la
Via Normale
tramite la Cresta Nordest al Colle del Ciarforon
(3.317 m)
e susseguente traversata del Ghiacciaio Settentrionale di Monciair viene sintetizzata in discesa.
First Ascents
N-E Ridge: G. Frasca and G. Blanchetti, (Jul 14th, 1881) - (first known ascent).

N-W Arête: G. Yeld with F. and S. Pession, (Aug 10th, 1897).

S-SW Ridge: Maria Sbrojavacca and A. Bonacossa, (Jul 11th, 1921).

W Wall: E. Martino with Remo Chabod, (Aug 31th, 1936).

N Wall: E. Barisone, S. Gallo and M. Strumia, (May 02th, 1920).

N Wall (of Ciarforon with SW Wall in descent and crossing to Becca di Monciair): Ilario Antonio Garzotto and Osvaldo Cardellina, (Jul 16th, 1967).

N Wall and N Wall of Ciarforon: Ruggero Busa, Osvaldo Cardellina, Ilario Antonio Garzotto and Vito Favre, (Jun 22th, 1969), two walls in day.

E Ridge: Ester della Valle di Casanova, Gigetta Matricardi and A. Bonacossa, (Jul 12th, 1923).

S-E Wall: A. Bonacossa and A. Sarfatti, (Jul 19th, 1923).
Getting There
BY CAR:
From France, through the Mont Blanc Tunnel or the Col du Petit Saint Bernard: you can drive on SS.26, following directions for Aosta and, before arriving in Villeneuve, turn right towards Introd. Alternatively, you can take Motorway A5 (at Courmayeur or Morgex) and exit at Aosta Ovest.
From all the other directions: get to the Aosta Ovest exit of Motorway A5. Then drive on SS.26 Aosta, in the direction of Courmayeur; just after Villeneuve turn left towards Introd.
BY PLANE:
Aeroporto Internazionale "Corrado Gex" Saint Christophe (Aosta).
Shortly after Introd, you arrive at a junction: turn left, entering Valsavarenche, and passing through many Villages (Degioz, Eaux Rousses, etc.) you can arrive at Pont
(1.960m)
where the road ends.
The ascent to Becca di Monciair is usually done in two stages: on the first day you follow the normal route to Gran Paradiso and gain 770m of elevation from Pont
(1.960m)
to Rifugio Vittorio Emanuele
(2.730m).
The second day is spent on the climb to the summit.
Route
From Rifugio Vittorio Emanuele II°
(2.730m)
traverse the Moncorvé Glacier, losing at first some elevation. Skirting Ciarforon, reach the northern Monciair Glacier; cross the glacier and aim for the slender triangular North Face (2h'00).
Climb the moderate lower slopes until the bergschrund, which usually poses no difficulties. Proceed to the upper slopes at about
3.200m
. The angle varies between 45 and 50 degrees. Keep initially at some distance from the rocky rib on the left, which forms a giant S on the face. Gradually approach the rib so as to attain it when you reach the upper part of the face. From there there are two options. You can continue along the rib (direct route). Alternatively, you can almost angle right toward the Northwest Ridge. This second option is faster and easier, but you should pay attention to the final brocken rocks if they are covered by snow. In both cases, you reach the summit of the pyramid at
(3.544m).
(About 3 hours, difficulty from PD to AD, depending on the conditions.)
DESCENT through Northeast Crest or Standard Route
:
Descend to Colle del Ciarforon
(3.317m)
along the Northeast Ridge (Normal Route) along enough easy rocks and snowfields. Skirt on the West side the
thirty meter Gendarme
. From there descend a rather steep slope that takes you back to the northern Monciair Glacier. This slope has some crevasses. Once on the glacier, retrace your steps towards Rifugio Vittorio Emanuele II°.
Dal Rifugio Vittorio Emanuele II°
(2.730 m)
attraversare il Ghiacciaio di Moncorvé, perdendone in un primo momento un po' di elevazione. Scartando il Mont Ciarforon, raggiungere il Ghiacciaio Settentrionale di Monciair; attraversarlo puntarndo in direzione della slanciata nonchè triangolare Parete Nord (2h'00).
Salire i moderati pendii fino alla crepaccia terminale, che solitamente non presenta alcuna difficoltà. Procedere sul superioriore scivolo sino a circa
3.200m
. L'angolazione della pendenza può variare tra i 45° ed i 50° gradi. Mantenersi inizialmente a una certa distanza dalla nervatura rocciosa sulla sinistra, che forma una grande S sulla parete. A poco a poco avvicinarsi alla costola in modo da ricongiungersi con la parte superiore della faccia. Da quel punto sussistono due opzioni. È possibile proseguire lungo la costola con percorso diretto od, in alternativa,
"tagliare"
quasi ad angolo retto verso la Cresta Nordovest. Questa seconda opzione è più veloce e più facile, ma si dovrebbe prestare attenzione alle rotte rocce finali qualora fossero ricoperte dalla neve. In entrambi i casi, si raggiunge la vetta della piramide a
(3.544 m).
(Circa 3 ore, difficoltà dal PD a AD, a seconda delle condizioni dell'innevamento o dalla presenza di ghiaccio vivo.)
DISCESA tramite la Cresta Nordest o Via Normale
:
Si scende al Colle del Ciarforon
(3.317 m)
lungo la Cresta Nordest o Via Normale lungo le rocce e nevai di abbastanza facile percorrenza, quasi subito scartando sul lato Ovest il
Gendarme di 30 metri
. Da qui si scende tramite un pendio piuttosto ripido che riporta indietro verso il Ghiacciaio Settentrionale di Monciair. Questa tratto può presentare alcuni crepacci. Una volta sul ghiacciaio, ripercorrere la strada verso il Rifugio Vittorio Emanuele II°.
Red Tape
There are no fees or permits. Parking in Pont, at the start of the route to Vittorio Emanuele II Refuge, is free and there are no limitations for climbing and hiking.
Remember that free camping is forbidden (except for emergency reasons,
over 2.500 meters
, from darkness until dawn).
The whole region is part of the Parco Naturale del Gran Paradiso and thus you should take care of Nature as usual within the boundaries of natural parks.
Non sussistono tasse o permessi. Il Parcheggio a Pont di Valsavarenche, all'inizio della mulattiera per il Rifugio Vittorio Emanuele II°, è gratuito e non ci sono limitazioni per lo svolgimento sia dell'arrampicata che nei confronti dell'escursionismo.
Ricordate che il campeggio libero è vietato (se non per motivi d'emergenza,
oltre i 2.500 metri
, dalle tenebre fino all'alba).
L'intera regione è facente parte del Parco Naturale del Gran Paradiso, e quindi ci si deve prender cura della Natura come di consueto all'interno dei confini di parchi naturali.
When To Climb
The best time is obviously July through September. Most ascent routes to the summit include glaciers so you need crampons anyway.
Accomodations
Accomodations can be found in all Villages of Valsavarenche. You can use Rifugio Vittorio Emanuele as base for the ascents to both Gran Paradiso, Ciarforon and Becca di Monciair. In addition there are several campgrounds in Valsavarenche, one of which just near the trailhead.
Telephone Numbers:
Tourist information "Comunità Montana Gran Paradiso" 0165/95055.
Union of Mountain Guides (Valle d'Aosta)0165/44448.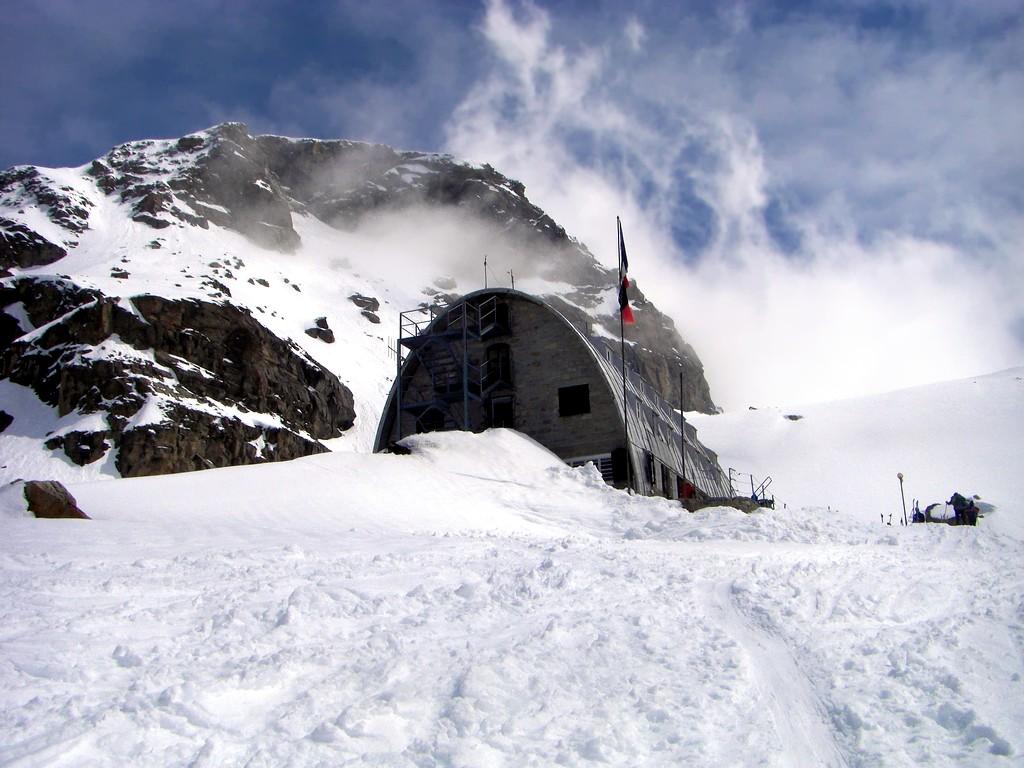 Rifugio VITTORIO EMANUELE0165/95920
Campings
Mountain Conditions
Meteo: you can find all the needed informations at the official site of the Valle d'Aosta Region:
Valle d'Aosta Meteo
Webcam
WEBCAM on Aosta Valley:
Webcam
Books and Maps
BOOKS:
"Guida delle Alpi Occidentali" di Giovanni Bobba e Luigi Vaccarone C.A.I. Sezione di Torino Volume II (parte II), 25 Maggio 1896.
"Guida dei Monti d'Italia-Gran Paradiso Parco Nazionale" E. Andreis, R. Chabod, M. C. Santis, Club Alpino Italiano/Touring Club Italiano, prima Ed. 1939; seconda Ed. 1963; terza Ed.
"Guida della Regione Autonoma Valle d'Aosta" di Mario Aldrovandi, Ed. S.P.E. di Carlo Fanton, Torino 31 Dicembre 1964.
"Rifugi e bivacchi in Valle d'Aosta", di Cosimo Zappelli aggiornata da Pietro Giglio, Musumeci Editore, Luglio 2002.
"Diari Alpinistici" di Osvaldo Cardellina e Indice Generale accompagnato da Schedario Relazioni Ascensioni 1964-2014 (inediti).
"80 itinerari di Escursionismo Alpinismo e Sci Alpinismo in Valle d'Aosta", di Osvaldo Cardellina, Ed. Musumeci, Giugno 1977 (in Italian); seconda Ed. Luglio 1981; terza Ed. Luglio 1984; (in French), prima Ed. Febbraio 1978; seconda Ed. Marzo 1980.
MAPS:
Kompass "Gran Paradiso Valle d'Aosta Sentieri e Rifugi" Carta Turistica 1:50.000.

Enrico Editore Ivrea-Aosta "Gruppo del Gran Paradiso" 1:50.000.

L'Escursionista "Valle di Cogne Carta dei Sentieri" (n°10) 1:25.000.

L'Escursionista "Tour de la Vallée de Cogne Grand Paradis" Carta dei sentieri 1:25.000.

I.G.C. Istituto Geografico Centrale Carta dei sentieri e dei rifugi "Valsavarenche-Val di Rhêmes-Valgrisenche" 1:25.000.

I.G.C. Istituto Geografico Centrale-Carta dei sentieri e dei rifugi "Grivola-Gran Paradiso" 1:25.000.
Important Information
Useful numbers
Protezione Civile Valdostana località Aeroporto 7/A Saint Christophe (Ao) Tel. 0165-238222.

Bollettino Meteo (weather info) Tel. 0165-44113.

Unità Operativa di Soccorso Sanitario Tel. 118.
Acknowledgements
I want to thank my three SP friends who respectively helped me to prepare the text (Livioz and Gangolf) and mainly to translate it in English (Brenta) and my friend Osvaldo for the translation into the Italian.