Overview
East Ord is the second highest peak in the Ord Mountains, the tallest range in the
southwestern Mojave Desert
. It ranks number 55 on the Sierra Clubs
Desert Peaks Section
list. The Ord Mountains were named by an early prospector in 1876 after
Edward Otho Cresap Ord
, a general of the civil war under whom the prospector served. Most notably, General Ord was instrumental in the surrender of General Robert E. Lee. Mountains in Texas and Arizona also carry his name.
Mining was very active in the area in the late 19th century and early 20th. The whole range is metavolcanic in origin and is primarily extrusive andesite, interlayered tuff, rhyolite and vesicular andesite. Secondary intrusive biotite quartz monzonite and basalt are also present. The Ord Mountains were never a top producer of precious metals, but mining prospects are still wide-spread throughout the range.
East Ord rises 2000 feet above the desert floor. It's north ridge connects with the east ridge of higher Ord Mountain. There are numerous steep washes and ridges on all sides of the mountain. The standard route ascends the southeast wash and gains 1800 feet in slightly more than a mile. This is a short off-trail hike requiring a half-day or less, but might be longer if you are unable to reach the entrance to the wash. 4WD vehicles are recommended. Parking along Camp Rock Road will add 2.5 miles of walking, round-trip.
The summit block resembles a highly eroded volcanic plug and features class 2 access ramps through small cliffs. There was a summit register present in February 2015. To the south are views of the
San Bernardino Range
and
San Gorgonio Mountain
, to the east
Rodman Mountain
, to the north the Panamint Range and to the west,
Ord Mountain
.
Route Maps
The above map is a downloadable GPX file for use with GPS (link at top of page), while the one below can be printed full-page for in the field use.
Standard Route
The southeast wash route begins at 4200 feet near an old subterranean water tank marked on USGS maps as "guzzler". Continue up the road into the canyon and follow the main wash to 4500 feet.
Turn north at a fork in the wash and scramble around or over some large boulders. Continue to follow this wash north by northwest as it steeply ascends to a saddle just west of the peak.
There may be a minor dry fall along the way without any exposure depending on your chosen ascent line. From the saddle turn right (east) and scramble through a break in the first cliff band.
Follow a rocky ledge diagonally up to the left, circling around to the north side of the summit block before topping out.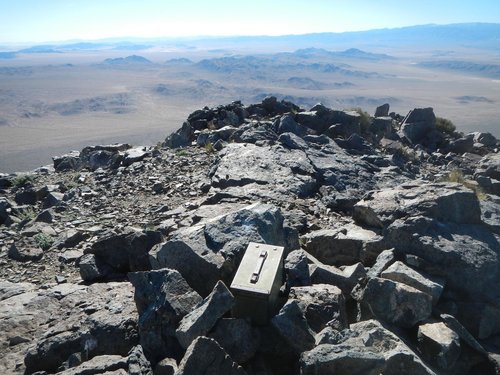 Several
pleasant route variations
follow ridges left of standard route. These variations are less steep and make for good loops if you care to explore them (see map).
Getting There / Driving Directions
From Interstate 15 in Barstow
take exit 183 onto highway 247 south for 27 miles. Turn left (east) onto Northside Road and continue for another 6.9 miles to Camp Rock Road and continue northeast for 7.9 miles to the turn-off (34.616226, -116.737049).
From Interstate 15 in Victorville
take exit 153 and head south on Highway 18. Continue to follow Highway 18 east for 22.9 miles passing through Apple Valley along the way. Keep left at a fork onto Highway 247 / Old Woman Springs Road and continue east for another 5.3 miles. Turn left onto Camp Rock Road and go north for 4 miles. Take a slight right to stay on Camp Rock Road right before the intersection with Granite Road. Continue another 10.7 miles to the turn-off (34.616226, -116.737049).