Overview
Boulders Open Space and Mountain Parks Visitor Master Plan
Please read the
Draft Vistor Master Plan
for Boulder county's Open Space and Mountain Parks. The new plan, if passed in it's current stage, may significantly alter access to Boulder OSMP lands, including Green Mountain, Eldorado Mountain, South Boulder Peak, Bear Peak, Dinosaur Mountain, Flagstaff, and Sanitas. Public comment on the plan is welcome and encouraged, as is attending the planning meetings.
Flagstaff Moutain lies just north of Green Mountain, along the Front Range of the Rocky Mountains. Flagstaff Mountain is not a remote backcountry destination... it's summit is a mere 1.75 miles from the Pearl Street Mall! If you're looking for solitude, this isn't the place, but if you're looking for a great after-work trail run, hike, bouldering session, or road bike ride, Flagstaff is a great mountain! The Flagstaff Mountain trail offers a less steep, less crowded alternative to the Mount Sanitas trail, with similar elevation gain.
The views from Flagstaff are wonderful, with many points looking east over Boulder and the plains. Artist's point and the Lost Gulch Overlook provide beautiful views of the Indian Peaks Wilderness and Long's Peak.
The summit area of Flagstaff Mountain contains a picnic area, small amphitheater, a small interpretive center, and several parking areas. The actual summit is a nondescript pile of rocks 1/4 of a mile SW of the developed area.
Flagstaff Mountain features a maze of trails with the Flagstaff Mountain trail being a conveinent hike from the bottom to (almost) the summit. A short hike about 300 yards SW from the intersection of the Flagstaff and Ute trails will take you all the way to the top. The Flagstaff Mountain Road is a great (but brutal!) road bike ride with over 3000' of climbing and grades up to 14%!
Bruce Martyn riding the Flagstaff Mountain Road.
Getting There
To reach the Flagstaff Mountain Trail and Flagstaff Mountain Road:
From the intersection of Broadway (Hwy 93) and Canyon Blvd (which becomes Hwy 119 - Boulder Canyon), take Canyon west to 9th Street. Turn left (south) on 9th Street and follow that to Baseline Road (you can also reach Baseline directly from US 36 / 28th Street if coming from outside of Boulder). Take a right (west) on Baseline road, pass Chautauqua Park, and proceed to the Gregory Canyon Trailhead road (right before the road curves right and begins climbing steeply. There's a small pullout here that will accomodate 3-4 cars, or you can park at the Gregory Canyon Trailhead, along Baseline Road, or at Chautauqua Park and walk back to this point. The Flagstaff Mountain trail starts at the intersection of the Gregory Canyon Trailhead road, Baseline Road, and Flagstaff Mountain Road (which Baseline becomes as soon as it veers right and uphill). To ride Flagstaff Mountain road, simply curve right and begin suffering!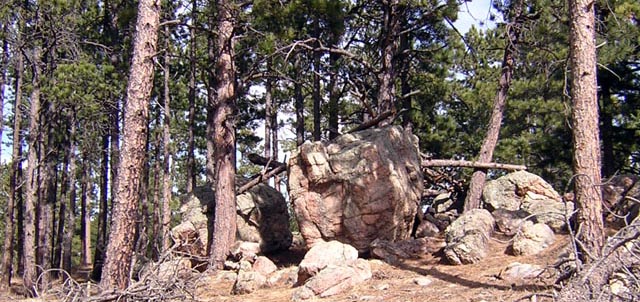 The nondescript "summit block" of Flagstaff Mountain.
Red Tape
1. Parking in Boulder Open Space and Mountain Parks requires a Daily ($3) pass. Cars with Boulder County license plates are exempt.
2. Seasonal Climbing Closures - Boulder County closes some areas to rock climbing and occasionally hiking from Feb 1 - July 31 each year. Flagstaff Mountain is rarely (or never) affected by these closures. Seasonal closures can be found here:
Boulder OSMP Seasonal Wildlife Closures
3. Dogs - dogs must be leashed or under "voice and sight control" at all times.
When To Climb
Flagstaff Mountain can be climbed year-round. If riding the road on a bike be careful of icy spots and loose sand from the sand trucks in the winter.
Camping
Camping isn't allowed in the Boulder Open Space and Mountain Parks, but this is a very short day hike, so it shouldn't be an issue. Nearest campgrounds are Kelly Dahl on the Peak to Peak Highway, a few miles south of Nederland, and Golden Gate Canyon State Park, which can be accessed from Coal Creek Canyon (Hwy 72) south of Boulder. Camping is also available near and in Rocky Mountain National Park, northwest of Boulder about an hour.
Camping Resources:
Arapaho National Forest
Golden Gate Canyon State Park
Rocky Mountain National Park
Mountain Conditions
Mountain conditions are usually similar to Boulder. Higher trails stay icy and snow covered longer than in town. Yaktrax, instep crampons, or similar types of traction devices may be helpful during icy periods.
Boulder Weather:
NOAA Weather
Webcams:
University of Colorado Webcams
9News Webcam
Webcam from University Bikes
For more information call Boulder Open Space and Mountain Parks at (303) 441-3440, or visit them online at
www.osmp.org