The Valpelline, thanks to its length, has a good glacial extent, certainly not comparable, however, with that on the opposite side of Switzerland. Also in this area that the same considerations apply to the area of ​​the Great St. Bernard-Basin Doues-Ollomont. This is for all the South Slope of the ridge border to start with Mount Gelé and the small Glacier de l'Arolletta, immediately to the East, meeting in succession to the East-northeast Glacier du Col de la Tsa, the tiny Glacier du Grand Pecon and nearby the Glacier de l'Aouille Tseucca; over a glacier in a circular shape and convex, the Glacier du Col d'Otemma, lies between the Aouille Tseucca and the hill of the same name, while the Glacier de la Occidental and Oriental Sassa "close" the head of this great walloon. In another subsequent glacial cirque between the Gran Becca Blanchen, the Cime d'Oren and up to Mount Braoulé offers the same features. In the end, however, the great glaciers extend even to the foot of the Dent des Bouquetins, Tête de Valpelline, Dent d'Hérens and up to the Grandes Murailles and the same present a more content down to the South-southwest, ie in the direction of the Petites Murailles. Other glaciers are instead sharply backward, and often, and by now, are reduced to tiny glacial-snowfields. In the last part, the revolt in the South but in the North, however the glaciers have been extinct for hundreds of years, for which thing, a factor also due to a relatively low altitude, from the Dôme de Cian-Becca de Luseney to the Range Faroma-Becca Conge-Tsaat à l'Etseina-Becca Viou and Roisan and now nothing remains. In spite of their exposure to the North.
In any case, it is still a very rich valley of the waters that feed the underlying Place Moulin Dam, one of the largest in Europe.
La Valpelline, grazie anche alla sua lunghezza, presenta una discreta estensione glaciale, non certamente paragonabile, però, con quella sullo opposto versante svizzero. Anche in questa area valgono le stesse considerazioni che per la zona del Gran San Bernardo-Conca di Doues-Ollomont. Questo per tutto il Versante Meridionale della cresta di frontiera ad iniziare con il Mont Gelé ed il piccolo Glacier de l'Arolletta, subito ad Est, incontrando in successione verso Est-nordest il Glacier du Col de la Tsa, il minuscolo Glacier du Grand Pecon ed il viciniore Glacier de l'aouille Tseucca; oltre, un ghiacciaio in forma circolare e convessa, il Glacier du Col d'Otemma, si adagia tra L'Aouille Tseucca ed il colle di identico nome, mentre i Glacier Occidental ed Oriental de la Sassa "chiudono" la testata di questo grande vallone. Nel successivo un altro circo glaciale tra il Gran Becca Blanchen, le Cime d'Oren e fino al Mont Braoulé ripropone le stesse caratteristiche. Nella parte terminale, invece, grandi ghiacciai si estendono ancora ai piedi della Dent des Bouquetins, Tête de Valpelline, Dent d'Hérens e insino alle Grandes Murailles; gli stessi presentano un aspetto più contenuto scendendo verso Sud-sudovest, ovvero in direzione delle Petites Murailles. Altri ghiacciai invece sono in netto arretramento e, spesso ed ormai, sono ridotti a minuscoli glacio-nevai. Nell'ultima parte, quella a Sud ma rivolta a Settentrione, invece i ghiacciai si sono estinti da centinaia di anni, per la quale cosa, fattore dovuto anche ad un altitudine relativamente bassa, dal Dôme de Cian-Becca di Luseney e fino alla Costiera Faroma-Tsaat à l'Etseina-Becca Conge-Becche di Viou e Roisan ormai nulla rimane. A dispetto della loro esposizione verso il Nord.
In ogni caso é ancora una valle molto ricca di acque che alimentano la sottostante Diga di Place Moulin, una delle più grandi in Europa.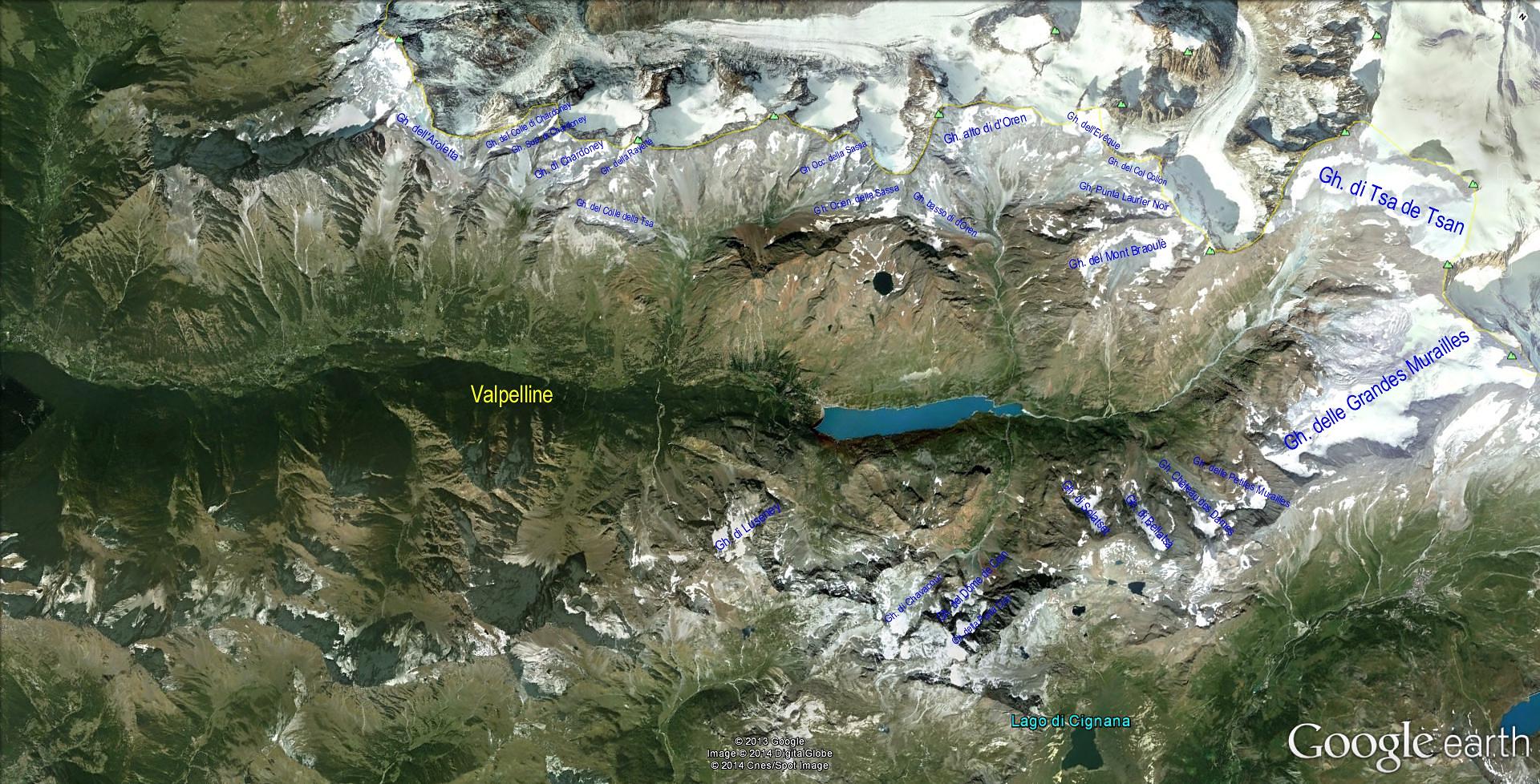 Dimensions and mass of glaciers in the Valpelline (Valpelline Grand Combin area). The valley has twenty-four glaciers as follows:
Dimensioni e massa dei ghiacciai della Valpelline (Valpelline settore Grand Combin). La valle possiede ventiquattro ghiacciai così ripartiti:
1) - Aroletta Glacier


2) - Colle Chardoney Glacier


3) - Chardoney Superiore Glacier


4) - Chardoney Glacier


5) - Rayette Glacier


6) - Colle della Tsa Glacier


7) - Occidentale della Sassa Glacier


8) - Orientale della Sassa Glacier


9) - Basso di Oren Glacier


10) - Alto di Oren Glacier


11) - Evêque Glacier


12) - Col Collon Glacier


13) - Punta Laurier Noir Glacier


14) - Mont Braoulè Glacier


15) - Tsa de Tsan Glacier


16) - Grandes Murailles Glacier


17) - Petites Murailles Glacier


18) - Château des Dames Glacier


19) - Bellatsà Glacier


20) - Solatset Glacier


21) - Punta Cian Glacier (Balanselmo)


22) - Dôme de Cian Glacier


23) - Chavacour Glacier


24) - Luseney Gelé Glacier