History Overview
"A sense of security seemed to come from these mountains; it was like living in the hollow of the cupped hand of God." --Jean Bedal Fish (Elder of the Sauk-Suiattle Tribe)
If this mighty landmark of timber and rock could speak, oh the sweet stories it would tell. The deep secrets of joy, treasures and pain. From the early days of Coast Salish voices singing their familie's native songs. Those powerful voices harmonizing with the rythme of drums and rattles. Their very culture and identity carefully hand carved with the ancient cedars of long ago. The sounds of canoe paddles pulling swiftly along the rivers of the valley chasing after their mighty salmon. The change that it witnessed when the land became shared with loggers, miners, pioneers and early settlers. The conversations it overheard from early rangers, climbers, fire watchers and strong men who stood for what was right and just. This remarkable landmark is truly an apple of Gold in settings of silver.
Gold Mountain, 3,400+' and 1,360' of prominence, towers over the small mountain town of Darrington, Wa. This small mountain or large hill is not high in elevation compared to surrounding peaks. It is however strategically located at the front door, ushering in the more visually impressive and technical cascade mountains. When you enter the town from SR 530 or The Mountain Loop Highway, Gold Mountain is more than obvious to the East. The small town is located at the very base of this mountain. There are many locations on Gold Mountain that offer amazing views of some the more popular peaks. This is a good vantage point for photographers to capture other surrounding peaks. Some of these viewing locations will require short bushwhacks to open benches to get unobstructed views.
"On January 25, 1901, the Blue Bird Consolidated Mining Company was incorporated. Its purpose was to "deal in mines, metals and mineral properties of every kind" in the Darrington area. Its home office was in Everett, Wa. Since the 1890s, rugged miners made their way up to the mineral-rich mountains surrounding Darrington, Wa. Gold Mountain was especially rich in ores carrying gold, copper, and other minerals. In 1901, Everett businessmen Seth Gardiner, lawyer; John C. Denney, lawyer; T. A. Garrignes, manager of Pacific Hardware; Hugh Lindsay, proprietor of Summit Hotel; and J. A. Swalwell, formed the Blue Bird Consolidated Mining Company. Though there are no records about the volume of ore taken out, if any, The firm had a capital stock of $1,000,000. J. A. Swalwell, gave a special influence to the operation. A major real-estate developer in Port Gardner, he not only organized the First National Bank of Everett, but helped establish such organizations as the Everett Public Library and the YMCA".
This section in quotation was taken from www.historylink.org.
Standard Route:
1. Getting to the summit is very easy. The true summit is around 3,400+'. The actual true summit has a 40' closed contour per the contours on My Topo maps. This means that the summit point can be as high as 3,440', but as low as 3,400'. It is an easy drive and then a short walking distance through the woods to this highpoint.
2. The other highpoint is around 3,370'. This can be claimed by a short 1 mile brushy road walk. The views from this location is better than the true summit.
3. The most enjoyable views are located on Gold Mountains most northwesterly highpoint. There is currently a radio tower standing at this location. It is also a short 1 mile road walk. This road walk is not brushy and is known by its yellow gate. Once you get to the radio tower location the views are good, but head west from here out to the point. At the point it is an open, mossy forest that breaks out into rocky cliffs and open meadows. The view from here is amazing. The vantage point from here is great. You are basically standing over the small town below. Great views toward Whitehorse, Jumbo, North Mtn, The Valley and many other local peaks.
All 3 of these highpoints can be enjoyed in a short amount of time.
Getting There
From I-5: Take Exit 208 on SR-530 toward Arlington/Darrington. When you come to the traffic light in Arlington, take a left on SR-9. Then turn right to stay on SR-530/W Burke Ave. Follow SR-530 for 27.9 miles until you come to the traffic light in Darrington. Take a left on SR-530/Emens Ave N. After .3 miles take a right onto Sauk Prairie Rd. Follow Sauk Prairie Rd for roughly 1.9 miles. Take a right on unmarked NF-24 road. This is a gravel road. Follow the main gravel road until it comes to a split (Y) in the road. Take the marked NF-2420 road to the right. Follow this until you reach the spur roads that are detailed in the maps provided.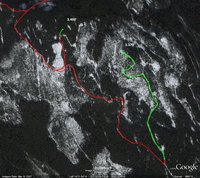 Red Tape
These highpoints can be reached year round, but expect snow in the winter. Road can be closed at times due to snow. A snowshoe trip would be an option at that point.