Overview
The station of Verbier, average 1450 meters above sea-level, situated on a wide-spaced terrace 600 meters above the Val de Bagnes and surrounded by a natural amphitheater of elevations, from the
Pierre Avoi
(2475m) in the west to
Mont Fort
(3329m) in the east, is mainly known as a prestigious ski resort. A good deal of the area above Verbier is therefore, unfortunately, seamed with téléphériques and ski-lifts. Nevertheless, there are several lovely spots in the direct vicinity of Verbier that are well worth visiting also in summer, be it the
Pierre Avoi
, which offers a lovely view to the Combin group and the Mont Blanc massif and an awesome view straight down to the Rhône valley from Martigny to Sion, with the bernese-vaudois Alps rising above, or the
Marlena
, or the
Grand sentier des Chamois
, a more or less five-hour hike from the
Ruinettes
(2200m, cable-car from Verbier) over the Col Termin (2679m) past the Lake and hut of Louvie on 2210 meters and down to the village of Fionnay in the Val de Bagnes. As unfortunately I cannot yet provide photos of this very attractive route in a completely preserved alpine landscape, anybody who has any is most welcome to attach them to this page!
Another beautiful spot to visit is the
Lac des Vaux
, 2500 meters high, situated below
Mont Gelé
(3023m). One can reach it from Verbier or from Ruinettes either via
Col des Mines
(2320m) or
Col du Creblet
(2600m).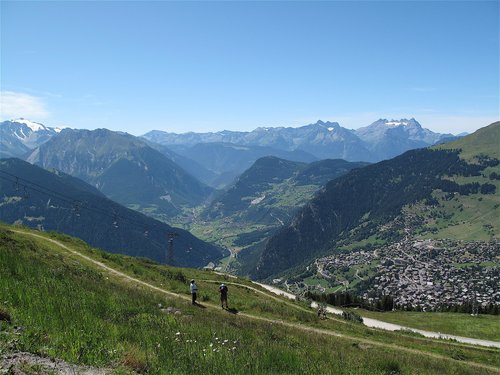 Getting There
Nearest airport: Geneva.
Coming by car from Geneva
: Take the motorway via Lausanne in the direction of Grand Saint-Bernard/Brig as far as Martigny. Exit here, following the signs to Verbier. One drives up the Saint-Bernard road as far as Sembrancher, then you turn left, following the signs to Le Châble/Verbier. At Le Châble, turn left again and follow the road that leads 600 meters uphill in many serpentines to Verbier. Distance between Geneva and Verbier: 162,5 km. Duration: 1h 48min.
Coming by means of public transportation
: Take the IC train from Genève-Aéroport bound for Brig or Milano as far as Martigny, then change to the local train for Le Châble (sometimes one has to change trains again in Sembrancher). From Le Châble, take the post-bus up to Verbier.
Red Tape
No red tape in particular that I know of. One can go by car as far as the Croix de Coeur (2173m), although the road is rather narrow and exposed. Better would be to leave the car at the hamlet of
Les Planards
(1940m).
List of peaks and cols surrounding Verbier (from west to east)
Pierre Avoi, 2475m
Col de la Marlène, 2315m
Savoleyres, 2354m
Croix de Coeur, 2173m
Tête des Etablons, 2415m
Col des Mines, 2320m
Mont Rogneux, 2694m
Les Attelas, 2733m
Col des Vaux, 2705m
Mont Gelé, 3023m
Monts de Cion, 3049m
Mont Fort, 3329m
Col de La Chaux, 2940m
Bec des Rosses, 3222m
Bec Termin, 3045m
Col Termin, 2679m
Mountain huts
Cabane du Mont-Fort
, 2457m (the link is in French)
Cabane de Louvie
, 2207m (the link is in German)
Maps
The best maps to use are: Carte nationale de la Suisse 1:25000 No. 1325
Sembrancher
and Carte nationale de la Suisse 1:25000 No. 1326
Rosablanche
. Both maps are issued by the Swiss Federal Topographic Service, Wabern-Bern.