Overview
The
Vordere Galmihorn
is located in the Goms area, which is part of the
Bernese Alps
. The Vordere Galmihorn has a very wide summit which offers the climbers reaching it a very nice view. This can be reached either in winter or in summer. Backcountry skiers will probably love the very long descent towards Goms. The giant descent to Münster prefaces a certain measure at condition for skiers, almost 2500m of skiing! Most climbers, in summer, will start in the Oberaarjochhuette. It also possible to climb the summit while crossing from the Oberaarjoch Huette to the Finsteraarhorn Huette (or on the other way around).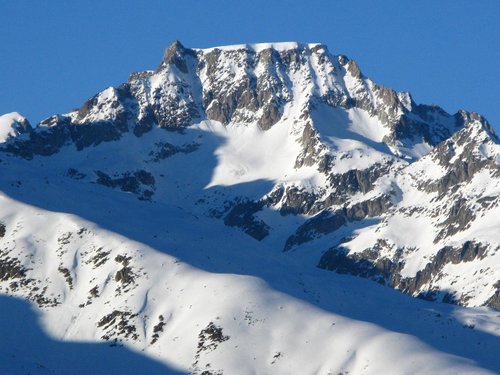 Getting There
In general
Wallis: Rhonevalley - Grimselpass
Berner Oberland: Haslital - Grimselpass
To the Oberaarjoch Hut:
1. Grimselpass - Berghaus Oberaar - Oberaargletscher; ca. 6h 30' ab Grimsel, ca. 5h ab Berghaus Oberaar
2. Münster - Galmihornhütte - Bächlilicke oder Galmilicke - Studergletscher; ca. 8h
3. Fieschertal - Fieschergletscher - Galmigletscher; ca. 9h
4. Jungfraujoch - Grünhornlücke - Rotloch - Galmigletscher; ca. 7h
To the Galmihorn Hut:
Münster - Biel - Riti - Göuchete - Bachtele, then left towards Salzgäbi and after that the Hütte; ca. 2,5 Std.
Routes
Normal route from the Oberaarhorn Hut:
Take the stairs down to the glacier (Oberaarjoch, 3212m). Then head south over the Studerglacier untill you'll reach the Galmiglacier. Head in southeastern direction towards the Bächlilucke (3378m.). Be carefull, there are many crevasses and it is quite steep. Finally you can reach the summit by following it's wide northeast ridge. Attention: The summit can be exposed to large corniches! So be sure where to take your summit picture.
Oberaarjoch Hut - Vordere Galmihorn: 2-3 hours. Alpine Climbing grade: PD/WS.
Maps and Guidebook
Maps:
1:25'000 Map: 1250 – Ulrichen
1:50'000 Maps: 265 - Nufenenpas
Guidebook:
SAC Guidebook - Hochtouren Berner Alpen
SAC Guidebook - Berner Alpen, Bd.5, Vom Grindelwald zur Grimsel
External Links
Galmihorn Hut, 2113m:
Telephone: 027 973 39 19
Email: info@galmihornhuette.ch
Website:
Galmihorn Hut
Oberaarjoch Hut, 3258m:
Telephone: 033 973 13 82
Oberaarjoch Hut
Weather:
Weather in Switzerland
Avalanche bulletins:
Avalance bulletins
style="display:block"
data-ad-format="autorelaxed"
data-ad-client="ca-pub-6523272176520096"
data-ad-slot="7132222476">